If you're planning to apply for a teaching position, reference letters can help you secure a seat in the interview room. Seeking for an academic work post in a university or school such as positions for professors, educators, or even as a tutor is not that easy. You need to pass a series of examinations and be involved in several interviews.
To speed up your application process, reference letters are used. You can request from your previous employers or supervisors to write you a recommendation or reference letter to certify your work-related achievements and professional work ethics. You may also see teacher templates.
82+ Teacher Templates in Word, Excel, PSD, Google Docs, InDesign, Apple Pages, Google Sheets, Publisher, Apple Numbers, Illustrator - START DOWNLOADING
Reference Letter from Teacher
Teacher Reference Letter
Sample Teacher Job Reference Letter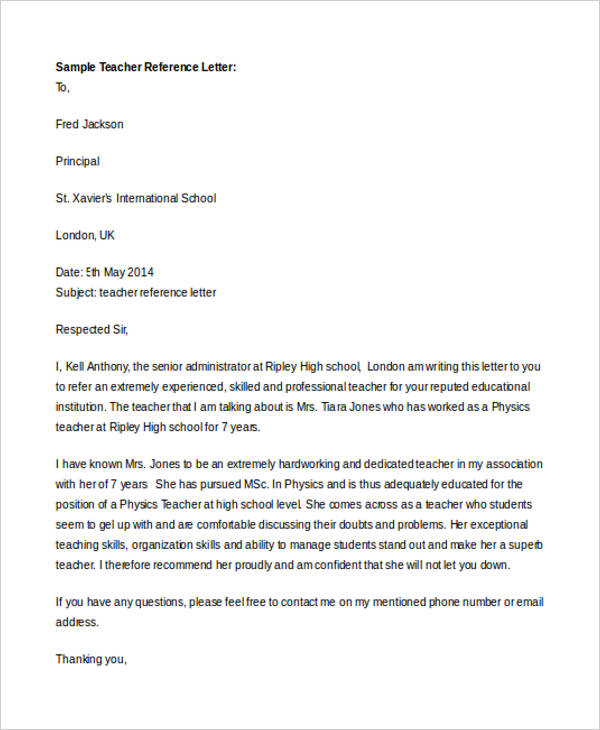 Reference for Music Teacher
Essential Inclusions of a Teacher Reference Letter
Reference letter for teacher templates provide a variety of reference letter formats that you can refer to. In line with this, you should know the essential inclusions for a reference letter such as the following:
Your relationship with the person to be recommended. In your letter, you should establish how you're connected with the applicant. To add, you should also emphasize the duration of your relationship with them. Establishing the connection is significant on the hiring manager's end so that he or she can make the appropriate evaluation.
Identify the positive accomplishments and contributions of the applicant. In a reference letter, you should promote the applicant. You should emphasize the applicant's strengths and outstanding achievements. If you're impressed with the applicant's work ethic, you should include that in the letter. If you're recommending a student for a particular college or university, college reference letter templates also provide tips on how you can positively promote the skill set of the applicant.
And lastly, you should end the letter with statements regarding the reason why you're recommending them. You should also provide your contact details, in cases that the employer or university wants to contact you for further questions and inquiries.
Reference for Personal Teacher
Kindergarten Teacher
Experienced Teacher
Professional Teacher
How to Enhance the Quality of Your Reference Letters?
A reference letter is a formal and professional letter. Bear in mind that you're dealing with different employers and college or school administrators as possible recipients of the letter. The quality and structure of your letter must be given much attention. In line with this, below are tips that you may consider:
Write a short and concise letter. Reference letters should not be too lengthy. Keep your sentences brief and on point. You should directly convey your intention to recommend the person with your supporting details. Avoid beating around the bush.
Your statements must be in accord with the subject matter of the letter. You should consider that not all recommendation letters are made for employment purposes. They are also made for scholarships and volunteer works which are reflected in volunteer reference letter templates.
Make specific claims. Always provide measurable and quantifiable statements when it comes to the accomplishments and achievements of the applicant. Generalizations are so ordinary. Concretize your statements as much as possible.
Proofread your letter. Like any other letter types, proofreading is very important. Grammar, punctuation, and sentence errors can be deemed as unprofessional.
Hence, write your reference letter from the heart. Be honest and professional. Enjoy looking into our set of templates.