Letters
6+ Wedding Thank You Letter – Free Word, Excel, PDF Format Download!
Your wedding is the most memorable event of your life. After the function, you definitely want to thank and share your gratitude to all the people who were a part of this event and we present there. We have for you the perfect thank you for being there & Thank You letter for Gift.
Thank You Letter For Wedding Template Word Doc Free Download

Your wedding day wouldn't have been successful without the help of people that care about you. Send a thank you note to mom and dad to appreciate them for their effort. You can use this template for help. realsimple.com
Download Wedding Thank You Note To Best Friend

Your wedding day would not have been successful without financial support. Send a thank you letter to the committee team with the help of this template. Tell them how much you appreciate their kindness. realsimple.com
Blank Wedding Thank You Note Download

The best thing you can do after your honeymoon is send a thank you note to everyone who made your wedding day possible. Download this template for free, and use it to send that special thank you letter. realsimple.com
Thank You Note For Not Attended Wedding
The worst thing you can do is failing to say thank you after a successful wedding. Use this piece of template to help you write a special thank you note to all those who made your wedding day possible. elli.com
Thank You Notes After Wedding Format
Thank You Letter For Wedding Guests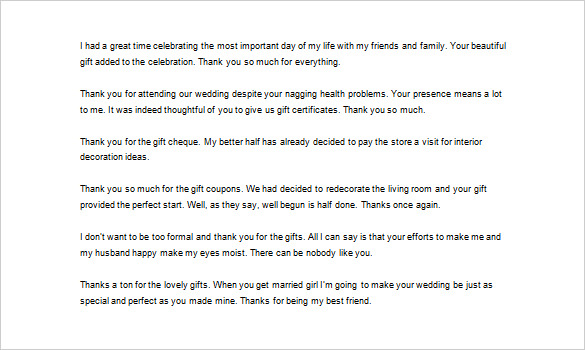 Printable Wedding Thank You Letter Wording
Available in Free Word, Excel and PDF Downloads, these beautiful thank you letter templates just need to be printed, filled in and dispatched to all your guests and loved ones, showing them a token of your appreciation and letting them know how grateful you were to have them present in the happiest event of your life.