Whenever changes to a project or service need to be made, the contractor must be properly informed about them. This is to determine if these changes can be accepted and the difference there will be in the payment amount. The one thing that can help with this is a change order document and this article will teach you how to make one.
Steps for Creating a Change Order
Step 1: Start With the Basic Information
When making the change order, it is important that you put in all of the basic information it needs in regards to the job. So it is here where you will place the complete name of the client, the name of the contractor, the location in which the job is taking place, and the date that the change was requested.
Step 2: Place the Order Number
Order documents must always have an order number. The reason for this is because it helps the contractor keep track of the job that he/she is doing for a specific client. You need to make sure that there are no two order documents with the same order numbers as that can lead to several issues.
Step 3: Description of Changes
It is here where the document must be able to clearly point out the changes that the client has ordered. It is very important that whatever description is placed in this section is one that the contractor can easily read and understand. Be sure that all of the details regarding the change are included.
Step 4: Reason for Change
There needs to be a specified reason as to why the client wishes for the change. Knowing what that reason is will tell the contractor if whether or not the change is justifiable and can be done. Much like when providing the description, it is important that the explanation of the reason can easily be understood.
Step 5: Justification Documents
There are some changes that cannot be done unless the client can willingly provide documents which support his/her reason for them. Make sure that the document contains space for where information on the documents can be placed.
Step 6: Changes in Price
The document should have information on the amount that the client has to pay for the service. Should the changes be accepted, it is important that this information should be updated. So it is possible that there is either the increase or reduction of price. Make sure that the figures are accurately calculated to ensure no problems.
Step 7: Signatures
At the very bottom of the change order document, it is important that there are signatures of both the contractor and the client. The reason for this is to have proof that the two have understood and have accepted whatever changes are going to take place in the job.
5+ Change Order Templates
1. Change Order Template
Download
If there is ever a need for you to come up with a change order document, then know that this template is available for you to use. With it, you won't find any trouble when it comes to pointing out what changes need to be made, who made the changes, the difference in price and so on.
2. Engineering Change Order Template
Download
Engineering companies that take on orders on jobs on a regular basis will no doubt be met with order changes as well. In the event that they are requested to do certain things differently, then making use of this template will come in handy. Clients won't have to worry knowing that the changes they want in the project have been received.
3. Contract Change Order Template
Download
Whenever there is a job that both a client and a contractor have agreed on, then a work contract is formed. In the event that the client wishes for changes to be made, then this template can help make the document to notify these changes. If you're the contractor in the situation, then know that this template is something you'll definitely need.
4. Change Order Request Summary
Download
Since there is always the possibility that a client might wish to request for any job changes that need to be made, the contractor must be prepared for whenever it happens. This template will allow you to create a document which can help share these changes and if the contractor either approves or disapproves of them.
5. Change Order Log Template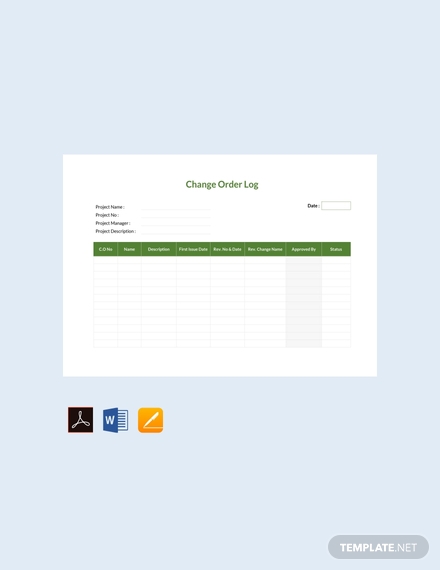 Download
There are instances wherein companies that take on multiple jobs are also met with many change orders. Should that be the case, they will need a document that will allow them to keep track of the number of changes. This template should help you create a document that can do exactly that.
6. Sample Change Order Template
construction-forms.net Download
If you want to come up with an order document that is as simple as they come, then you should definitely make use of this change order template. But make no mistake, just because this a basic template of an order form does not mean that it won't allow you to effectively make order changes. Use it, and you'll find that it is exactly what you need to take down what changes a client wants.