While there are some businesses that cater to what it is that their customers want, there are those that cater to the wants and needs of other businesses. These types of businesses are the ones which provided the resource that other businesses need in order for them to provide their services. You may also see free plan templates.
320+ Marketing Templates in PDF, Word, Excel, PSD, HTML5, WordPress, Google Docs, PowerPoint, InDesign, Apple Pages, Google Sheets, Publisher, Apple Numbers, Illustrator, Apple Keynote, Google Slides - START DOWNLOADING
Simple B2B Marketing Plan Template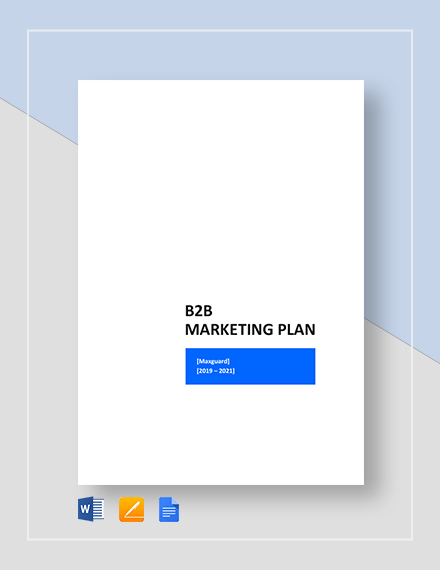 But the only way that the providers of these resources would get these businesses to know that they exist is if they're able to share the news about what they have to offer. Which is why this article is going to teach you how to create a B2B Marketing Plan.
Sample B2B Marketing Plan in DOC
B2B Marketing Plan Guide
Example of B2B Marketing  Plan
What Does B2B Mean?
In short, B2B stands for business-to-business. It's the kind of relationship where one business provides the materials that another business needs. Think of it as a relationship where that the parties involved stand to benefit from. Take note that the provider of the materials doesn't have to limit its relationship to just one business. The provider may have as many relationship with other businesses, assuming that the provider is able to give them what they need. You can also read B2B marketing business plans.
How to Create Your B2B Marketing Plan
Now that you've understood what B2B means, the next step is to figure out how you're going to come up with the simple marketing plan. If you're planning on opening up a business that specializes in providing for other businesses, then you should always remember how important it is that you're able to properly market yourself to your potential clients. You'll need to take note of things such as what it is that you have to aim for, what you're going to provide, etc.
With that in mind, here are the steps that will allow you to create an effective B2B marketing plan:
1. Figure Out What Kind of Goals You Want to Achieve
No matter what kind of marketing plan you start out with, the first step that you must immediately take is to figure out what your business's goals are. You'll need to have a good understanding as to what they are as achieving them can only mean success for your business. Also, understanding them will give you an idea as to what methods are best for helping you achieve them.
So when you're starting out, you need to ask yourself this one question: What is it that you want your business to be able to achieve? Since we're talking about one that's focused on business-to-business relationships, then one of your most obvious goals would have to be providing the best quality products and services to other businesses. You can always come up with other goals, just make sure that they're ones that are meant to bring success to you business. You can also see internet marketing plans.
As you're going about in identifying these goals, you need to make sure that they're specific. You want to make them as clear as possible so that you and your employees can easily aim for them. Also, knowing what they are can help everyone understand the importance of the duties and responsibilities that they have to fulfill. You may also like sales & marketing plan templates.
Then you have to make sure that you can measure these goals. You're going to have to keep track on all of them so that you can see how far they are in terms of progression. Because if you can see that you're not really getting anywhere in terms of their accomplishment, then you can decide what you need to change in your plans to guarantee that they're accomplished. You may also see sample real estate marketing plans.
And lastly, be sure that these goals are attainable. You want your employees to work towards something that they know they're able to achieve. Giving them reasonable goals can motivate them to seeing that they they're accomplished sooner rather than later. You may also see non-profit marketing plans.
One of the best reasons for understanding your goals is because knowing them will help you come up with the best ways in which you can market them. The more you understand as to what they are, the easier it will be for you to come up with promotional material that will aid you into seeing that they're met. You may also see financial adviser marketing plans.
2. Figure Out Who Your Target Audience Is Going to Be
This is the part of the marketing plan where you will need to understand who it is that you want to sell your products and services to. Your target audience will be the businesses that you will often conduct transactions with. Learning about them will help you come up with the best ways in which you can market yourself towards them. You may also like event marketing plans.
So try to figure out who you think will benefit the most from what it is that your business has to offer. Take an educated guess as to which businesses you're going to engage with the most by knowing everything that there is to know about them. What are their goals? What kind of services are they going to provide to their customers? Will they need what you have to offer them? Answer those questions and other similar ones so that you can easily understand who your target audience is going to be. You may also see sample annual marketing plans.
3. Come Up With Your Marketing Strategies
Once you're done figuring out who your target audience is, then the next step is for you to understand how you're going to market your business towards them. This is the section of your marketing plan where you'll need to go into more detail so that you and your employees will know exactly what needs to be done in order to attract potential clients into availing your business's services.
Also, potential investors are going to want to take a good look at this particular section of the marketing plan as they want to see if you truly understand your target audience. This will help them with the decision as to whether or not they should invest in your business. You may also see retail marketing plans.
So the first thing that you will need to do is to understand how you're going to market to your target audience. Since you've already gathered information about them, then it shouldn't be too hard for you to figure out the best strategy. What you should be concerned about is how you're going to share the information with them. You need to think of the best media channel that they're able to hear about your business. You may also see sample b2b marketing plans.
One of the best channels that you could possibly use would have to be social media as just about every person is on it. There are also other means such as creating advertisements for television or radio. Just think which of them is the most effective, cost-efficient, and the one that your clients always frequents.
Once you've understood where you're going to advertise your business, then the next step is to come up with the promotional material. You want to make sure that your potential clients understands who you are and what you do. So your promotional material should provide them with information regarding what your business does, specifically the type of service it has to offer. It's also best that you include the prices of these services so as that can help your customers decide as to whether or not they should avail your services.
Remember that your marketing strategies will depend entirely on the type of business you're running and the goals you want to achieve. So be sure that everything is well organized so that you won't have to worry.
4. Know Your Competition
If you thought that a certain area is perfect for starting up a B2B business, then most likely there will be others who will have the same idea as you. These people are your competitors and you'll need to learn how to deal with them so that they won't take away your customers.
So what you want to do is to research on everything that there is to know about your competition that can help you gain the competitive edge. Start off by taking a look at the different competition within your are and figuring out which of them are your biggest threats. Then you will need to take a good look at their strengths. How are they managing to attract customers? What kind of marketing tactics are they using? Figure all of that out and decide as to whether  you should use the same ones, or if you should just come up with your own tactics that could end up being superior to theirs. You may also see internet marketing plans.
Also, learn about their weaknesses. The more you understand their weaknesses, the more you can guarantee that they won't show up in your business. Be sure that you don't have whatever weaknesses your competition has as you won't want to receive the same complaints. You may also see email marketing plans.
In the event that you would like to learn about the other types of marketing plans, then what you want to do is go through our site. It contains many different articles which should be able to provide you with the help you need. Just be sure that you read them thoroughly so that you can make use of whatever it is that they have to offer. You can also like startup marketing plans.