While other investments in any market can be a good decision if handled well and prove to be fruitful in the end, putting one's money on a property whether commercial or private is as good as investments come. In fact, because of the difficulty to own a property in a changing market, many are grabbing the chance when they can, and when the market is at its most merciful. It doesn't matter if you're on the selling or the buying end, because both sides have their own share of challenges, although sometimes, it can be especially tough for those who are planning on a real estate project for commercial purposes. You may also see plan templates.
184+ Real Estate Templates in PDF, Word, Excel, PSD, HTML5, WordPress, Google Docs, PowerPoint, InDesign, Apple Pages, Google Sheets, Publisher, Apple Numbers, Illustrator, Apple Keynote, Google Slides - START DOWNLOADING
Real Estate Marketing Plan Example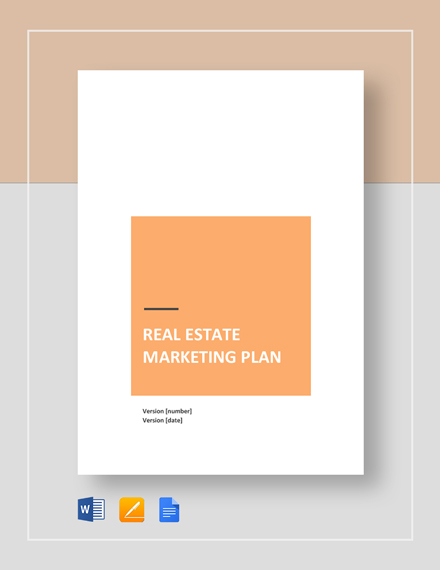 Commercial Real Estate Marketing Plan
Real Estate Marketing Plan Example
Real Estate Management Business Plan
True enough, a property of one's own, mortgage aside, far exceeds the value of any other thing you own, especially if you're excited to start a business venture or when you're looking to expand your company so that it can take advantage of its current success and cater to more customers at a different location. Whatever it is, planning to get your next real estate property can be a daunting task.
How to Have a Successful Commercial Real Estate Marketing Plan
Finding the right office space to own or getting one built entirely from scratch, or even getting one to lease is a lengthy process. Fortunately, you'll be able to make this process easier by doing your homework in advance. That means you have to consider a few things first to get your project off to a successful start. You may also see sample real estate marketing plans.
1. Set a Budget
Before getting down to having office spaces or your own building you need to figure out the figures and you have to be realistic about what you can afford. Don't overestimate your finances. Have your accounting department crunch the numbers and develop a simple budget. You also have to think beyond the rent because commercial leases mostly include maintenance fees and it's possible that you'll have to pay for equipment and utilities. You'll find it easier to filter your search for properties that are well within your budget when you have a clear estimate of the costs.
2. Scout For a Location
Searching for a commercial property will be made simpler when you have a general idea of where your preferred location is. The location should be a major consideration to you. The city or town where your office would be is no trivial matter. Find out where your business would best fit. Do you prefer the city or do you think you're more marketable in the suburbs? Would a small town be more ideal for your target customers? You may also see real estate marketing plans.
A little research would also help to find out where your competitors and your potential customers are. Check the ones that are accessible to public transportation, or the ones that are near to other establishments that would also benefit your employees when you transfer or assign them there. You may also see real estate marketing plan templates.
When you get to design the building, remember this. The simpler the building is, the more you don't have to worry about hefty monthly bills including maintenance. The thing is, everyone wants an office space that has style and that's still possible. If you're leasing the land, designing a cost-effective building that looks upscale is something your contractor can do. You can start by minimizing the area space while giving a feeling that it still has space. The secret is in putting your money in where it has the most impact. You may also see real estate sales plans.
3. Conduct Market Research and Analysis
When you already have a general idea of where you want your office located, the next step is to conduct an analysis or a comprehensive market research of the certain location. Study the marker and try to find out what the average costs are for leases and property ownership. Learn what you can on property management firms and landlords which would be the market's biggest players in the area. This is where you can better distinguish the ones you want to work and do business with and the ones you probably want to avoid, or the ones that are more reputable than the rest.
4. Call Backup Professional Assistance
Some things are best done with the pros and commercial real estate, or real estate transactions, in general, is one of them. You'll find that this will go more smoothly than you expect when you have professionals and experts you can call to guide you through the process. Real estate involves legalities and this is better done with lawyers obviously, so it's better if you have your company lawyer be the one to examine all paperwork-contracts, litigation, the works.
In most cases, it's also helpful to hire a broker that can help you find office spaces with features that would work with what you can afford. If you're lucky, you might find one that can negotiate to the end, with the landlord about the rent and other financial responsibilities of a tenant. Your landlord is the one who shall pay the broker, it's not the other way around, so you can stop worrying about the cost and focus on working with one. You may also see sample real estate marketing templates.
Property Project Marketing Sample
30 Days Real Estate Marketing Plan
Standard Real Estate Marketing Plan
Real Estate Marketing Plan Example
5. Create a Professional Company Website
Having a company website is more important than ever, in this day and age because it's the first thing that potential clients check and it's the first thing that they judge about your business. Your website can be a deciding factor in winning clients over. It's a vital factor to build trust and confidence as well as serve as an essential marketing strategy allowing you to put forth company news, show thought leadership through written content and research studies. It's also a great way to promote your properties.
6. The Power of Useful Content
It's 2018, but the content is still there and it doesn't look like it's going away anytime soon. In fact this year, experts are expecting more content to be produced by all businesses across all industries. Content marketing is one of the most important strategies to stay on top of your game and keep your prospects interested until they find themselves ready to invest and be an active participant of your business or listen to what you have to offer. But you'll find it quite surprising that only a few in the real estate business know what they're doing when it comes to content marketing.
The ability to create high-quality content and one that is useful to your audience or relevant cannot be underestimated. You can create any type of content because you have plenty to choose from in blog posts, podcasts, videos, and infographics. They're there for the taking and they do not take too much to make, especially if you have content creators who can do the job. The secret to content marketing is not being part of the noise but being above it.
7. Share Content on Social Media
Build your online presence to the core. Use social media to your advantage because why not, when it's free? It's also an effective way to create brand awareness with a target audience and drive traffic to your website which what this marketing plan would need if it means to be a successful one. Those who have enough experience with real estate are also using social media to spark topics and oversee connections with potential and existing stakeholders. Twitter, Instagram, Facebook, and LinkedIn are probably the most relevant social media platforms where your company should be seen.
8. Upgrade Your Photo Quality
Your photos are one of your best selling points because even an untrained eye can tell the difference between a photo of high quality, taken professionally and a hurried, run of the mill snapshot. In 2018, photos that are below excellent are unforgivable for any simple business. If someone is looking for a commercial space and the pictures don't look too good or acceptable but with strange angles, you lose your chances of getting a client because it would mean for them that the place being offered isn't quite as positive as it should be. And for a businessman, all areas in a property is very important because it's obviously where they do business.
Fortunately, you don't have to spend big bucks to get good photos by hiring professional photographers. There are phones which include great cameras as one of its main features and you have editing apps at your fingertips online which can come very handy when upgrading a photo's quality. There are many tricks you can try online if you want to learn how to take quality images that sell. Just remember to use natural light to your advantage as it can make a big difference in getting a good photo. You may also see real estate marketing.
Project Manager Real Estate Marketing Plan
Marketing Plan of Real Estate
Real Estate Budget & Marketing Plan
Real Estate Marketing Action Plan
The better you manage your marketing efforts for commercial real estate, the more your clients will see how prepared you are, and it will give them the confidence that they will be doing business with the right people who knows what they're doing. Having a marketing plan sample and finishing it off successfully will allow you to stay on top of the realtor game for the rest of 2018. In the future, you will have already know how to step up with marketing to get you to where you want your real estate business to be.