Those who are in charge of handling projects should know how difficult it is to keep track of the project's quality, communication, staff and much more. That is why it is important to learn how to create a project management plan. This article will teach you what you need to know in order to properly make one.
Steps for Creating a Management Plan
Step 1: Identify the Stakeholders
This is the first thing that you will need to do when making your project management plan. Stakeholders would be the people that are responsible for the creation of the project. Make sure that you put in their complete name as well as their position into the project plan.
Step 2: Set the Goals of the Project
It is very important that you are able to define the goal or goals of the project. Knowing what they are will give you an idea on how to reach them as well as what objectives need to be aimed for. Once you have managed to determine these goals, be sure to put them all into the project plan.
Step 3: Know the Scope of the Project
Just about every basic aspect of the project must be discussed in this section. Whatever is written in this section should only be things that all the stakeholders have agreed upon after a discussion or meeting between them. Be sure that this section covers everything from objectives, restraints, budget projections and so on.
Step 4: Share the Team
It's obvious that the stakeholders will want to know the people that they have hired to complete the project. So this is the part of the plan where you will need to provide information on all of the team members. Make sure that you include their complete names and their position titles.
Step 5: Define Responsibilities
When you've managed to point out who you'll be working with and managing, the next is to define both yours and their responsibilities. It's best that you hold a team meeting to properly discuss with everyone in regards to what they have to do. Once everything has been confirmed, then proceed by writing down these responsibilities into the plan.
Step 6: Make the Schedule
Since you are in charge of managing the project, then you should know how important it is that everyone is able to stick to the work schedule. This means that you will need to provide details regarding the time in which people need to report in and out of work, the number of hours they need to provide, the tasks that they need to complete and when goals have to be reached.
Step 7: Come Up With the Budget
A project's budget is something that needs to be managed carefully to ensure that all the resources needed are acquired and that all actions are done when they're supposed to. This means that the plan must have a section where you outline all of the possible expenses and items that contribute to the estimated amount that needs to be spent on the project.
Step 8: Manage the Risks
With every project comes risks and it is important that you and the others involved in the project are aware of their existence. This means that you will need to come up with a section which provides details on how everyone should go about in conducting a risk assessment to ensure that they are able to avoid or prevent these risks from harming project progression.
5+ Project Management Templates
1. Project Management Plan Template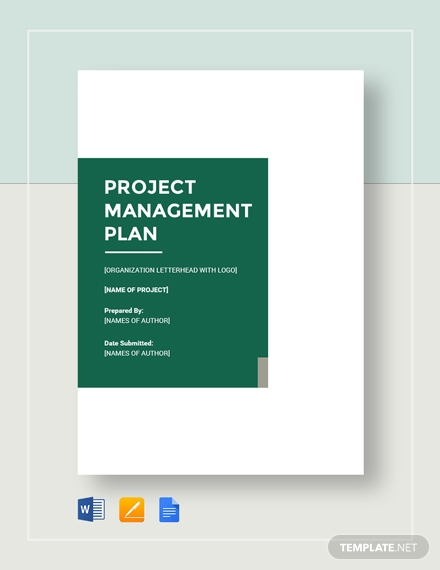 Download
Know that even the most basic of project management plan templates can help ensure that one is able to effectively and efficiently manage whatever project he/she is in charge of. So if you want to be able to make such a document, then it is best that you download this template.
2. Project Management Communication Plan
Download
Both you and the others who are involved in the project must know the best methods to use in order to properly communicate with one another. With this template, you can create a communication plan which shows what these methods and so that everyone will know who they need to talk to when they are required to do so.
3. Project Quality Management Plan Example
Download
It's not just important to complete a project, but you must also do so in a manner that meets or goes beyond the expectation of those that have hired you for the job. With this template, you can create a document which will help you manage the project's overall quality in the easiest manner possible.
4. Sample Project Management Plan
Download
Remember that the purpose of this particular management plan is to help you iron out all of the details regarding how you should go about in managing whatever project you're in charge of. If you want to be able to make this kind of document, then you should definitely download this template.
5. Simple Project Management Plan
Remember that even the simplest of project management plan documents can provide all the help that one needs in order to successfully lead a project to completion. Should you be in need of such a document, then know that this template is always available for you to download and use.
6. Example of a Project Management Plan
If you're going to download this template to make your project management plan, then know that you can use Google Docs, Microsoft Word, Publisher, or even Apple Pages to let you open it. Once you've managed to do so, then you may make whatever changes you want until you are satisfied.