Mark Zuckerberg didn't have to wait long to make Facebook the tech giant it is today and hasn't looked back since. Currently, social media continues to be one, if not the most effective tool in promoting brand awareness for various industries the world over which means you already have the key to audience engagement. With a social media plan, you'll have more than enough visibility to take your business further.
101+ Social Media Agency Templates in PDF, Word, Excel, PSD, Google Docs, PowerPoint, Apple Pages, Google Sheets, Publisher, Apple Numbers, Illustrator, Apple Keynote, Google Slides - START DOWNLOADING
Step 1: Evaluate Your Current Strategie
Before you start creating your plan and making it official, take a look at what's currently working and which of your strategies haven't been bringing the numbers. It may be that you already have implemented plans which proved beneficial in the past. Reflecting on your planning process can also help you avoid making the same mistakes twice.
Step 2: Set Realistic Goals
After evaluating your past performance, you can now start setting achievable targets. While your goals should help improve planning strategies, they also need to be measurable and realistic. You can also use baselines, or where your social media metrics are currently sitting. It is only through setting targets that you can have the perfect starting point with realistic goals.
Step 3: Break Down Your Goals
You now have a list of targets, probably far more than you ever considered as a businessman, manager or organization leader. They may be achievable but they may not necessarily be small. This is where you break those goals down into "digestible" inputs. These inputs can range from anything beginning with tasks or social media trial runs.
Step 4: Set a Schedule
They say the best-laid plans are still bound to fail and this is true when you don't have deadlines. Planning takes action and no matter how efficient you are, your plan won't see the light of day if you don't have a way of marking down what you have accomplished at a certain timeframe.
Step 5: Organize Your Plan
What good is a plan if you can't visualize it? It doesn't stop there either. You need to bring that vision to your team and help them understand it so that in turn, they can also help you finalize your social media plan. Visuals can be charts with figures of your targets among other things.
There's nothing quite like social media planning to reach a higher level of customer engagement. Don't know where to start? Download this social media strategy plan template in any of Google Docs, MS Word and Pages. Prepare to get more visibility when you finally have a plan in place.
Map out your business' social media outlook by downloading this social media marketing plan sample. Professionally-designed to meet your planning needs, this template can be downloaded and accessed easily on our website. All you have to do is click on the download button and you're ready to start planning.
With the pace to which content is shared all over the internet especially the social media, you can't afford to be stuck in decades-old branding strategies. Luckily for you, social media platforms are there for the taking. Using this social media action plan template may be a great way to start. Download it now in all versions of Google Docs, MS Word and Pages.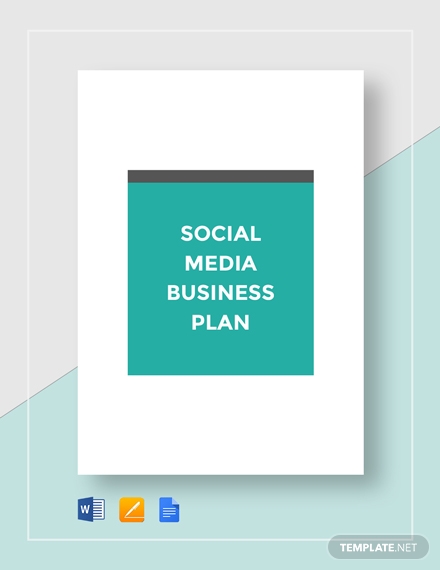 You can only decide your social media strategies with proper planning. Take advantage of this social media business plan template to outline your next plan well. Edit and customize the file according to what would fit your strategies. Download it in any of the available formats found here then print from any compatible device.
Do you want to have a more organized social media plan in time for the start of next quarter? Then what are you waiting for? Get this sample social media plan and edit it according to the needs of your organization. Download this template now and discuss your strategies with your team.
Facebook Marketing Plan Template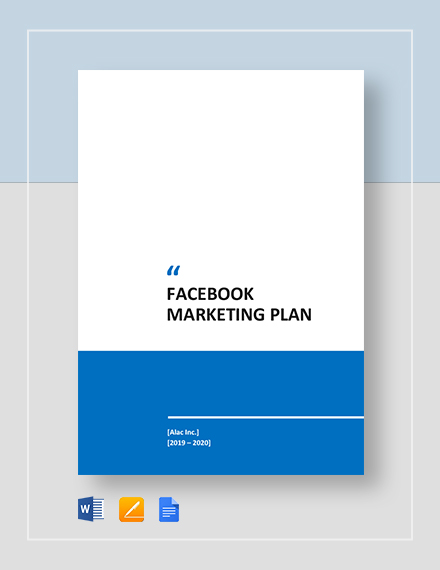 Instagram Marketing Plan Template
YouTube Marketing Plan Template
Google Marketing Plan Template
LinkedIn Marketing Plan Template
Is your restaurant not bringing enough customers? If yes, this means you have to step up on your branding strategies. Start off by downloading this social media marketing plan template. Get this template which tailored-fit for any restaurant social media plan. Print the document anywhere, anytime for added convenience.
Have you evaluated where you currently are in your marketing strategies? Even if some things are working, you still need to put together a winning social media marketing plan for obvious reasons. With social media, you'll have enough visibility if you use it right. Go ahead and download this template in PDF file format.
Are you hesitant to start working on a social media marketing plan? It's pretty challenging especially if it's your first time, that's why we have this sample social media plan. You can use this template as a guide to complete a well-structured plan which you can use in the future.
Want to improve your current strategies? Say no more! There's no better way to start than on social media platforms. With the endless views and content that gets generated on platforms like Facebook and Instagram, you'll have more than enough to garner customer engagement and brand awareness. What are you waiting for? Download this template now!