Policy Templates
9+ Employee Conduct Policy Templates – PDF
The concept of business ethics has evolved through the years, breaking across academic and other disciplines, making it one of the most significant subjects in the business world. Tracing the roots of ethics in business wouldn't be possible without taking into account its global context. This is so because business ethics is defined in a corporate perspective as an employee or member of the organization's "decisions about what is right or wrong (acceptable or unacceptable) in the organizational context of planning and implementing business activities in a global business environment to benefit: organizational performance, individual achievement in the workplace, social acceptance and approval of peers and coworkers in the organization as well as responding to the needs and concerns of relevant internal and external stakeholders." That's quite a mouthful, isn't it? Then again anybody who has a basic understanding of business knows that ethics should be defined in the managerial sense and that is should cover important areas involved in our every day business dealings within and outside the organization. You may also see company policy templates
Anything less would be considered unacceptable if your company wants to build and maintain an ethical organizational culture. It would of course start by developing processes and strategies to make sure that the organization's ethics is in compliance with labor regulations and open for assessment and progress. This means the company must take time to understand the diverse influences of thousands of years' worth of philosophy dating back to ancient civilizations, or at least, have an idea of the philosophies that inspired generations and culture, including its religious roots. You may also like sample human resource policies
Supervisor's Guide to Employee Conduct

personnel.wv.gov
Employee Code of Conduct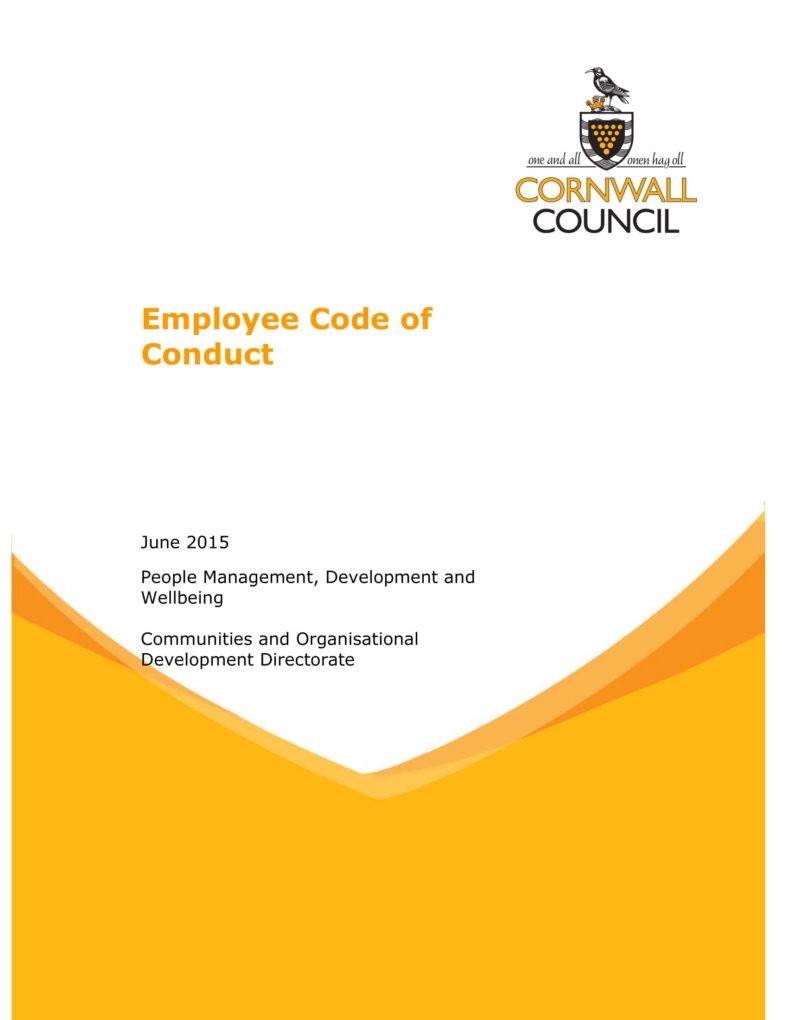 cornwall.gov.uk
Employee Conduct Guide

niu.edu
Having a sense of business ethics
Ethics in business in the general sense is basically the application of one's ethical and moral norms in an organization. It is the biblical equivalent of the Ten Commandments which many Christians use to this day. To be more specific, integrity and honesty, being kind to your fellow men and also using the golden rule as a guide, the text about not committing theft and avoiding being envious can be applied not only in business but in everyday life. Aside from that, the sense of responsibility for your actions indicated in the bible can also be applied in an organization. History also suggests other ancient traditions that were held sacred were quite similar to bible teachings and the idea of man's morality, in almost all areas of our lives, including business, for hundreds and hundreds of years. Man did not simply go on living without knowing the basic difference between good and evil, and acting out on impulses considered evil warranted punishments that were mostly ritual and downright barbaric. Death alone was already being generous. And most death sentence were performed rather publicly, with rulers of the lands wanting to set is as an example with what would happen to someone who break the rules. You may also check out security policy templates
Philosophy also has a history just as long as religion when it comes to ethics in business. In Plato's dialogue, "Republic," he says that a person by nature is reasonable, and that he has a basic understanding of what justice should be, "The individual is wise and brave in virtue of his reason and spirit respectively: he is disciplined when spirit and appetite are in proper subordination to reason. He is just in virtue of the harmony which exists when all three elements of the mind perform their proper function and so achieve their proper fulfillment; he is unjust when no such harmony exists." In his "'Politics", Aristotle said "Men think that what is just is equal; and that equality is the supremacy of the popular will; and that freedom means the doing what a man likes. In such democracies every one lives as he pleases, or in the words of Euripides, 'according to his fancy.' But this is all wrong; men should not think it slavery to live according to the rule of the constitution; for it is their salvation" while also discussing economic relations, commerce, and trade. Such philosophies have influenced the ideals of proper conduct in the business industry, and it continues today, especially in developed countries focusing on ethical behavior and how people at work should always go by the moral standards set by the society as a whole, and by the company specifically. It is because of this, that many companies prioritize policies of conduct and are serious in holding their workers are held accountable for immoral, unprofessional activity. You may also see training policy templates
Standards Of Conduct

dhrm.virginia.gov
Griffith University Code of Conduct

policies.griffith.edu.au
Unfortunately, part of this idea is the criticism of the largest companies and corporations using child labor and meager employee salary in third world and less developed countries. There are many people in business whose ethics are greatly influenced by the traditions they grew up with and their religious beliefs so much so that they use the same ethical norms in enforcing a code of conduct to the rest of their workforce. A fine example of this is Maldden Mills owner Aaron Feuerstein who kept more than 3,000 of his employees on the payroll, with payments to their health insurance to boot, on December of 1995 after his company went bankrupt. He also stated that the Lawrence mill owners "made a fortune during the war (World War II)" and that having factories operating in China and less fortunate countries were to him "immoral an unethical." He told the public that keeping his employees paid were a general statement of his Jewish faith and that it was what he thought the only right thing to do. There aren't many who are like him anymore, but if employees who would have a boss as principled as him, then they would be very, very fortunate indeed.
In the corporate environment, employees, as font liners, arguably have the most significant role. If you are doing your job well and practice professionalism you are bound to succeed and grow within or outside the workplace, while also helping your company grow. A single employee's contribution is oftentimes overlooked as something trivial but it takes hard work, patience and good behavior to make an impact and a negative disposition at work, no matter how skilled you are, will eventually be your downfall. In an organization, you are expected to work with a team and not against them. And if you are someone at odds with authority, then you will be in for a rude awakening because authority matters at work, and with companies competing in the industry, your management will not tolerate gross misconduct and any form of insubordination. Doing your job isn't limited to the figures you are contributing in a company's productivity. Doing your job also means not jeopardizing a company and behaving according to what it stands for. Otherwise, you suffer the consequences, because for every action in the workplace that hurts fellow employees and puts the business at risk means a punishment to make sure others wouldn't do the same. You see, customers often identify the behavior of an employee to the company whose products and services they pay for. A bad experience with anyone from the company will result in mistrust and an employee who doesn't give a customer the service it deserves, will always be remembered, and it's not the employee they would remember. It's the brand. One disgusted customer will spread the word and the company then loses profit. You may also like IT policy templates
Just a month ago, global clothing brand H&M had to release a public statement of apology for a marketing campaign showing an African-American child wearing a hoodie with the words "coolest monkey in the jungle". It was deemed offensive by the majority. The child was the only African-American on the campaign and he was the only one wearing the jumper with that design. If it was properly flagged in different quality assurance and marketing channels, it could have been avoided. Considering the size of H&M as a business, it was a poor decision to make and was rightly called out by the public, demanding a boycott of their products. As a result, they also lost one of their most profitable campaign partners (The Weekend). It is quite astounding how one mistake can turn a company upside down and lose customers by the thousands. In fact, as of January 2018, all stores of the company had been shut down in South Africa alone and you can bet they will continue to face the massive negative impact of what could have been such an easy choice to make. One mistake. That's all it takes to bring an international company down. H&M would be hardly left broke of course, but companies must remember the consequences of an unethical decision. You may also check out environmental policy templates
Code of Conduct

det.nsw.edu.au
NSW Education Code of Conduct

education.nsw.gov.au
Code Of Conduct for BSC Members

bcs.org
Code of Ethics and Conduct

bps.org.uk
Irrespective of whether your company is mandated by law to have its own code of conduct, as most companies are, every business or organization definitely should have one. It isn't something someone has to propose. It is an organization's moral responsibility so that it can ensure serving its clients well, and protecting everyone within the organization's jurisdiction. A code sets a company's values and serves as reference by which employees should conduct themselves in a professional setting. It makes a team further committed to achieving its goals and protecting its interests while ensuring customer satisfaction. Being on the good side of your customers doesn't take much. Disappointing them however, would have serious, financial damages to the business. It isn't always easy to be right. But it's easy to do the right thing.
More in Policy Templates