Presentation
12+ Marketing Presentation Templates
Handing out marketing materials only work when either you or the prospects are on the move. When you require the prospect to stop and listen to your pitch, it might be better to use marketing presentations instead. To assist you in what you need, we've got some outstanding presentation templates below for you to download.
Table of Content
5 Steps to Create a Marketing Presentation
Step 1: Plan your presentation's content
When planning the content of your presentation, determine what topics you wish to discuss and the specific information that you plan on communicating with your audience. Make sure that your content is relevant, informative, and is interesting enough to keep your audiences attentive throughout the entire presentation.
Step 2: Gather images, photos, charts, or any graphics that you can use
After planning the content, it's now time to prepare the graphical elements that you think can help in beautifying the look of each slide and the overall presentation. Also, you may need to prepare elements that can complement your content such as charts for representing values or quantities, or images for showcasing your products or services.
Step 3: Download a marketing presentation template
Below, you'll find a collection of marketing presentation templates that we have gathered on the internet. There are over ten templates that you can choose from and you will simply need to click on the download button of the template that you like. The resources you need are all here, you just have to look for the best one.
Step 4: Customize the template using its corresponding software
The best thing about our templates is that they are fully and easily customizable, and we can guarantee that. However, to be able to edit the template fully, you may be required to use the appropriate software. In other words, if you choose to download a template in Keynote, you will also need to edit it using Apple's Keynote.
Step 5: Evaluate and finalize your presentation
Before calling it a wrap, be sure to evaluate your marketing presentation by going over it from start to finish and reviewing the content. If you're uncertain about your work, you can always ask opinion from others. Afterward, you can finalize your marketing presentation and save it in the correct file format.
10+ Marketing Presentation Templates
1. Marketing Presentation Template
2. Freelance Marketing Presentation Template
3. Makeup Artist Marketing Presentation Format
To all makeup artists out there, whether you're still starting up or have already made a name for yourself, you might want to check out this presentation template to get your message across a group of interested people. With around fifteen slides that you can use for your content, you're sure to get the job done very easily.
4. Advertising Marketing Agency Presentation Layout
Here's a marketing presentation template that consists of fifteen fully editable slides to help you make the editing process stress-free. This template also comes with free graphical elements that you can incorporate to the layout, and these elements are also fully scalable. Whether you're using Windows or Mac, you can download this template in Powerpoint or Keynote.
5. Social Media Marketing Presentation Template
Social media websites have recently become one of the most common platforms for doing business and it's actually quite effective in conveying the information. With this template, you'll be able to customize each of the 19 slides very easily, you may even be able to add animations for each slide. Don't waste the chance; download this template now.
6. Real Estate Marketing Presentation Sample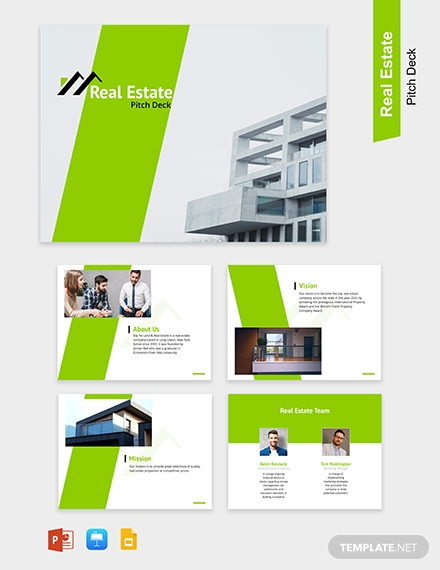 If you're planning to make a proposal related to real estate, this formal business presentation template would be great for that purpose. Whether you're using Google Slides, Keynotes, or Microsoft Powerpoint, you'd be able to use this template and customize the design easily. If you wish to change the color scheme, you can do that as well.
7. Insurance Company Marketing Presentation Example
In terms of presentations, they may either be in a 4:3 or 16:9 aspect ratio, with the latter being wider and more ideal for newer output devices. However, if you're looking for a template that's optimized in the 4:3 aspect ratio, this one might be it and it's just as easy to customize as the other templates here.
8. Startup Business Marketing Presentation Format
Getting a business to start up requires a lot more effort than when it is already established and have made a name for itself. To create a positive impression on people, this presentation template would be your best bet at trying to get your message across. Download this business presentation template now to get started.
9. Facebook Marketing Powerpoint Presentation Layout
Since social media has been heavily used nowadays as a business medium, incorporating elements from it to your marketing presentations may boost your chances of converting prospects to actual clients. With a whopping 170 unique slides to use, you'll never have to look for a different template when working on another presentation in the future.
10. Digital Marketing Powerpoint Presentation Example
When making and executing marketing strategies, it's always best to exert a little more effort to really attract prospects to your pitch. By using this template, making the presentation will be easier and you'll only need to put more effort into delivering your message. The best thing about this is that each slide already comes with exclusive graphics.
11. Digital Content Marketing Presentation Design
Here's another presentation template that'll fully encourage you to go digital when trying to market something. The clean layout of this template can help in directing your audience's attention to your presentation's most important content. There are around ten color schemes that you can use with this template, and you can choose between the 16:9 and 4:3 aspect ratios.
12. Marketing Plan Powerpoint Presentation Sample
If being clean and organized are your criteria for your business presentations, this template would be an excellent pick. There are around 53 slides that you can use, each with a highly unique design. This template also comes with transitions that you can apply in-between slides, eight pre-made color schemes, and some free fonts.
13. Marshal Marketing Powerpoint Presentation Template
Bring attention to your professional presentation with this template, and you won't even have to stress yourself out for that to be possible. Whether you prefer to use a 16:9 or 4:3 aspect ratio, this template has been optimized for both. The best feature about this template is it allows dragging and dropping of elements to the layout.
More in Presentation