Proposal Templates
14+ Business Investment Proposal Templates – PDF, Word
With the changing demands in different industries, globalization and dealing with the economic downturn of recent years, it is the goal of every businessman not to get left behind in the race to get their share of customers in a dynamic and equally changing market. It is their every intention to stay on top of their game especially for those who want to compete and are aiming for growth and expansion of their businesses proposal. You may also see proposal samples.
Business Investment Proposal Template
Startup Business Investment Proposal
Small Business Investment Proposal Template
Investment Proposal Template
The willingness to gamble the right way is needed most of the time for them to achieve what they want and raise profit when they want, because being satisfied with the way they do business, whether they're seasoned masters of their trade or fairly new, should be out of the question. You may also see investment proposal templates for a restaurant.
Business Proposal for Investors Template
You have to be willing to try something new in order to attract investors because raising your capital for goals of growth or a new business venture means getting the right people to put their money on your company and your ideas. Most of the time, this would require you to develop a business proposal good enough to for investors.
Knowing how to write or develop one that would win you a decent business deal can make or break your business plan before you even hit the ground running, so if you want your business to make it to the top of the competition, you will need a killer business proposal sample to not only attract but also impress investors.
You have to set yourself up for putting in work because you need to be structured in making it, be technically accurate and gain enough power of persuasion while being concise and straight to the point. No beating around the bush, because they want to hear your pitch and you have to start it off right away. You may also see startup investment proposal templates.
Real Estate Investment Proposal
Printable Business Investment Proposal
Poultry Investment Proposal Example
run.unl.pt
Writing Your Proposal
Your best chance at having a winning business investment proposal is telling, rather than selling. By showing numbers, facts, and figures rather than assumptions and baseless projections, you gain the trust and confidence with what you're offering your potential partners. Because at the end of the day, getting financial help on a project or enterprise would also mean getting investors.
Attracting them, however, is a totally different story, in which case the best way through it, would be presenting them with a powerful and convincing proposal. This means you have to include these things in your proposal and write them in their proper order as follows:
1. Executive Summary
This comprises of one or two paragraphs with a description or an overview of the proposal's content, presented in a list or bullet point format for easy reading so that you can also grab the reader's attention, which in this case, are your potential investors. You may also see small business proposal templates.
2. Company Summary
This would include every important detail of your company such as name, address, the industry you belong in, type of products or services available, subsidiaries, legal structure, position, etc., all of which makes up the things any interested party would need to know before they decide to invest. You may also see music business proposal templates.
3. Products and Services
You may think this one should be pretty self-explanatory but this is where you need to get into more detail and write down inventory, explain production costs, including selling prices and sales projections for the next two to four years as well as whatever agreement you have with existing suppliers. You may also see sample proposal templates.
4. Facilities
What type of construction is your office sitting on? Do you own or lease the property? Where is it located? These are the questions you need to answer and you have to be clear about them. You would also have to mention the equipment you use, both owned and leased, then provide details for costs of tools and equipment as well as the current value of the ones you own. You may also see consulting proposal templates.
Joint Business Venture Proposal Template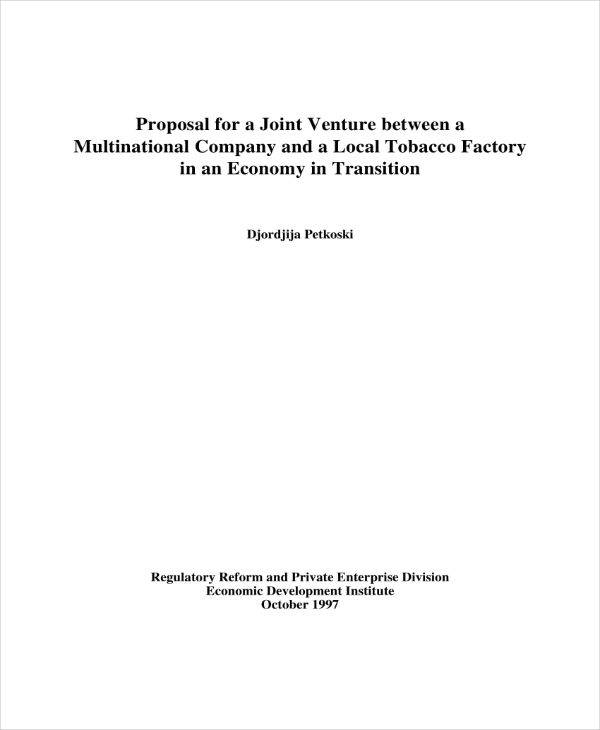 siteresources.worldbank.org
Investment Proposal for Business
liaa.gov.lv
Investment Proposal for a Private Equity
run.unl.pt
5. Use of Budget/Funds
What are your plans? Where do you exactly need to use the investment on? You have to specify whether they are for additional inventory, improvement of manpower or other areas like marketing, sales or upgrade of facilities. You may also see restaurant business proposals.
6. Marketing
What's your current marketing campaigns, activities? What's the focus of your current marketing efforts? Where does this investment come in your marketing plan and how would it help market your product successfully? This is an important part of your proposal, so you would also have to include information regarding sales, market analysis and research, competition and SWOT analysis, among others.
7. Leadership and Ownership
This is where you would write down the name of the owner, the founder, the CEO the current manager and whoever holds the highest position in the company. What is the company's organizational and management structure? Provide a list of all the employees with their respective titles and positions. You also need to include forecast wages for the next 2-4 years. You may also see simple investment templates.
8. Financials
For obvious reasons, before they start putting their money in your company, investors would need information detailing the company's financial standing which would mean you have to provide a balance sheet, a forecast of the cash flow and your projected sales for a time period so they would have a better understanding of the company's financial position.
9. Investment Exit Strategy
This is something every businessman shouldn't miss out on, in their investment proposal. The investment exit strategy provides a fallback when the investor feels like their investment isn't really going according to plan.
Be Honest
Just because you're asking for money doesn't mean interested investors would hand you the amount. You're not necessarily asked to name the price of your simple business idea but you're asked to name how much you actually need to get in action. Sure, it's tempting to just put an amount which is more than what you really need but you have to remember that your proposal needs to hold weight and lying about how much money you need isn't going to help you sound professional. In worst cases, asking for more than what you need would give a bad impression.
Tips for Writing a Business Proposal that Wins Investors
1. Start with the format
The proposal should have a cover page followed by pages of its contents. The body of the document should begin with the executive summary highlighting what type of business you have and what it's all about, a recent record of its performance and achievements, assumed revenue and profit projections for the next several years, the figures required for investment and the investor's potential return. You don't need to explain, justify or defend the figures you have indicated in your summary. This will come late on, in the rest of your proposal. The executive summary would ideally have the following sections:
current and historical financial data, description of the company, an overview of the market, financial projections, key personnel and investment offer with the market overview providing information on target customers, strongest competitors, and emerging market trends. You may also see investment contract templates.
2. Collect Your Figures
Whatever your current numbers are, they're the most crucial piece of information to potential partners and investors. This means you would have to include a copy of your business' latest bank statement, balance sheet, your yearly budget and 1099 for tax records. The balance sheet is your detailed list of company assets and liabilities. Make a chart showing your profits and expenses for the past three years. Include cash-flow statements and account receivables, journals, and old reports if they prove helpful in showing you're able to manage to be financially stable as a business for a fiscal year.
3. Show Trends
Describe the sales numbers you presented based on both subjective and objective factors. Explain why your sales have dropped or improved using details relevant to your business and any data from credible sources such as market research or analysis, business publications or government agencies. For example, the current decline in sales may have been caused by trade deals in your industry that you have no control over.
Explain the strategies you're using in addressing this. Your sales may have also increased because of innovative marketing campaigns or new distribution channels opened. Use data on current or recent sales and an overview of the market's standing to get appropriate projections. In doing so, your potential investors are assured that you're not just producing figures out of nowhere.
Business Proposal for Real Estate
jscholarship.library.jhu.edu
Apparel Sector Study and Investment Proposal
occrp.org
It's Time to Make that Offer
Lay your cards on the table and tell the investors what you want. You need to be clear and specific in telling them what you plan to accomplish and what they're going to get in return. This is an investment, after all, so they would want to know what their takeaway is and how they're going to get it. This is also where you have to set the terms as well as your expectations with them. You may also see perfect investment proposals.
After all, these have been settled, done, and dusted, what comes next is up to you and your team. That means you have to be determined in not failing yourself, your stakeholders, including your investors. You can have all the killer proposals in the world but it's not going to make any difference if you fail to do your job. You may also see business proposals in a word.
More in Proposal Templates