For centuries now, the economy of countries is kept alive due to the continuous creation of products and services that adapt to the wants and needs of society. These inventions are ushered into its creation through business proposals, the document of persuasion submitted to potential investors for the purpose of securing funding to the presented idea.
Elements of a Good Business Proposal
A business proposal is an integral part in every business venture. Making one poses a few challenges and requires your attention to detail. A good business proposal template has the following elements:
Elevator Pitch: Also known as the executive summary, an elevator pitch is the bird's eye view of your business idea that condenses all of the vital parts of your business proposal. It should be concise and persuasive to get the one reading your proposal invested. Although this goes first in the paper, it is best to write this last to make sure that you have included all the important information found in the other sections.
Business Description: This part gives an overview of your business and its purpose. It includes your company's history and mission and vision statement. Treat this part as if you are writing a motivational story about how you came to with your proposed idea, what got you started, and why you are still pursuing it so you can establish a certain connection to your investors.
Market Analysis: This is the section that states your target market, customer profiles, customer testimonials or feedback, and other data you gathered from your market research. Take this part as an opportunity to show that your business idea will prove to be superior even among existing competition because you cater to the optimal need of your target market.
Cash Flow Plan: It is a prediction of all the checks and balances involved in your business plan. Although the actual operation rarely follows the cash flow plan due to unaccounted circumstances, exerting effort to the littlest details of this part can impress your investors and expose underlying flaws of your idea, which can lead to early prevention of the problem.
Organization and Management: More than the brilliance of your business idea, investors also want to gauge the viability of your business idea through the credentials of the team members involved. Use this section to showcase the achievements of your proponents and reasons why they are perfect for the plan.
19+ Business Proposal Templates
Business Proposal Format
InDesign Business Proposal Template
Professional Business Proposal
Business Project Proposal
Business Analysis Proposal
Simple Business Partnership Proposal Template
Business Partnership Proposal
Business Problem Solving Proposal Template
Business Proposal for Investors Template
Business Loan Proposal
Cleaning Business Proposal
Proposal to Buy a Business Template
Consulting Business Proposal Design
Business Plan Proposal Template
Business Proposal Sample
Business Investment Proposal Sample
Business Partnership Proposal Template
Business Proposal Presentation Design
Travel Business Proposal Form
Transportation Business Proposal Sample
Small Business Proposal Template
Catering Business Proposal Example
Minimal Business Proposal Sample
Blue Business Proposal Template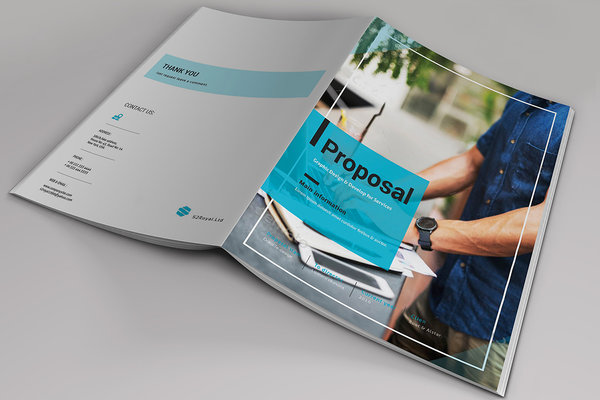 Steps to Make a Great Business Proposal
Start with your business description: As a start, write a detailed description of your business model, from the customer base to your revenue sources, and enumerate your advantages. Include the details of your company such as location, company principles, legal structure, and company aspirations.
Evaluate your target market: Since this part is a thorough examination of your target market, you should be able to come up with charts and graphs based on your research. Find out and define the people who will be buying your product by coming up with a consumer profile that is grouped by age, gender, lifestyle, etc. and project the trend of this market in the subsequent years of your operation. Analyzing your target market can consume a lot of time, so it's best to employ research strategies and tap various sources in public and private sectors for data.
Formulate the cash flow plan: Aside from the usual money in and money out description and diagram, present your sales strategies and funding requirements.
Sales strategies are your methods in raising money for your business and reaching the point of profit quickly. The pricing and marketing techniques that you will implement are also included in this part. For your marketing, it is best to allocate a huge part of your effort in the digital landscape such as promoting your brand in social media or launching an interactive website. The advent of technology has made it imperative for businesses to have a digital presence.
Funding requirements pertain to the money you need. Present how much you will be asking in a range rather than an exact amount. For the benefit of your potential investors, be as realistic as possible and include a timeline regarding the funding so they will maintain a clear expectation of your business.
Showcase your team: List your team with their corresponding achievements to convince the investors that the business is in good hands. Create a framework of your organizational structure that demonstrates how each position plays a vital role in the success of the business.
Summarize everything in the elevator pitch: After completing all of the sections, compile the gist of each and make brief paragraphs for your elevator pitch. There are varying lengths when it comes to elevator pitches, but they usually span from 2 to 4 pages or 5 percent of the total length of your document.
Tips for a Great Business Proposal
Don't speak ill about the competition: In an effort to project a business idea as the superior one, entrepreneurs will sometimes bash the competing products or services in their written proposal. Doing so will only get you into a potential mess and will not necessarily put your proposal into good light.
Talk through your customers: If you want to highlight the advantages or benefits of your business, present your customers' feedback instead rather than mincing your own words. Consumer testimonials provide a realistic anchorage of your product in the actual market and this provides potential investors a strong reason to give their nod.
Give that sense of urgency: Present the problem that your business idea is trying to solve and provide reasons why it must be done no sooner than any other time. To give your investors a clear picture, cite a negative situation that may happen if your business idea does not push through.
Types of Business Proposals
Formally Solicited Business Proposals: These proposals are made in response to a client's need. These requests from clients are categorized into four: request for proposal (RFP), request for quotation samples (RFQ), invitation for bid (IFB), and request for information (RFI). RFP is issued by a customer to hear out a company's offer that caters the client's specific demands. RFQ is made when a large quantity of goods or a bulk of service is needed from the company. IFB is requested when a client wants to compare the company's rates to its competition. And RFI is made by a client to acquire information regarding the products and services of a company.
Informally Solicited Business Proposals: Also known as sole-source proposal, informally solicited business proposal is a business pitch made in response to an informal, oral agreement between a company and a client. It is presented in a quick, little meeting and does not require much formality. These proposal are fairly short, with some spanning to only 5 pages.
Unsolicited Business Proposals: This type of proposal differs from the other two in such a way that it is made not due to a client requirement but because of the need to attract potential clients. Unsolicited business proposals are made like a marketing brochure that contains information about the products and services offered by the company.
Business Proposal Template Sizes
Business proposals are usually printed on papers with US letter size of 8.5 inches by 11 inches.
Business Proposal FAQs
How long should a business proposal be?
A business proposal's length depends on its purpose. It can span as short as 5 pages and as long as 100 pages. However, for your investors to not lose interest in reading your proposal, it is recommended to keep it short. Most business plans presented to new investors tend to be long because they need to be complete and thorough while business proposals presented within the company tend to be short as they only contain essential information and not so much with the company specifics.
Is it alright to hire someone to write a business proposal?
If you are too caught up with your business operations, it is wise to hire someone who is knowledgeable about your business to write for you. However, writing the proposal by yourself will give a more definitive feel to it and you can add accurate insights regarding your business idea. If you're having a hard time coming up with one, this website offers a selection of business proposal templates to help you get started.
Writing your business proposal should not be as difficult as the business presentation itself where the real jitters take over. So to make sure that you are body-and-soul ready for that meeting, arm yourself with a good business proposal paper and it will surely help you land a good deal.