A corporate event proposal can be created by different entities depending on the type of event you have in the works. There are a variety of areas that need to be taken care of to ensure the smooth execution of a corporate event. There is a need for corporate event proposal samples to target specific items that can help in the completion of a corporate event planning.
Corporate Event Proposal Template
Event Management Proposal Template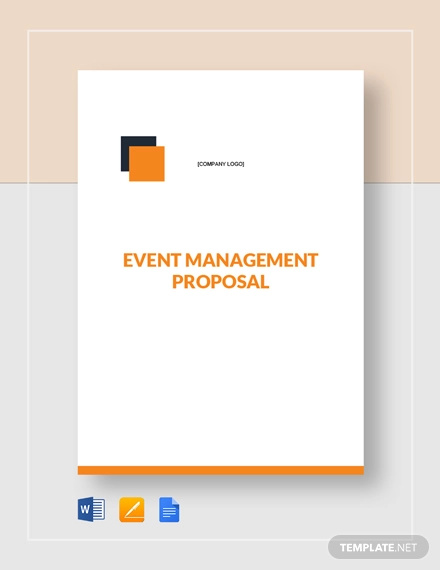 Event Sponsorship Proposal Template
Unlike a grant proposal, a corporate event proposal is only done for an activity that is of short duration. If you are a host of a corporate event, you can request for a proposal letter from an entity which you think can help you achieve what you have planned for an event. If you are on the other side of the transaction, use our corporate event proposal templates and samples in Word and PDF to entice your clients.
Corporate Event Proposal Template
Corporate Event Sponsorship Proposal
Corporate Event Planning
Event Management
Event Budget
How to Write an Event Planning Service Proposal
An event planning service proposal, just like a project proposal, must encase a cost proposal template that will cover all the needs of an event. If there are other businesses who would like to be the supplier of an event, you can create a bid proposal template to make your offer more appealing.
You can write an effective event planning service proposal that a company can approve of by following these steps:
Identify the kind of service that the company needs for a corporate event. Some of these services includes these items:

Catering
Hosting
Corporate Event Organizing
Location Set-up
Other relevant services needed by the host of the corporate event

Download the specific event planning service proposal template that you need for the transaction where you are involved in. As an example, you can use a consulting proposal template if a host would like to acquire just your consultation services for a corporate event execution.
Make sure to create an event planing service proposal that is relevant to the needs of the client.
Assess the kind of event where your services are needed and align the services that you can execute.
Accurately specify the prices of the professional services that the client can acquire
Specify the terms and conditions of the event planning service proposal
Corporate Marketing
Corporate Partnership
Event Business Plan
How to Structure

a Successful Event Sponsorship Proposal

Consider an event sponsorship proposal template like a business proposal template. Make sure that you will specify the items on how an entity can benefit from the sponsorship as well. You can make a successful event sponsorship proposal structure by following these guidelines:
Place the date when you have created the event sponsorship proposal.
Be sure to appropriately specify the name/s of your prospective sponsor/s to whom the letter is for.
Directly state the purpose of the sponsorship proposal.
Be specific with the kind of sponsorship that you need in the body of your discussion.
Present the corporate event well including its objective, vision, and goals.
Your event sponsorship proposal must contain the reason on why you need the sponsorship and which part of the event will the sponsorship be used.
Unlike a sales proposal template, an event sponsorship template is dealing with items that will not be given by the entity who created the letter. It actually works in a reverse procedure. The above mentioned guidelines can truly help you to have an easier time in creating a successful event sponsorship proposal.