If you have an idea for a cleaning business or if you want someone to hire you for your cleaning services, then you will need to have a good understanding of how you want to present it. That is why this article is going to teach you all that you need to know in terms of how to make a cleaning proposal samples.
7+ Cleaning Proposal Templates
1. Cleaning Proposal Template Sample
2. Cleaning Service Proposal Template
If you are going to propose any kind of cleaning service to a client, then this is the template for you. You can use it to come up with a document which will show the client all the reasons as to why you should be hired for the job. Just make sure that you put in all the information it needs.
3. Cleaning Business Proposal Sample
There are times where you might want to open a business and you want to show the idea to someone who you think can invest in it. This is where a cleaning business proposal will definitely come in handy. If you want to make one, then be sure that you download this template.
6 Steps for Creating a Cleaning Proposal
Step 1: Introduce Your Idea
The first thing that you need to do to is to get people hooked on whatever it is that you are trying to propose. Whether you're trying to start a cleaning business or offering your cleaning services, it's best to start with pointing out a problem and how you are going to fix it.
Step 2: Go Into More Detail on the Problem
Now comes the part where you will start writing the body of your cleaning proposal. At this point, you will have to provide more information on the problem that you are going to tackle. What kind of cleaning problem is it? Who is it going to affect? What kind of effect does it have if it's left alone? These are questions that your simple proposal should be able to answer.
Step 3: Share Your Solutions
Once you are done identifying the problems, the obvious thing to do next is to provide the solutions. As you are making this section of the proposal document, you will need to show exactly what you are planning to do, explain why those are the best methods, and what kind of outcome is to be expected.
Step 4: Put in the Cleaning Schedule
Now comes the part where you will point out when exactly you are going to provide the cleaning services. It is best that you come up with a cleaning schedule that clients can agree with. Consider the days and hours under which your cleaning business can operate and then place it into the document once you've finalized the schedule.
Step 5: Include the Budget
Now comes the part where you will need to point out how much you are going to need in order to provide any cleaning service at all. When coming up with the budget, be sure to consider things such as the number of cleaning resources needed, the type of services you are willing to offer, the amount of time a service takes to complete and so on.
Step 6: Summarize Your Entire Proposal
Once you are done with putting in everything that you need to, then the last thing that you are going to have to do is to summarize your whole proposal. Summarize the benefits of your proposal and drive home that the benefits outweigh the costs. You want the reader interested enough to actually consider funding or hiring you for any cleaning-related services.
4. Restaurant Cleaning Proposal Template
5. Office Cleaning Proposal Example
It is required that the office you're in charge of maintaining must be routinely cleaned. If you have an idea as to what kind of cleaning services will be needed and when they should be provided, then it is in your best interest to download and make use of this template.
6. Cleaning Proposal Template
In the event that you wish to come up with a cleaning proposal, then this is the kind of template for you. If you are going to download and use it, then make sure to use either Microsoft Word or Apple Pages so that you can easily customize it to however you want.
7. Free Cleaning Business Proposal Template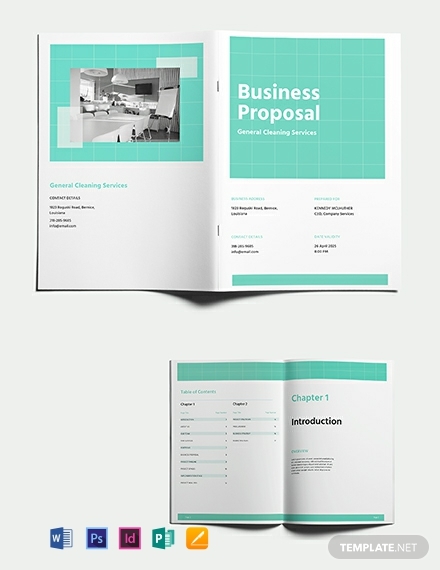 If you are looking for a cleaning business proposal template that you can get for free, then look no further than the one available here. With it, you should have a quick and easy time when it comes to making whatever kind of cleaning proposal you wish to create.
8. Commercial Cleaning Proposal
There are so many commercial properties that need to maintain that it's common for them to require cleaning services. So if you have an idea as to how these commercial properties should be cleaned, then you should definitely make use of this template. With it, you can point out details such as what's needed or what kind of cleaning should be done.