Investments are needed by all companies for their long-term sustainability. Most companies do not have unlimited resources to fund their own projects, so they look for investment opportunities. Even if companies have enough funds, they still look for external investors so they can continue to expand their daily operations. Investors come in many forms. They can be individuals, banks, affiliate companies, lending institutions, or government bodies. You may also see proposal samples.
663+ Restaurant Templates in PDF, Word, Excel, PSD, Google Docs, PowerPoint, InDesign, Apple Pages, Google Sheets, Publisher, Apple Numbers, Illustrator, Apple Keynote, Google Slides, HTML5 - START DOWNLOADING
Investment Proposal Template
Sample Investment Proposal Template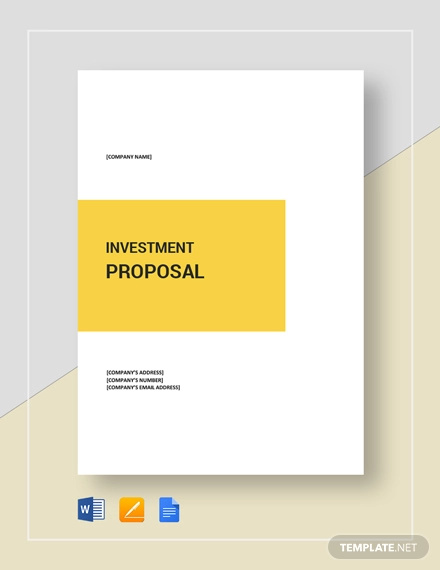 Investor Proposal Template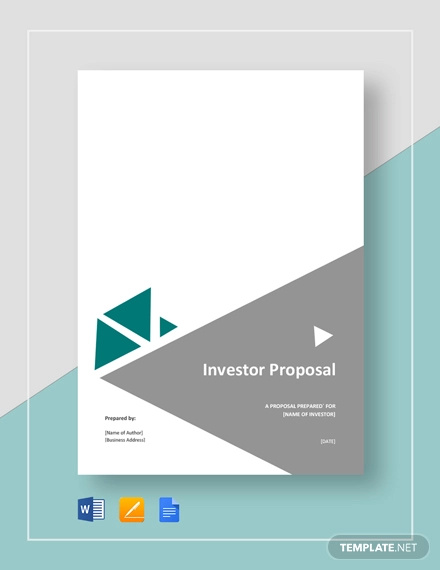 Restaurants, cafes, and bakeries are not exempted from seeking investments. These establishments need investments either for the purchase of new kitchen equipment list, advertising, and promotion materials; or for opening a new branch. You may also see sample proposal templates.
Restaurant Investment Proposal Template
Simple Investment Proposal Template
Getting an investment is easy as long as you fulfill the correct requirements, one of which is an investment proposal. So, here are some investment proposal templates you can use if you are planning to get an investment for your restaurant, cafe, or bakery.
Sample Investment Proposal Word Template to Edit
Simple Business Proposal for Investors Word Template
Simple Professional Business Proposal Template
Service Business Proposal Template
How to write an effective investment proposal
Investment proposals are not difficult to accomplish. As long as you provide the right details in the word proposal, it can be immediately approved. Here are some tips to remember when you are about to write your own investment proposal.
Include vital company information
This is the first thing that banks and other lending institutions will be looking at when you submit your proposal. The legitimacy of your business is the most important factor in getting your proposal approved. Company information is often included in the executive summary, which contains the most basic yet important company information such as the company name, products and services, vision and mission statements, and management team profiles.
Clearly, indicate the requested amount of investment funds
Since the main purpose of the investment proposal is to get additional funds for your company (in this case, your restaurant), you should clearly indicate in the proposal the specific amount that you need. Do not generalize and write a vague statement like, "I am probably going need a few thousand dollars to buy a brand new oven." Be professional in your proposal and list down the specific amount together with a breakdown of the total investment.
Keep it simple
Investment proposals are not business plans that require thorough research and an extensive time period to accomplish. Be direct to the point and list down how both parties (your restaurant and the investor) can benefit from the investment. The only things you need to list down in the proposal are the company information (free executive summary), the amount of the investment and the reason why you need that amount, as well as the benefits to convince an investor to give you funds for your restaurant.
If you would like to read more articles about investments or simple proposals, be sure to check the other topics we have linked to this post. You are sure to find some gems that can help you become successful in your small business endeavors, so keep reading and keep winning!