A management proposal is a kind of proposal that can be used by others who want to make a planned project, with specific details in place. This kind of proposal has in it all the terms and conditions necessary to successfully run a project. This is both to secure your superiors' approval of your activity and to secure any further support you may need.
Property Management Proposal
If your company provides services that oversee residential, commercial, or industrial properties, then using this management proposal template in Word format will be of great help to you. Often, landlords prefer to keep a professional distance from their tenants, so you have to pitch why you or your company is the perfect candidate to manage their real estate. With the use of his template, it saves you the time and effort of creating one from scratch. Try it out now!
Restaurant Management Proposal Template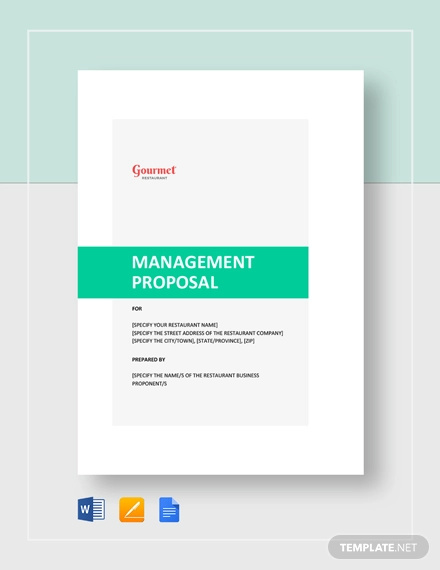 For projects involving cross-functional teams, a management proposal is needed in order to collaborate with each of the teams' actions and make full use of each individual in a team. This above-mentioned proposal template in Google Docs provides you with the standard plan format allowing proper allocation of resources. From materials down to human resources, be able to assign tasks for each team and provide timelines and milestones for each step of the way. Edit any part of the template to insert or add any additional information you wish to present. Start editing now.
Social Media Management Proposal
Outline your proposed strategies to effectively manage your client's social media channels and activities using a well-thought-out and organized social media management proposal for your client. Create a formal and detailed social media management proposal with the help of this template. Of course, there are different kinds of actions that you would need to secure approval for, which is why there are examples, like an event planning business proposal or a corporate event proposal. It is one thing to propose an event or idea, but in this case, you would be proposing to manage whatever idea you may have, which would have its own requirements to prepare for.
Construction Management Proposal
Rave about your company's expertise in overseeing and managing construction projects by procuring an informative and well-written construction management proposal that is mentioned above. This template has a professional document outline where you can easily input relevant information such as your proposed contract price, responsibilities, and construction management procedures. All you would have to do is download the template, edit, and customize as per your needs. Try it out now!
Event Management Proposal Template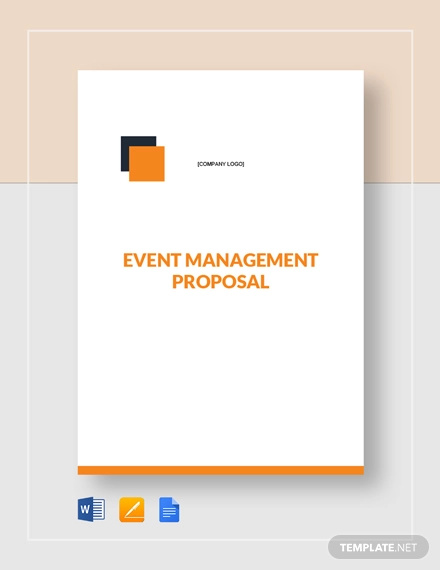 Managing events can be difficult and stressful. The best way to make sure that you get the proper support for this endeavor would be through the use of this event management template. It helps you in event planning and also, helps you execute it the way you want. Having this will make the process of creating the proposal in the process much easier since there would be no need to start from scratch anymore. It is very easy to edit and customize as per the preferences of the user.
Project Management Proposal Template
How to Create a Management Proposal in 6 Steps:
Step 1: Define the Problem
The first thing you need to do is define the problem. This means that you need to do good market research on where you stand and what you do. You need to know what your key issue is to make sure you know the problem. Be very observant, so you know what the problem or issue is. Describe what is happening at the moment in the market and how are you coping with it. Include all the relevant details without fail.
Step 2: Goals and Objectives
It is very important that you know what is the purpose of your proposal. So, make a list of all the goals and objectives you need to fulfill. These goals could be developmental goals, learning objectives, business goals, or any other that make it easier for the others involved in the proposal to understand what the goals are. Give solutions to the issue that you have mentioned.
Step 3: Materials Required and Budget
Make a list of all the resources, personnel, and material you will be needing to make this proposal a successful one. cost plan. Mention the timeframe needed to finish the proposal. Using a editable checklist template will be a great help to you so that you do not forget anything that you need to add in the proposal. This way, you can tik off all those resources that are there, giving you a better idea of the ones you need to buy.
Step 4: Budget
Once you have the list of materials needed, the next thing for you to do would be to mention the costs of the proposal. This is where budget templates come into action. This means that you need to mention all the costs and also, the income for the proposal. This way, your clients, and investors know what is the money they have to put in and how it would benefit them as well.
Step 5: Laws, Terms, and Conditions
This step is where you mention all the terms and conditions of the proposal. This acts like the roles and responsibilities of the people involved in the proposal. Check management report templates for more. These are the terms and conditions that have been agreed upon before the finalization of the proposal. It is very important that you also mention the state law you follow so that it is easier for the others to understand the laws they need to follow.
Step 6: Review and Edit
The last and final thing for you to do would be to review your proposal properly, soo that you know you have not missed any important information that needs to be present in the proposal. Revise and edit to make any necessary changes that need to be made in the proposal. Once you are done making the changes, make sure that you give the proposal to the management.
Event Management
Property Management
Construction Proposal
What is a Management Proposal?
Management simple proposals help you keep a check and also, propose to your recipient that you take over the managing of the event or project. Some parts of this kind of proposal include:
Proposal of taking over administration

– Since you are proposing to take over the management of a project from your potential clients. This means that you are managing this for them and on behalf of them.

Description of benefits

– As you need to explain whatever benefits your clients can expect to get out of working with you.

List of deadlines

– As it is also important that you have a tentative timeline for accomplishing the project.
How to Write an Event Management Proposal
In the case of particular proposal templates, there are always some specific steps to take, such as with consulting proposal templates. In this case, that would include:
First, start with a cover letter to introduce your company, and what you can bring to the table.
Then provide a list of specific deliverables tailored to the unique needs of whatever project you are working on at the time.
Also, include a timeline detailing a plan template for accomplishing everything you need to do to accomplish the project.
Also, be sure to include a section detailing what each party's responsibilities are regarding the project.
Management Consulting
Tips for Writing a Management Proposal:
As with other kinds of business proposal templates, you may take advantage of certain tips that can help you with writing your documents. After all, if these tips are meant to guide you through making your management proposals, then it would be wise to use them yourself to improve the quality of your documents.
Be polite, but direct. It is important that you be polite so as to maintain an air of professionalism, but it is also important that you be direct with your intentions concerning the project so as to be convincing that you are interested in carrying out the project.
Always do your research. This allows you to be more prepared whenever you push your proposal forward, as you already have all the necessary data to back up any ideas you may come up with.
State possible problems. This allows you to begin addressing any potential problems as you have already considered them and come up with solutions.
Keep your proposal simple and straightforward. This allows you to keep to your topic, as well as make it easier for your client to read through and understand your proposal.
With these, you should hopefully have an easier time of creating whatever management proposals you may have to make. Check property management proposal templates for more.