Before any contract or agreement is made in a business partnership, a partnership proposal is drafted to determine the feasibility of this particular agreement samples between companies. A simple partnership proposal is quite alike to an event proposal as both types of agreements determine a certain exchange between two (or more) entities. What differs is that the partnership proposal samples is not limited to the internal aspects but also have the need for external information.
Business Partnership Proposal Template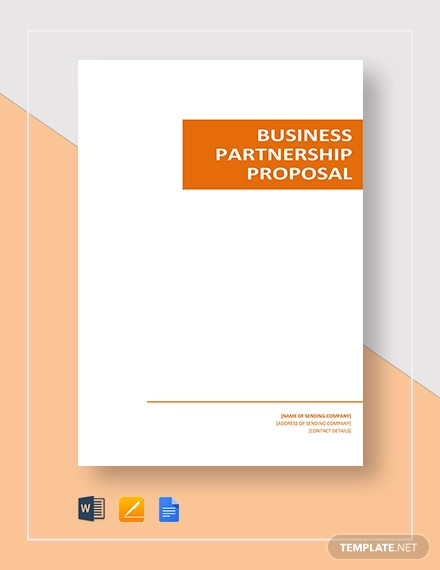 Are you in need of a professionally designed proposal for your business collaboration with another company? Then make use of our well-designed business proposal templates in Apple Pages that will get the work done for you in no time! It comes with ready-made content such as the company background, budget, advantages and disadvantages and so on, which you easily edit or personalize to suit your proposal needs.
Simple Business Partnership Proposal Template
Keep it simple and effective when it comes to creating a proposal by downloading our above-shown business proposal templates in Microsoft Word. This template ensures that there is a mutual understanding between the parties involved before the proposal is agreed upon. Once downloaded, you are free to make changes to it on all versions of MS Word.
Restaurant Partnership Proposal Template
Do not worry about creating a proposal from scratch for your restaurant proposal. Simply download our ready-made restaurant business proposal template that is designed by experts to make the job easier for you. Just replace the highlighted text or necessary areas of the document with your own, and you're all set to submit!
Writing a partnership proposal entails extensive research just as the grant proposal writing process is conducted. The following presented sample partnership proposal templates provide the much-needed information and outline of different types of partnership proposals.
How to Make an Effective Partnership Proposal
A business partnership is created by two or more companies in order to attain benefits on the resulting partnership activities after the partnership agreement and contract. To gain the approval of the partnership proposal, and to undergo agreement with the potential business partner, here is a guide you can follow in making an effective partnership proposal:
Step 1: Identify a Common Ground
You must be able to determine the common interests and core values of your business and your potential partner's business in order to establish a common ground applicable for a business partnership.
Step 2: Clearly Stress On the Advantages and Benefits
As shown on the bid proposal template, in order to have an effective bid, mention the benefits that the potential customer would gain if they approve of the bid proposal. This is similarly applied to a partnership proposal for your potential business partner. They should know that working with your business will not just benefit you, but them as well.
Step 3: State the Objectives of the Partnership
As evident in any proposal like the event proposal templates on this website, you should not overlook outlining the goals and the objectives of the partnership as incorporated and represented on the partnership proposal. State and highlight them clearly.
Step 4: Budget
Finances are an important aspect of any partnership. So, lay out the costs, payment terms, possible losses or gains that the partnership venture might undergo in case the proposal is accepted.
Step 5: Indicate the Terms and Conditions
Mention and stress on the important terms and conditions in advance so that your partnership will be easy to handle and manage later on especially in case of cancellation, non-competition, and confidentiality related stipulations.
Business Partnership Proposal Template in Google Docs
Get partners to invest in your business ventures by creating an impactful proposal using this business partnership proposal template. This 19-page proposal document comes with standard business fonts and content that can be easily edited using your chosen software program that supports MS Word or Pages file formats.
Free Business Partnership Proposal Template
Do not miss out on this free model business proposal that is mainly designed to help establish a partnership between businesses. It can be instantly downloaded and customized. Feel free to make changes to it as you like. Download it now!
Corporate Partnership
Partnership Proposal Template Types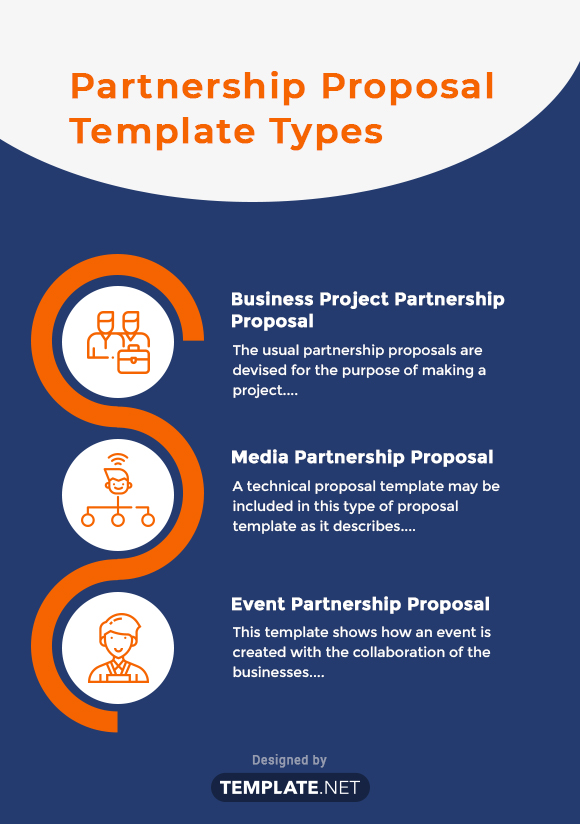 Business partnerships are created for particular purposes. These purposes are then outlined into objectives and incorporated into partnership proposal templates as shown on the template samples on this website. In connection with this, take a look at these following types of partnership proposal templates and find one that applies to your business the best:
Business Project Partnership Proposal – The usual partnership proposals are devised for the purpose of making a project. In order for the project to be completed, companies must go into a partnership agreement in which they agree to contribute to the expertise of their businesses.
Media Partnership Proposal – In this type of a proposal, a technical proposal template may be included as it helps in describing the usage of various media such as advertisements as displayed on the sample marketing partnership proposal template.
Event Partnership Proposal – This template shows how an event proposal is created with the collaboration of the businesses. Most of these events showcase the involved company's products or services.
Media Partner Proposal
Strategic Partnership Proposal
Event Partnership
Marketing Partnership
Partnership Project
Partnership proposals aim to impress and to convince the potential business partner into creating a business partnership that would aid in promoting the company aside from gaining the returns of investment of the partnership. Preparing this proposal would entail the aid of these partnership proposal templates in ensuring that the proposal you are making is done effectively.