Having an important business document that is designed for supplying elements for programs that need to be accomplished is fundamental. A program proposal samples provides for this need. It is an extensive proposal document that contains a series of major participants in every venture of a program.
Program Sponsorship Proposal Template
Education Program Proposal Template
Training Program Proposal Template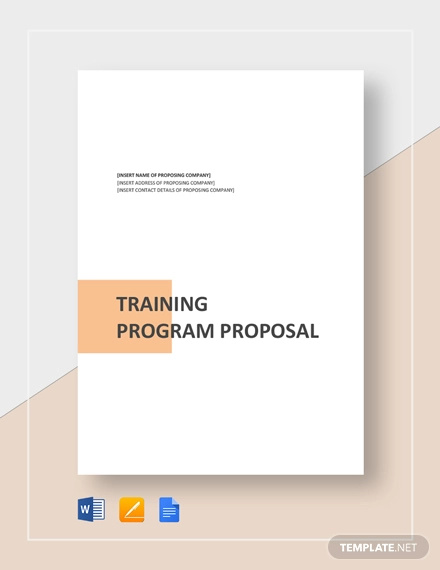 A well-made program proposal comprises of concise and itemized details that include a summary of various programs, such as company programs, school programs, wellness, training, and so on. One does not need to be an expert when crafting this type of proposal, as long as you know the basic details to write. However, if you want an easier way of making it, these program proposal templates that we have are what you need.
Training Program Proposal
Educational Program
Program Evaluation
Program Budget
Samples of Program Proposal Templates
Templates are an ideal tool to use if you're making the same type of document over and over again. With this, no need for you to start from scratch, just save an offline copy and you can just edit it anytime! Simple isn't it? Check out these sample templates that we have.
Funding Program Proposal – This is what you need if you're making a program proposal that is intended for funding purposes. This includes details such as organization name, speaker, proposal overview, and so on.
Training Program Proposal – This is an appropriate template to use if you're focusing on training programs. This includes the details of the training sessions, such as the venue, duration, and activities.
Educational Program Proposal – If you're creating a program proposal that focuses on educational plans, academic training, or other relevant educational program, this template perfectly supplements everything. This features details of the academic institution, the facilitators, the subjects to be discussed, and so on.
If you're looking for other available choices, perhaps you want to download our funding proposal template. This is a type of proposal that focuses on funding and other financing elements. These templates are also pre-written and are format-ready.
Program Management Request for Proposal
Funding Proposal
Program Sponsorship
Program Design
Youth Program
Important Key Elements of a Program Proposal
Every time when you're making a program proposal, it is important that you know the essential details. These are the key elements that describes the generic and standard components of the said document.
Objectives of the Program – The area where the results that are expected are described in a program proposal. The objectives are the vital and effective solutions as for the issue mentioned. These objectives should be realistic and measurable.
The Summary – This is the part where the summary provides a direct-to-the-point outlook of the entire proposal. This part should be written on the cover page of the proposal and should be made before adding all other details.
The Introduction – A short and concise information of the organization submitting the proposal. This is where you'll see the organization's background, purpose, and capabilities for directing the proposed program.
The Budget – This part shows all the important elements of the proposed program. The expenses should be a realistic assessment of the entire costs that are involved when it comes to carrying out the estimated program expenses.
Our training proposal templates are also ready for use in case you need one. So when it comes to proposal templates, we've got you covered.