Over the past decade, social media has been a significant part of our daily lives. Almost every sector of our society is utilizing the advantages and benefits it provides. Hence, it's no surprise why businesses, both big and small, are availing for social media services. For this reason, countless freelancers and agencies are investing their time to offer social media services. Part of their workflow is creating a social media proposal. These proposals are crucial for them to earn the trust of a company they wish to offer their services to. Therefore, these proposals must be formulated with paramount care.
Step 1: Ask yourself on how your services benefits a client.
Think about some ways on how your social media services may have positive impacts on your clients. Cite some instances on how you're going to help them achieve their goals. Lastly, elaborate on each of them.
Step 2: Do some research about your client's target market.
You can do this by asking your clients a copy of several data analysis and statistics about their target market. Gather information as many as you can, and make good use of them when formulating your own to-be-proposed strategic plans.
Step 3: Know the client's competition.
Identify at least five of your client's competition. Do some research on how these competitions are making waves in social media, and how they nabbed their audiences and target markets. This will help you to think of certain strategies on how you're going to outperform them.
Step 4: Perform a social media audit.
In this step, you'll be determining which social media platforms are currently being used by your client. Identify which platforms they're doing great, and which platforms they're weakest at. This will help you on how you're going to make some improvements on their social media activity and usage.
Step 5: Formulate a content strategy.
With all the data you've gathered from step 1 to step 4, it's time to formulate a content strategy. This is where you'll decide what types of content your client should post on the social media platforms they're using, and when and how they should post them. Moreover, you could also recommend a much better platform that they're not aware of.
Now that you've familiarized yourself with the important steps on how to create a social media proposal, it's about time you get to view some quality templates of it by continuing further below in this guide.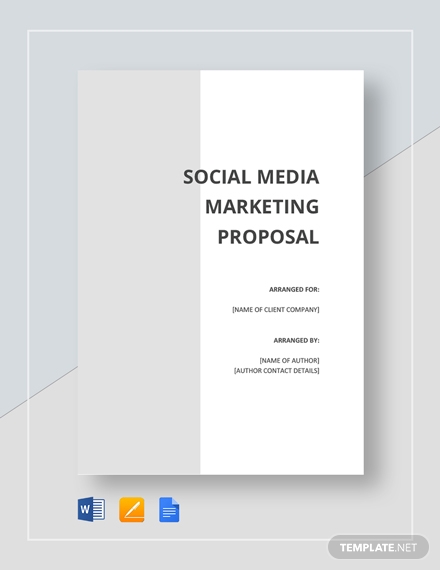 This template with the name Social Media Proposal Template, already covers every angle that a social media proposal should have. It starts off with an introduction letter that provides an overview on the positives that the client will get if they accept the proposal. Then it continues on to the actual content of the proposal. Everything is already outlined accordingly in your stead. All you have to do is fill in the blanks.
The main reason why businesses make use of social media is to market their products and services. With the Social Media Marketing Proposal Template, proposing strategies to improve a client's marketability on social media becomes so much more efficient. This template simplifies a proposal to make it more understandable to the client. Despite its intentions of simplification, it still some how manages to include some minor yet relevant details.
Restaurants are pretty much a hot topic in various social media platforms. Therefore, making social media proposals intended for restaurants could be quite tricky. But with the help of the Restaurant Social Media Marketing Proposal Template, it doesn't have to be that complicated. Plus, you can also use this template in any form of social media proposal since it can be freely edited. So why not try this one out by clicking on its 'download' button.
The Social Media Marketing Proposal meets every standard that a formal business document should possess. It has no unnecessary artistic designs, has a readable font, and emphasizes the use of headings and numbering. You can even tweak some of its given content if ever they seem to deviate from your own thoughts and intentions. In just a few purchasing steps, you can own this template permanently, starting by clicking on its 'download' button.
The Restaurant Social Media Marketing Proposal is another template on this list primarily intended for proposals targeting restaurants. Since this template is 27 pages long, expect that it dives deep down to the tiniest details. No angle of importance is left out by this template. Remember that restaurants are quite complicating to integrate at the top of social media platforms. But with this template, it'll be much easier.
The Social Media Proposal Sample is a great model on how a social media proposal document should go about. It elaborately shows how to grab hold of a client's current status on social media, and how to evolve and improve upon it. This sample should be a good reference when creating your own social media proposal document. You can instantly own this template with just a single click of its 'download' button.
The Social Media Marketing Proposal Sample is another good example on how a social media proposal should be outlined. It includes a project overview, supporting evidences, value proposition, cost analysis, and other client concerns. This sample would make do as a good reference when making your own proposal document. So why not give this one a try by clicking on its 'download' button. Not a single penny will be spent since it's offered for free.