The United States accounts for more than a quarter of the $3.8 trillion global IT market and the software industry employs more than one million people in jobs that pay nearly twice the national average, adding more than $260 billion in value to the US economy for the past ten years. The number of jobs created directly by the software industry has also increased by 14.6 percent since 2014. You may also see proposal samples.
Elements of A Software Development Proposal
Today, there is more than 100,000 software and IT services companies in the country and majority of them are small and medium-sized businesses with under 500 employees. This includes software publishers, service-providers, computer systems design firms and software development companies. If you belong in this industry, whether you're working as a freelance software developer or own a firm, your business proposal needs to have the following elements:
1. Cover Letter: As with applying for a job, the cover letter of your software developer proposal needs to hook the one who reads it, for the person to want to read it in full and not just skim through. You also wouldn't want your proposal to be flat out ignored so make sure to highlight that one thing that makes you different and put your best foot forward. Also, make sure that your cover letter has the following information:
Name of the software project
Any project reference numbers
Name of the client and person you're submitting the proposal to
Name of your company and contact information
Date the proposal was submitted
2. Executive Summary: This is where you show the potential client that you've gained enough knowledge about the problem. Outline your expertise, common challenges of the software market and why it's costly and challenging to consider anything other than your business proposition. Offer your staff's reliability and skills in this field and of course, offer a solution to outsourcing their software development project. To add credibility and sound more convincing, you can include figures about why they can save more time and money with you.
3. Proposal: Now to the nitty-gritty stuff of what you can provide the client. Make a list of services according to your client's needs but while you want to list it down in order of priority, you can't leave anything out. Present a sound plan and your goals to provide the best service possible. Remember that it's not about the features of your firm but it's about the benefits and solutions you can provide for the client in developing a marketable software or more. This is your chance to list your services and offer a narrative that tells your client what you can do for them.
4. Terms: Further outline the terms but detail the legal terms. Many proposal templates offer you suggested wording, but it can't hurt to also trade services with a lawyer friend to better cover you or just write down your own, using the templates as your guide as well as some steps we have in this article.
5. Project Milestones: Break the project into phases. Outline the events and deliverables involved with each one, how long it will take, who is responsible for what, and what will be accomplished at the completion of each milestone.
6. Work Process: Give a detailed but short description of how you usually work with your clients to give the reader a general idea of the process. Do you have to discuss project specifics with the client right after the client approves your proposal? It's better to be specific now so you will have no room for confusion.
6+ Software Development Proposal Templates
Development Proposal Template
&nbsp
&nbsp
Size: A4 & US
Technical Proposal for Software Development Template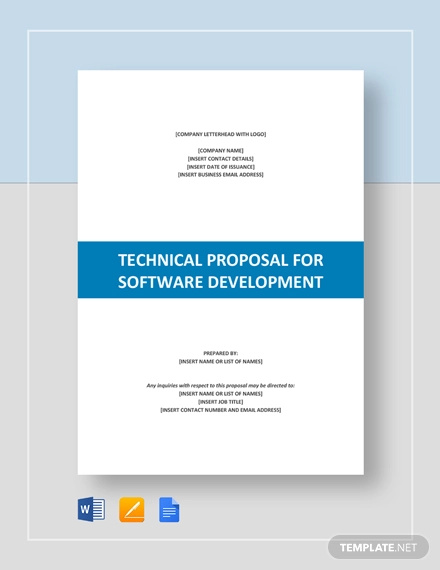 Software Development Proposal Template
Technical Proposal for Software Development
Mobile App Development Proposal
RFP Software Development
Software Proposal Example
Steps to Write an Excellent Software Development Proposal
U.S. software firms operate a mature, organized market and thrive on producing reliable and effective solutions that translate quickly to the marketplace. With the industry drawing on a workforce with topnotch skills and stellar credentials, the number of job and business opportunities continues to grow. This means the competition to win clients for software development projects is only getting stronger, so we have compiled the following steps to help you write a proposal that can compete:
1. Read the request for proposal (RFP): In many cases, a business proposal is submitted as a response to a request for a proposal they have seen or received. Major corporations and government entities send out RFPs when they are in need of goods and services. For instance, a firm in the receiving end of a lawsuit may send out RFPs to different law offices in the area, asking them to submit bids and a proposal. Upon reading the RFP, make sure you understand the client's needs and use it in writing your proposal outline.
2. Stay on top of the project goals: Once you already know what type of software the client needs and what it demands, the next step in writing your proposal is focusing on the task. Define the goals of the project and align it with yours. Identify the project's priorities and be as specific as you can in presenting how you plan to approach the project. Never make a pitch without having a clear goal in mind because it will be obvious.
3. Ask questions: As much as possible you want your proposal written with every intention to respond to the client's needs. This means understanding the client completely and setting things clear in the RFP. Always put yourself in your client's shoes and try to see the problem from their perspective. It might be a good idea to seek answers to questions like these:
Whether prior attempts were made to address the problem. Why did they fail?
What criteria the client will use when evaluating a business proposal.
4. Define terms: Although your business proposal should be written in simple and clear language, there could still be terms that might confuse the reader. There are times that the proposal ends up at the table of the purchasing officer that understands industry jargon perfectly. However, the person in charge might not be as familiar with tech language.
5. State Responsibilities: Just as a well-thought and detailed software development proposal outlines what your obligations are, it should also clearly state what the client is responsible for providing. If you're waiting on specific resources from your client, that makes their delayed response to the project a delay in your payments and profit as well. A detailed proposal is therefore your best chance at holding the other party responsible even though it's not legally binding yet.
Tips in Writing a Software Development Proposal
A winning business proposal is a great opportunity to win clients. It is the ultimate sales pitch, and is essentially a condensed version of all the value your solution brings to a client's problem. Use these tips below to end up with an effective proposal:
Propose Solutions: What can your services do to address the issues you have identified? Why is the software project you are proposing necessary for the client? Proposing solutions is probably the most important step of your proposal writing so make sure you detail how you can solve the client's problem, why you have to do it that  way and what the perceived result is. To make it more convincing, explain the larger impact of your proposition because proposed solutions that aren't strong enough would hardly get attention.
State your relevant experience: You want the reader to have confidence that you can follow through and implement the business plan. You should identify one or more similar projects and explain the success you achieved, however, you may be limited in what you can share by client confidentiality agreements.
Price your service based on value: While it makes sense to want a price of the highest amount possible for your work and expertise, you need to establish that you're selling the client value and not a commodity. You're not just going to offer them a unique software but you're essentially going to deliver value which would bring more profit to their business and is worth more than just the usual results.
Software Development Proposal FAQs
How do I get more clients to hire my firm for their software development projects?
If you're a startup business, you will do better in the industry if you avoid putting a price tag on each small component of a software service or project. Offer potential clients enough options since that's what motivates their decision-making of hiring or buying your services.. It's also a great way to place your bets and set you apart from the competition.
Does the software industry get enough support and funding from the federal government?
The tech sector has nothing to prove to warrant support from the government. To enhance the United States' competitive advantage, the current administration has prioritized funding in the 2019 fiscal year budget request for AI research and computing infrastructure, machine learning, and autonomous systems.
Software is one of the top drivers of the country's workforce productivity in almost every area of the economy, helping companies in different industries perform better in their highs and lows. While writing a proposal is far from the actual excitement and great challenge involved in a software development job, it pays to make sure that you're offering value in exchange of another business' investment in your capability to deliver, through a well-written pitch.