Proposal Templates
FREE 17+ Software Project Proposal Templates in PDF | MS Word | Pages | Google Docs
Computers dominate our world today. There was a time where one could equate the term computer to multiple huge machines that can only carry a few amounts of data. Nowadays, computers have gotten so small that you could fit more than a library's worth of information inside your pocket. With a lot of exchange of information and ideas happening these days in terms of software development, one can make use of our software proposal templates to help expand their business.
Table of Content
17+ Software Project Proposal Templates
Software Project Proposal Template
Download our software project proposal templates in Pages to be able to come up with an interesting project proposal that can be put forth to other companies. This template consists of all the sections and information a proposal document would normally require such as the terms and conditions, software application overview, project management details, and so on. Feel free to modify its contents as per your liking once you have downloaded the template.
IT Project Proposal Template
Software One Page Proposal Template
Project Work Proposal Template
Simple Project Proposal Template
Project Proposal Outline Template
Free Simple IT Project Proposal Template
Software Project Management Proposal Plan
The smartphones of today would definitely blow the minds of geniuses like Babbage, Einstein, Turing and other notable scientists from Bletchley Park. In fact, the world is now run by computers and younger generations of our species are finding it increasingly difficult to imagine otherwise.
Software Project Proposal Plan Template
Computer software, or simply software for short, is a generic term for a collection of computer instructions or data that instructs the computer on how to operate or what to do. Its counterpart is the physical hardware, the physical manifestation of a computer, of which the system is built and which the one that does the work. Both the software and hardware go hand in hand with each other and one could not operate without the existence of the other.
Virtual Web Site Software Proposal Template
Digital Repository Project Proposal Sample
Project Proposal Example of Game Software
Example of Software Project Proposal
Game Software Project Proposal Sample
Mobile Interface Project Proposal Sample
Software Engineering Project Proposal
Software Engineering Project Proposal Example
Website Software Project Proposal Sample
Having software would always positively impact your company. In fact, an article from Medium stated that the use of project management software is the common factor of 77% of high-performing projects.
A 2017 Project Management Institute report revealed the failure of 14% of IT projects.
On the other hand, studies show that the lack of time, resources, budget, and staff were the reasons why 55% of IT experts fail to accomplish a project.
Things to Remember while Writing a Project Proposal
The main purpose of writing a proposed project is to present an idea to potential investors and to convince them that supporting the said proposal would give them the main benefits. If successful, you will be on the way to completing the project of your dreams. That is if you are successful. Sometimes, even if you go ham on your proposal they will still be rejected in favor of a better proposal (a least in the audience's eyes). Do not feel so down though. There will always be a next time. Here are a few things to remember when writing a project proposal.
1. Projects Proposals are Valuable
Project proposals carry with them the time and dedication you put to create it. Proposals can also carry a solution to your client's problems that can be worth a lot. Be careful with sharing your expertise with anybody you meet. Proposals are valuable and treat them as such.
2. Never Email a Proposal
A proposal is made to be presented. If you email your proposal to a possible client, it would be like presenting the solution to them free of charge. Emailing your proposals to your client would run the risk of them having not to call you again. Again, never mail a proposal.
3. All proposals Should Be Presented
As much as possible, present your proposal in person. If that is not possible, then do it by video, then by phone. Presenting the proposal allows the audience to question you and affirms your expertise to your client or audience. Furthermore, it serves as a protection from the client's "disappearing act."
4. Don't Leave Proposals Behind
You should only leave your proposal to a client when a formal project agreement has been made. You are getting paid to do and follow through a project. It just so happens that writing the proposal is part of this job. You are not getting paid to write a proposal (unless you are, and even then do not leave proposals behind.) Project proposals can also be used against you. Your client could hire other people for a lower price if you give them an idea on how to solve their problem. Never leave your proposal behind.
5. Proposals Take a Long Time To Do
Usually, the first step in designing a proposal is to meet with a client. These meetings may take a bit of time before you can even produce an outline for what you intend to do with the problem. Deciding your approach for tackling the problem can also need research and will take a long time. Bear that in mind and do not rush them.
6. It May Not Get Results
A proposal is not always guaranteed to be successful. After an initial meeting, your client may not call you back. Proposal writing can be competitive especially for important projects. Don't feel bad when you do get rejected.
Software Project Proposal
Creating or engineering software for a computer can take a lot of resources, though not as much as creating engineering and construction projects. Still, creating software can still take time and money and as such, when one is planning the next big thing in computer programs, one would need to have adequate funding from a huge backing organization.
Like all projects, simple project proposals would be a vital document for such projects and endeavors to take off the ground. Project proposal samples are documents that must provide a comprehensive layout of the resources needed for a project and how they are or will be allocated as their ultimate goal is to request funding in support of the project.
Type of Project Proposal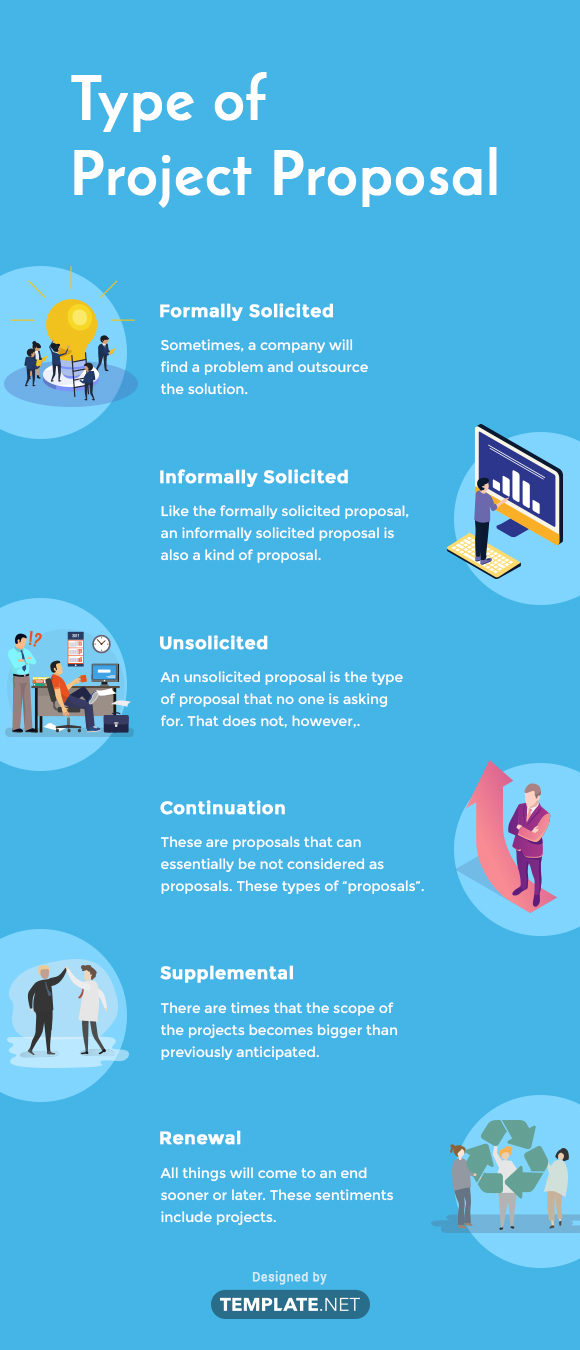 There is not only a single type of project proposal sample. Depending on which one you are working on, the difficulty of writing the project proposal, or even doing the whole pitch.
1. Formally Solicited
Sometimes, a company will find a problem and outsource the solution. They will usually do this along with a form for a Request for Proposal (RFP). A formally solicited project proposal is an official response to such cases. A formally solicited proposal is one of the easier types of proposals as the requirements needed for the project would be included in the RFP and in writing the formally solicited proposal can just jot down all these requirements. It is ticking all the boxes of the client's or requestor's needs.
2. Informally Solicited
Like the formally solicited proposal, an informally solicited proposal is also a kind of proposal that aims to address a solicitation or request for proposals. Their only difference is that there is no request for a proposal for an informally solicited proposal. Thus, no document will identify the requirements needed for writing the project proposal. This lack of detail is what sets the formally and informally solicited proposals apart.
3. Unsolicited
An unsolicited proposal is the type of proposal that no one is asking for. That does not, however, mean that they should be discarded immediately. Unsolicited proposals are usually submitted by observant people who believe that they have a solution to a problem you thought you never had. Thus, these types of proposals usually have no checkmarks or requirements to follow but that also makes them the hardest types of proposals to write.
Crafting an unsolicited proposal, therefore, has to be extra persuasive to get approved. It must justify that there is a need for the project being proposed otherwise it will be a waste of effort and money. Extra effort and legwork would be required to accomplish this.
4. Continuation
These are proposals that can essentially be not considered as proposals. These types of "proposals" are more like reminders and updates of ongoing or already approved proposals. Essentially, one is pitching nothing new when one is creating a continuation proposal. What this proposal usually aims to do is to report to the audience on the status of a previously approved project, account for the changes made and request permission to continue or proceed to a new phase of the project. Continuation proposals are usually written when funds are requested in proceeding to a project's next step.
5. Supplemental
There are times that the scope of the projects becomes bigger than previously anticipated and that the initial funding asked for in the initial proposal becomes lacking. Other times, unforeseen circumstances and unanticipated problems appear that may hinder the completion of a project. It is usually in these times that a supplemental proposal is written.
The aim of a supplemental proposal is then to ask for more funding than that of what was originally asked and as such, it must be able to justify granting these extra resources and produce new estimates of what will be required to complete the project. These proposals can be an extension of the original document of the project proposal.
6. Renewal
All things will come to an end sooner or later. These sentiments include projects. A project will be always be completed sooner or later. Other times, funding will be cut off for a project as investors and funders deem that a certain project has lived its usefulness. A renewal proposal makes the case for this funding to not be cut off otherwise. Renewal proposals are like continuation proposals in that they are not pitching something new to the audience.
Rather, a renewal proposal aims to convince them that the continued support for the project will be beneficial to its supporters. It also tries to present these values as evidence for the continued support of the proposal. One way to do this would be to compare the return benefits that the said project provides the resources it costs to maintain the practice. As such, some people hardly consider them as proposals.
Conclusion
A well-written project proposal could very well be its ticket to advancing from the blueprint or planning stage. Pick the template you like best and make it your own by adding your details and you are good to go. All you would have to do is download the template you like best, and make the necessary changes. You can also download them on any file format you like best like MS Word, Excel, PSD, etc. with ease.
With the help of our templates, the making of software project proposals has been made easier and effortless. You do not have to worry about missing out on any important information. Simple and customizable, these templates get the job done for you in no time!
General FAQs