Training and development are necessary programs for employee training and livelihood training projects. In order to fulfill these training projects, you must be able to make a proposal to gain the approval of top management in the execution of these training projects. Like any other business proposal, a training project proposal templates need to be well-written and to be presented in a professional manner. 
Training Project Proposal Template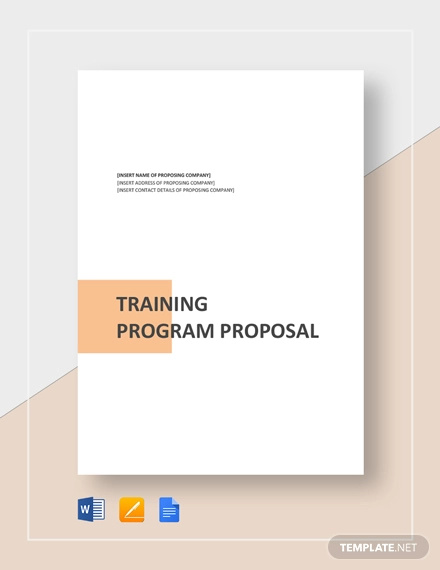 This easy-to-customize template has a document outline you can easily understand. You can efficiently organize the details of the training projects based on the need of the client. There are many proposal templates in Word that could be of great help to you while you create the best project proposal for your business.
Skill Training Project Proposal
Skill training projects can be defined as training in one particular skill that they should be trained in. This usually means that they would be trained in one particular skill and that they would have to use in their work life. There are many proposal templates in Google Docs that could be of great help while creating one of the best proposals for your organization.
Vocational Training
Similar to an event proposal, you are to impress superiors on what benefits to be derived from having the training project and how the business entity's core competencies will be achieved in the course of the training.
Teacher Training
Creating a Training Project Proposal:
1. Goals and Objectives
The first thing to do is to be sure that you know your organization's goals and objectives very clearly. This way, it makes it easier for you to know what should be done in order to achieve the goals successfully. You need to know the need and purpose of the training before you get started. Make a list of all the jobs and the departments your organization has and give a detailed brief about each.
2. Executive Summary
Think of this as the elevator pitch. It should be able to sketch out the project in a way to hook the sponsor onto your proposal. Sample proposal templates will be of great help for you to decide which proposal you can use to make the best proposal that meets all your needs perfectly. Mention what is that you are trying to solve and also, mention what are the benefits of this to the user.
3. Materials and Resources
The next step for you would be to make a list of the things you will need to make your proposal a successful one. The budget also plays an important role as a resource in this way, you will know how to reduce your expenses and increase your incomes. These resources can be anything and not limited to just a budget. Describe in detail the business issues the project needs to solve or what opportunity does it basically takes advantage of.
4. Implement Training
Keep in mind the learning principles and objectives that need to be taken care of in the first place. Mention what are the possible deliverables that you need and what are you going to do to reach them without fail. It is always better to plan ahead before you start the training process. Be sure that you are very clear about your goals so that you will know what you have to do to meet them. Remember that this training should be used in the daily work of those workers you are giving training to.
5. Evaluate Training
Once after the training is done, the next thing for you to do would be to evaluate your training process. This can be done by checking how much do the employees use the knowledge they have gained from the training in their daily work schedules. Business proposal templates can help you create the right kind of proposals for any business. This way, you will understand as to what you can do to make the training better and also, how your employees can use this training process in ways they can help in the growth of your company.
Training Program
Types of Training for Training Project Proposals:
Training project proposals have certain objectives that need to be fulfilled as they determine the core of the project. You can also take the help of free proposal templates that are available online for your use. The following are the most common types of training used in conducting training projects:
Vocational Training – This type of training covers the application of human skills focusing more on hands-on training. This is required for a certain career or trade. Examples are cosmetology, culinary arts, and health care training.
Skills Training – This is the most common type of training conducted in various business industries particularly in service industries like Business Process Outsourcing companies. The training focuses on a specific skill needed for the job.
Professional Training – This training applies to licensed and legal professions such as engineers, teachers, lawyers and consultants as shown as an example of a consulting proposal template. This training is usually conducted for particular individuals at the start of the employment phase.
Educational Training – This usually applies to train projects for students. Even in a natural classroom setting, a lecturer can conduct this type of training effortlessly.
Livelihood Training – This type of training requires funding from outside sponsors as a result of a proposal similar to the sample funding proposal template. This type of training is conducted to communities in need of sources of income.
Educational Project
Sample Project
Training Center
Training Plan
Tips in Making Training Project Proposals
Certain guidelines can be followedc for creating a training project proposal with specific formats, just like the marketing proposal templates and the bid proposal templates provided on this website. With this in mind, there are tips you can easily follow when making a training project proposal:
Keep Your Focus On the Objectives to Be Achieved – A training project is conducted in order to achieve certain objectives of the company. Your training project proposal must align with these objectives in order for the training to be deemed successful.
Make Your Proposal Short But Concise – Contain information in a very short, but precise manner when it comes to creating the right kind of a training proposal. You should also include key information and points to support your proposal with strong evidence.
Use a Tone That is Positive But Professional – Adding a positive note to the training project proposal while maintaining professionalism in your language will make your proposal much more interesting for the top management to read.
Training projects can benefit a business entity in the long-term. Thus, it is very important that when you create a training project proposal that shows the advantage of a training project proposals to the organization, you should use one of the best templates that are available online for you readily. Check them out now!