Business reporting is at the core of business processes and operations in the sense that without proper communication, organization leaders would find it difficult to make informed and evidence-based decisions. In the business sphere, it's crucial to prioritize communicating budgetary issues, project updates and proposals as well as KPIs (Key Performance Indicators) among others. Oftentimes, writing business management reports help managers keep tabs on issues and how they are being addressed. Read on to find out more. You can also see report templates.
6 Steps to Write a Business Management Report
Step 1: Present an Idea
A report can serve as paper trail for work flow or productivity. It can also present an idea because reports demand the writer to present sound suggestions to the management team and other people involve in the decision-making processes of the organization. Highlight your request, delving into matters like costs, benefits, risks, and more.
Step 2: Report on A Specific Situation
Make it a point to write a about a specific issue—one which had been previously discussed on board meetings or something similar. If the management had not requested for any specific topic, take the initiative to provide information which could range from anything as simple to something as complex as risk management during calamities then provide or suggest solutions.
Step 3: Know Your Purpose
You can't write any type of report for the management without an end in mind. You need to ask yourself why you have to submit a report in the first place. What's your purpose? Are you aware of your business' key drivers? Dig deeper and analyze questions that will help you answer the need of your report.
Step 4: Show the Feasibility of An Idea
Discuss whether a proposed project, or idea is going to work. Also show the benefits as well as the risks involved. This can be separated as a feasibility report but you can include it to a business management report as long as there's a need to cover it, especially if you want to explore questions regarding an upcoming project.
Step 5: Write The Body
The middle section of the report should show results of the project or idea in question. This is arguably the most important part of your document. Talk about facts, show data in figures and explain them. Include implications for the business and any other information which would back up your body. Make it clear, concise and comprehensive all throughout.
Step 6: Tell A Story
While business reporting demands that hard data be presented and explained to the audience, you're not limited to just staying with the charts and figures. Showcase your professional writing style by telling a story with the hard facts you've gathered. It's challenging, but you'll have tools to get you by such as the company's historical data.
8+ Business Management Report Templates
1. Management Report Template
Outline the actions to be applied in improving your overall performance as a business by submitting a comprehensive report to management. Download this business management report template in Google Docs, MS Word or Pages to have something that serves as the perfect tool in making your organization more efficient for its stakeholders.
2. Business Management Report Template
3. Project Management Report Template
Need to map out some changes for your operations and processes? Go ahead and get this professional business management report template specifically designed for your documentation needs then prepare to increase your efficiency in doing business. Download and print this template from your device now!
4. Business Management Report Template
Effectively analyze business data, project updates, risk assessments and other relevant information that higher management demands by handing the management team a comprehensive business management report. Make use of this sample management report which would help you end up with a high-quality business documentation. Hurry up and get this template in printable formats!
5. Free Management Report Sample Template
Worried about not being able to satisfy your manager with the data you will be presenting? Worry no more because we've got you covered with this business management report sample which you can edit and customize in MS Word, Google Docs and Pages. Just click on the download button and modify the document as you see fit!
6. Management Report Example Template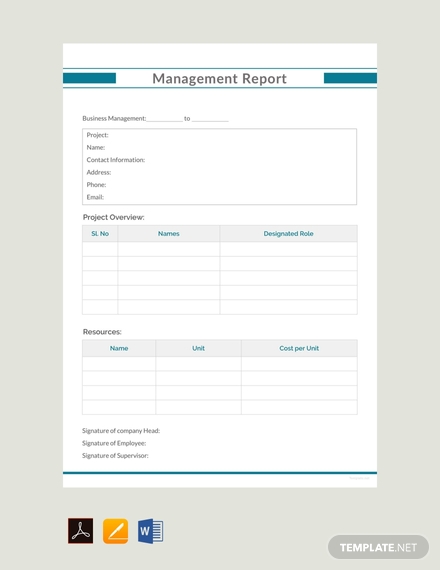 Organize data you have collected from performing analysis or any other check and balance in business. Put together a quality business management report by taking advantage of this management report example. Get to use its content designed for you to edit according to the demands of your management. Guess what? You can also download this template for free!
7. Sample Management Report
Are you currently trying to meet a very tight deadline to submit a management report? There's no need to panic because meeting or beating your deadline is more than possible with this sample management report which you can use as a guide to finalize the one you have started to draft. Waste no more time and download this template in its available format!
8. Business Quarterly Management Report
Communicate business updates, milestones and areas where the team can improve by presenting a detailed and well-prepared business report to the management. Still in doubt of your capability to produce one? Don't stress. You can use this management report template and do some changes to the document as necessary. Print this template in any PC or mobile device!
9. Sample Business Management Report
Think you won't be able to come up with a business report worth keeping on record? Think again. With this management report sample, you'll be able to format and organize your paper as professionally as you can so that it can serve as everybody's reference for when the business needs to look back and reconsider its performance, processes and overall operations.