There are a lot of companies that do a great amount of market research to see what kind of events they should organize in order to gather as many customers or clients as they can. And, with these special events, companies need to know all of the details that led to their success or their failure. You may also see report samples.
So, employers often task particular employees to take part in the event and create a report that requires them to gather as much information as they can to show the results of the event. This article is going to discuss how you will be able to create this type of report by using a strategy template.
254+ Event Templates in PDF, Word, Excel, PSD, HTML5, WordPress, Google Docs, PowerPoint, InDesign, Apple Pages, Google Sheets, Publisher, Apple Numbers, Illustrator, Apple Keynote, Google Slides - START DOWNLOADING
Event Report Template
Event Report Template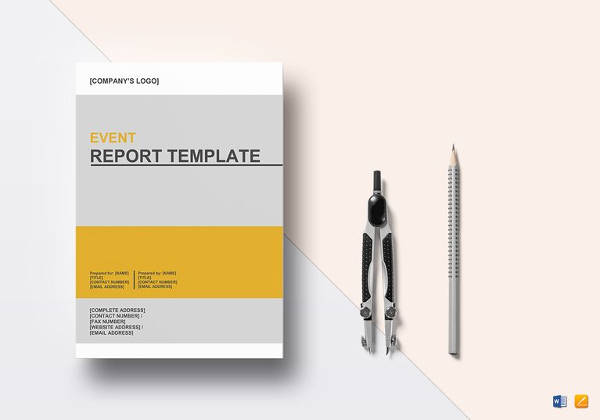 How to write an event report
You have to remember that this is more than just a summary of a business meeting, awards ceremony or similar festivity. It also analyzes the effectiveness of all the key elements that were involved during the corporate event. Basically, what this kind of business report does is show just how well an even went and what lead to is success or failure, and it also helps in the decision as to whether or not to hold  a similar event in the future. So if you want to write a high quality event report, then be sure to follow these steps:
1. Consider the purpose of the event
This is the first thing that you should keep in mind. Think about whether or not the event was able to meet its purpose. If it was a marketing event, then its purpose would have been to introduce new products or basic services to customers. If it was for a charity, then it should have been able to raise a set amount of money that was meant to help a particular organization. In your report, focus on the event's effectiveness in accomplishing its purpose. If the event was ineffective, then you should put in why you think it was and what changes need to be made so that the purpose can be fulfilled for other similar events that your business would like to have in the near future.
2. Evaluate all of the elements in the event
If your event had several parts to it, then you should not just include the best and worst parts in the sample report. You have to include all of the other elements as any one of them could be important in determining the success or failure of the simple event. Include your reflections on the speakers, materials, and scheduling. If lunch or refreshments were served, then you have to include those in the general report as well. Missing out on even one of these things will make the report incomplete, so be sure that you have everything written down as all of these elements could prove useful.
3. Get feedback from others
If you were the person in charge of running the event, then one of the best things you can do is to gather as much general feedback as you can from those that participated in it. If it was an employee training seminar, then you should ask your employees if they were able to understand everything that was discussed and if they managed to learn what they needed to learn. If the event was solely created for the entertainment of those that decided to participate in it, then you should hand out surveys to the participants so you can gather their thoughts about how they felt about the event and if they had fun. You need to be able to know how well your event was able to reach its target audience so you can evaluate it fully. You may also see Service Report Templates
4. Include the pros and cons of the event
No matter how good you think your event went, there is always going to be at least one or two problems that took place. Think about it thoroughly and look for the aspects that your participants may not have enjoyed. So, once you are able to determine both the good and bad of the corporate event, write them down in the business report. It is also best that you add in a little  commentary about the good and the bad so that your company can strive to repeat the good and do what is needed to improve to change all of the bad in case the company wishes to hold a similar event in the future.
If you would like to learn more about how to create an event report or anything that is related to this particular topic, then read our other articles on this site.