A good Report Template can make all your business reports sound as professional and put-together consistently from report to report, without all the added stress of drafting from scratch. Perhaps you are collating the information from a consultancy meeting, or you are reporting on research and development, or presenting lab results or project status to your supervisor. You may also see report samples.
Professional Report Template
Consulting Report Template
Professional Report Template to Edit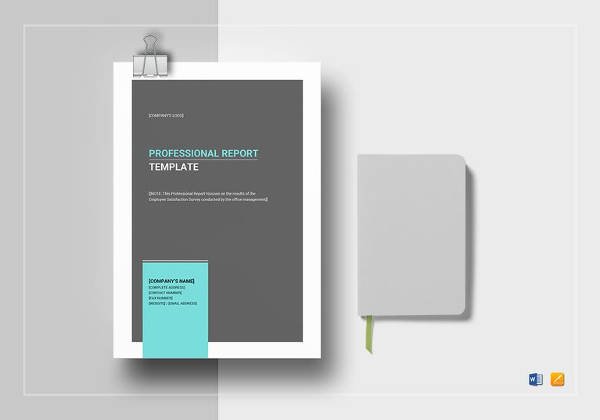 Whatever it is you need to be reporting, if it involves data that needs to be presented cold and fast, these professional report templates will be lifesavers. Download these templates for free and edit them as Word documents that you can print out or e-mail for an easy presentation.
Formal Report Template in Google docs
Annual Business Report Template
Editable Training Report Template
Business Annual Report Template
Project Status Report Template to Edit
Expense Report Template in DOC
Simple Incident Report Template
Internal Audit Report Template
Printable Workplace Investigation Report Template
Sales Activity Report Template
Service Report Template to Print
Easy to Edit HR Report Template
Printable Progress Report Template
Professional Business Report Template Word
Professional Review Report Template in Word
Professional Research and Development Project Report Template
Professional Development Report Template in Word
Professional Lab Report Template in Word
Professional Audit Report Template in Word
When Will I Need to Draft a Report?
The short answer: Whenever your boss or supervisor asks for it.
This will normally occur at certain points to look out for:
When periodic updates are needed to manage an ongoing project (see Professional Daily Construction Report Template, which will have to be filed by the immediate supervisor)
After particular faculty activities (see Professional Faculty Activity Report Template)
After an audit is done on operations (see Professional Audit Report Template)
After any routine process that need to be documented, such as after reviews, research, and lab tests
It might also be part of your job description to automatically prepare and deliver a report on some company activity after the fact. If that is so, a template for every kind of event will streamline the process for you so you barely have to think about it.
How Do I Draft a Professional Report?
If your company prescribes a certain format and layout, then follow that. If it is largely up to you, however, you will want to be as practical with it as you can manage.
Just glance through this list and others we have here on Template.net's Business archives for a practical and professional Business Report Templates or Management Report Templates that are also clear, functional, and constructive.
Professional Faculty Activity Report Template
Professional Consultant Report Template Word
Professional Daily Construction Report Template in Word
Professional Final Project Report Template in Word
Can I Just Use These Templates?
Every tool we offer on Template.net is meant to help make your job easier for you. If you would rather not draft your own report templates from scratch—or worse, tackle each report as if it is a new animal—you can use these templates as they are.
They are not just examples. Each download here is available as a Word document template, which is great because you get to modify them to your liking and to your specific needs.
The Professional Review Report Template can then be effectively transformed into an Annual Report Template, if you so wish. (Although we also stock specific templates for these kinds of reports—check out our archives!)
Download them for free, edit them on your favorite word processor, and print them out. Your job is done.