A report is a document containing information about a specific topic. After investigating or observing a particular topic, a report is prepared to describe the observations, facts, and relevant information in a presentable way for further scrutiny. You may also see report samples.
Reports are very important in professional organizations for evaluation of progress, opportunity, obstacles, and performance. There are a number of different types of reports such as annual report, incident report, medical report, survey report, sales report and many others which are listed below.
537+ Report Templates in PDF | Word | Excel | PSD | Google Docs | Apple Pages | Google Sheets | Apple Numbers | Publisher | Illustrator - START DOWNLOADING
Credit Report Template
Company Credit Account Denial for Unfavorable Report Template
Request to Bank for Copy of Credit Report Template
The annual report is a complete report card of the activities that a company has performed throughout the year. It is meant for the management as well as the shareholders to understand the performance of the company financially as well as from competitive perspective. Apart from auditing report, it contains the list of activities such as investments, acquisitions, order book and other such parameters. (27+ Sample Annual Report Templates)
An audit report is produced by an auditor periodically as per requirement. The report is basically the highlights of the financial performance of an entity. It follows a standard format which is universal, and it is useful for investors and shareholders to understand the financial activities of an entity. (11+ Audit Report Templates)
A book report is an essay or a review of any particular book. It can be a critical appreciation, critical dissection or just summary and highlights. It is one of the most popular report writing form given as project in school. It follows a specific format especially when professionals review a book and write a report on it. (10+ Book Report Templates)
A business report is one of the most widely used report writing templates. It involves to study an issue or situation and then use business principles and theories to come up with solutions to the problem and recommend changes to implement the solution effectively. It also helps the management to do the planning and make decisions. (8+ Business Report Templates)
What is a Report?
A report is a very popular form of writing that is mostly used in professional medium to present information following certain guidelines. In a report, information, fact, narrative, and other text is presented in a concise form. Reports are popular for presenting information after a survey or investigation.
The report highlights the facts of a company or business and also predicts the future outcomes and projections. A report generally has a pre-defined structure so that the writer can do his research accordingly and fit it the information or data effortlessly. Similarly, a reader will be able to find the information quickly and will make the reading experience pleasant.
What is a Report Template?
For writing a report, it is mandatory to follow a specific set of guidelines. Templates are made based on the standard guidelines of writing a report so that it is presented properly and easy to read and assess. A pre-formatted report template helps to analyze the issue or case according to its headings and sub-heads. This also helps to complete the report in minimum time. There are so many different types of reports that one has to write according to the purpose of the report. Hence, it is absolutely necessary to have report template for all types of reports and present them according to the professional standard.
A report template is fully customizable and hence, anyone can modify it as per requirement while keeping the necessary headings and sub-parts. A report can have many diagrams, designs and other visual aids and a report template has provision to insert them in appropriate places to make the entire report look effective.
A credit report is a part of audit report where only the credit amount is calculated and presented for a clear understanding. Furthermore, it is very useful to determine the loan amount one should be getting based on the credit report of the person's earning and assets. It must follow a sample template for perfect illustration and reporting. (7+ Credit Report Templates)
The executive report is a summary of many other reports. It is mainly the gist of the reports that is highlighted in the executive report. It is pretty much like executive summary where all the points are concisely discussed and pointed out so that the overall theme of discussion and writing it clear. (7+ Executive Report Templates)
An expense report is a common report sent by the employee to the finance department of a company to reimburse the expenditures given by the employee for a task of company's benefit. Along with the report, the receipts should also be presented and report must have dates of the spending and should match with the bills. (8+ Expense Report Templates)
HR reports help in taking decisions and prepare plans for an organization. There are different types of HR report such as payroll reporting, recruitment reporting, employee reporting and even performance reporting. All of them have certain standard and guidelines to be followed while preparing the reports. (8+ HR Report Templates)
How to Write a Report Template?
Before writing a report template, you must be thoroughly aware of the topic of the report. A general report template must begin with the topic of the report and state the subject and purpose of the report. It should be followed by the name of the presenter and the person to whom it will be submitted. The actual report should start with an executive summary, followed by an introduction, measurement factors and parameters, data analysis, interpretation techniques, explanation of the graphic charts used and other useful information.
The body of the report should have headings for every new point, and the sequence and flow should be clean and clear. You should avoid using passive voice and make the statements crisp and action-oriented. You should use relevant terms to make it professional in nature. Finally, there should be the conclusion, recommendations, references, appendix, tables and relevant data representation.
What is a Report in Business?
A report in business is of the highest importance. It is useful to analyze a particular situation or issue and investigate deep enough to make sense from the data and come out with conclusion and recommendation to solve or improve it. It is more like an assignment or survey or case study. Business reports include sales report, growth report, annual report, SWOT report, performance report, monthly report, research report, evaluation report and much more. All of them are different from each other, serving the ultimate goal of bringing success in the long run.
A report in business helps to find out solutions to problems. It analyzes and understands different data to find new opportunities for improving the communication between the employees and employers and for recommending strategic moves for future growth. Besides that, monthly report and annual reports make it clear of the current status of the company with real facts.
An incident report is produced to the police station or the court after gathering all the required information about a mishap, accident or unusual activities that have taken place. It has a standard format so that the investigation is perfect and the report has no shortcomings. Generally, it is the hospitals, police, and employee that need them the most. (34+ Incident Report Templates)
The lab report is a description of a laboratory experiment or scientific research. It contains headings like the purpose of the experiment, tools, methodologies used, the procedure of the experiment, outcomes, conclusions and recommendations. It is a perfect research and analysis report. (11+ Lab Report Templates)
A management report is an internal report that provides a complete summary of the company's financial state, upcoming quarter predictions, guidance, HR report, recruitment updates and other recommendations and ideas. It helps in decision making and planning for future events. (15+ Management Report Templates)
A marketing report contains overall details about the products and services a company has launched and how it is performing in the market. Sometimes, a marketing report is produced before launching a product or service to understand the market vibes and the kind of product for which there is a demand. A marketing report is more of a survey report with recommendations for experts. (10+ Marketing Report Templates)
The medical report is probably the most used reports in the world. A medical report contains the facts about the medical condition of a person and recommendations about rest or medical operations one would need. Working professionals need would need to submit it to their companies in case for leave. It also contains a summary of treatments so that it can help doctors in the future. (17+ Medical Report Templates)
A monthly report is very popular in working organizations. It is produced by the project managers for the higher officials so that they can understand the progress of the projects on hand as well as the financial conditions of the company. Such reports are also given to the clients who have awarded the project to the company so that they stay on the same page as the development team about the project's progress and milestones. (9+ Monthly Report Templates)
The project report is a document which contains all the details of the project, including the milestones that need to be achieved, resource allocation, the complete plan of the execution and development, timeline of development and requirements. Before taking a big project, a perfect project report is mandatory for the client to get convinced. (8+ Project Report Templates)
Sales report is a daily report that salesmen have to send to the manager so that the stock can be matched and the growth in sales and overall revenue can be calculated automatically. Sales report is also produced before the launch of any product to calculate the scope for profits and growth in sales. (15+ Sales Report Template)
School report is prepared by the school counselor for any school especially those who are leaving the school to go to another school or to college for higher studies. School report has a perfect format and standard and it reflects the academic record of the student. (8+ School Report Templates)
A service report is produced by the service providing companies and it shows the details of the service along with the invoice. Sometimes, clients ask for it to get a complete overview of the service before ordering it so that it serves as the proof for future when the service is purchased or availed. (20+ Service Report Templates)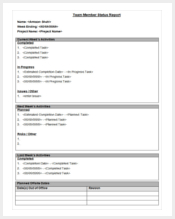 Status reports are of many types and it depends on the objective for which it is prepared. Sales report is also a status report, and a project report comes under it and it basically reports about the on-going activities and quantization of the work. This also helps the management team to understand the progress of a project. (7+ Status Report Templates)
A student report contains the performance of a student in terms of marks in different subjects and different exams as well as other academic achievements. It follows a standard format so that it is same for everyone. It can be prepared quarterly, semi-annually as well as annually. (10+ Student Report Templates)
A survey report is one of the most popular report forms. It requires a beautiful presentation of raw data obtained from the survey. The graphical presentation is very common in survey report and it helps to understand complication issues very easily. A survey report helps to take vital decision for short to long term. (8+ Survey Report Templates)
A technical report describes the progress or resolution of a technical problem. It requires a group of people with technical knowledge to write it after a proper analysis. It is generally used for the recommendation of research programs from a qualified technical professional for the growth of the company in future years by inventing new products. (8+ Technical Report Template)
Trip report is very popular in school and colleges where the students are taken to certain trip for educational purpose. The students have to write a report on the places visited. It is more like a project work and it makes the students attentive and aware of the places they are visiting and the experience they are taking away from the trip. (8+ Trip Report Templates)
Importance of Report Writing
Report writing is of immense importance for any business or working group. A group is the best presentation of any information, data or facts because they are presented in a logical and sequential manner, making it easy for anybody to understand. It has a proper structure, proper organization of data and perfect format to make everything meaningful. It makes the entire work of analysis, investigation and survey meaningful.
Report writing is an effective means of internal communication in the professional world. It can be a report about a project, an employee, a job, a situation and the overall view of the company's sales, revenues or finance position. Report writing can help to discover unknown information which got overlooked in the plain analysis.
What is the Purpose of a Report?
A report is a means of internal communication in any professional organization. It helps the higher management to keep a track on the entire business operation. There could be daily, weekly, monthly, quarterly and even annual report. A proper report helps to take the right decision based on facts and figures and hence, make effective plans for future. A proper report discloses unknown information that got overlooked in the normal survey.
It helps in the evaluation of a company or its employees. Annual reports help the shareholders to understand the company's yearly result and activities. It helps in solving problems by addressing the running issues and also discuss the scope of opportunities. A report facilitates proper policy making and takes prompt actions to address the issues and problems causing hindrance.
Types of Reports
Broadly, there are five types of report. Each of those types has various subparts that differ from one another quite significantly. The types of reports serving individual purposes are a short report, science report, research report, engineering report and business report. The short report contains only the main points such as recommendations, facts, and figures. Science reports contain method and material, results, discussion, conclusion, and reference.
The business report contains an executive summary, contents, introduction, discussion of topics and sub-topics, conclusion, and recommendations. Engineering reports are a combination of science and business report. Research reports are the most important reports as they are full of analysis, fact finding, demonstration of figures through graphical means, and recommendations based on reasoning and other minute details.
Conclusion
For a professional organization to run properly, it has to evaluate itself and its associated conditions. Reports are the official medium to present observations, facts, information about a particular event, person or specific matter of dealings. There are different types of reports based on requirements and the samples provided above will help you prepare them professionally.