Heading out to business job openings soon? Getting into the business industry could be difficult. Expect to compete with a lot of applicants. However, you need not worry about getting an edge over competitors. Avail of our best business resumes to impress your prospective employers. A one-page resume that focuses on business skills, like trading, merchandising, and enterprising, might just be ideal for your application.
It is important to stick to a targeted resume writing. In this case, your resume must be written in a way that it is relevant to business job positions. It highlights on your business experiences to make you fit for the job.
Free Business Resume Template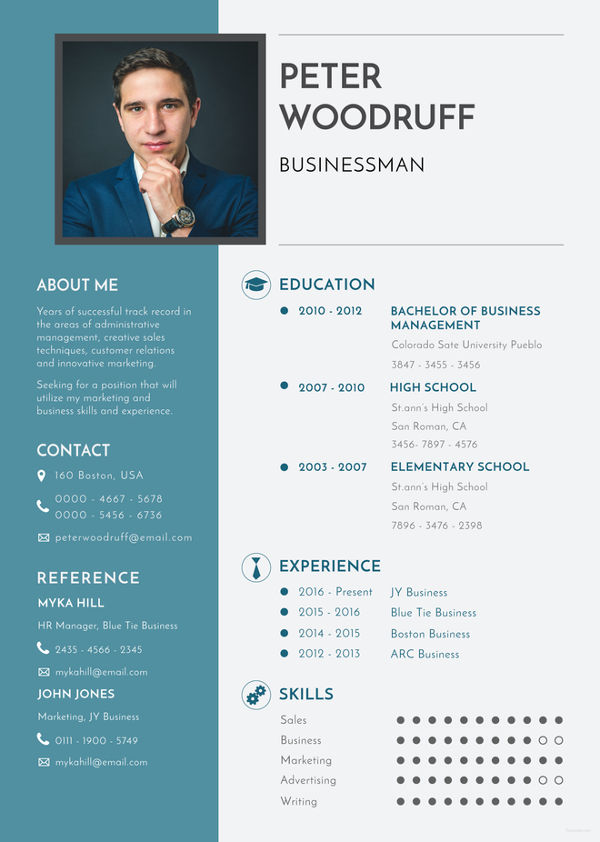 Best Professional Business Resumes
Professional Resume Example
Professional Resume Cover Letter
Free Professional Resume
Sample Professional Resume
What Is a Targeted Resume?
A targeted resume is basically just a resume that is drafted to match specific job listings and job positions. It is still generated from basic resume designs although expected to to perfectly coincide with online postings, job advertisements, and job descriptions.
In this page, best administrative resumes and other types of unbeatable business resume templates are edited with relevant specifics to meet the business target resume standards.
How to Write a Targeted Business Resume
If you aim to land on a business position, you better polish and format your resume accordingly. Below is a quick guide on how to write a targeted resume for business job positions:
Note the job posting. Read through a job posting thoroughly and familiarize its tone and the language used. Consequently, incorporate the qualifications set in the posting into your resume.
Get rid of irrelevant information. Focus on writing a targeted resume for business positions alone. Do not attempt to make your resume an application for other potential positions that would fit your qualifications.
Provide references. Character references and other references you would want to provide should be centered on business professionals.
You will definitely be amazed how a business targeted resume could also be a perfect reference for creating business fresher resumes.
Best Business Analyst Resumes
Business Analyst Sample
Business Analyst Resume in Doc
Senior Business Analyst
Entry Level Business Analyst
Best Business Development Resumes
Sample Business Development
Sales and Business Development
Business Development Manager
Effective Ways to Improve a Business Resume
Employers will review hundreds of resumes for various business job positions. Screening applicants isn't an easy task at all. If you work on improving your business resume, you would not only help prospective employers shortlist applicants. You would also impress them and get a higher chance of getting your dream job.
Here are effective ways to improve your business resume:
Establish your profile. It is already given that everything in your resume should be relevant to business job positions. From an employer's perspective, see to it that you have already established a profile from the earliest part of your business resume.
Emphasize professional experience. Hiring managers are particular with experience. However, they are not looking for just mere experience since they are looking for employees with competent potential. Reiterating professional experience in work resumes is naturally attractive to employers.
Use basic business terms. Do not be so hard on your resume, it is better to stick with the basics. Simplify your terms most especially on everything relating to business. A common language is already understood within the business industry hence, employers would really commend simplicity.
Focus on standard qualifications. You have decided to apply for the job because you think you are a perfect fit and not because you have one out of the many standard qualifications in the job postings. It is not necessary to comply with the same checklist as your employers as long as their standard qualifications are all over your resume.
Use familiar terms or elaborate jargon. At the beginning of your letter, be sure to elaborate on acronyms and other unfamiliar terms. It wouldn't be very convenient for your readers if they come across jargon that they aren't familiar with.
Best Business Management Resume
Business Management Resume Example
Business Management Sample
Entry Level Business Management
Best Business Resume Format
Business Resume Format in PDF
Sample Business Resume
Business Analyst Format
Professional Business Resume
Best Business Resume Sample
Free Business Sample
Business Sample Resume in PDF
Business Sample Resume in Doc
Common Mistakes When Writing a Business Resume
Applicants do not usually notice mistakes they repeatedly commit when writing a business resume. Proofreading may not be enough to check the overall quality of a business resume.
Below is a list that could help an applicant identify mistakes when writing a business resume:
Emphasizing duties and responsibilities instead of accomplishments. A business resume should be filled with accomplishments and not with duties to fulfill. An applicant is evaluated based on his or her performance relevant to business matters. Sample resumes in PSD file format are printable and easy to edit that could help avoid encounter of common mistakes.
Giving information that is too general. This mistake is usually committed whenever applicants mention previous job descriptions that are too broad for comprehension. Employers would take a lot of time figuring out most of the details of your resume. You need to be more specific.
Using irrelevant keywords. As much as possible, business analyst resumes and other business-centered resumes are expected to make use of keywords known to employers. Relevant keywords are those that are found in job listings and advertisements.
It is unavoidable to commit mistakes when writing a business resume. However, following a few reminders wouldn't hurt to help you improve the quality of your resume. You're a step closer to producing functional resumes if you do away with committing common mistakes.
Best Free Business Resumes
Free Business Analyst
Free Business Development
Business Administration Resume
Best Senior Business Resumes
Senior Business Executive
Business Development Resume
Best Business Executive Resume
Business Executive Sample
Business Development Executive
Best Business Resume Cover Letter
Business Resume Cover Letter Example
Business Analyst Cover Letter
Business Administration Resume
Business Resume Sample Templates
You have not read this far to leave without downloading ideal resume templates for your business applications. We have a variety of business resumes ranging from basic resumes up to student resumes for those students who are interested to work for the business industry.
You're not even halfway there, here are more business resume sample templates for you and your own personal business applications.
Don't hesitate to avail of this Free Professional Resume Template for an ideal and well-structured business resume. If you happen to download this template, it would be easy for you to input the needed information for your resume. Just follow through the red markings for the specifications and it's good as a perfect business resume.
This Business Development Executive Template is a neat business resume presented in a 2-column format. The information on both columns are organized and briefly constructed. It properly highlights labels on the significant parts of a business resume.
Increase your chances of getting hired with this Business Administration Resume Template. It is written simply at the same time concise for your readers. The different parts of the resume are equally divided to deliver a smooth presentation for readers.
Choose the right template for you business job applications. There is so much for you to choose from and you could always download in any format that you think might be the best to present your professional business credentials.