A lot of students start looking for jobs since their high school days. Are you one of them? Well, that's good as there are several part-time job avenues where the students can enroll in for some additional income at the end of the month. But when you are applying for a job, you have to come up with a standard high school student resume that can present you in the best light in front of the hiring managers. If you want help, there are readymade Student Resume Examples online.
Free High School Resume Template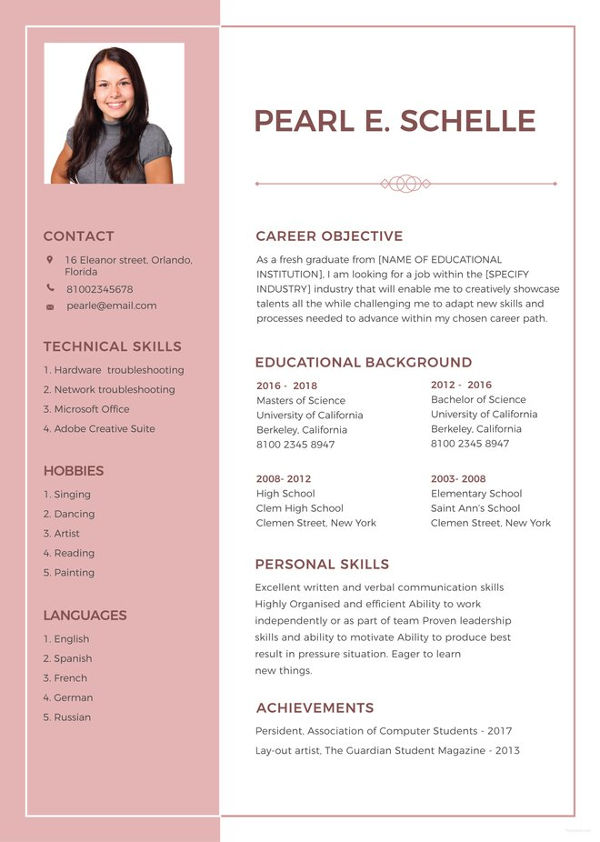 High School Student Resume Template
If you are a proud holder a good list of achievements as a high school student, then this high school resume template here would be the right thing to create the best impression about you. You may also see Free Resume Templates.
Sample High School Resume
You are getting two types of high school student resume templates here- one is a regular resume without certifications and the other is a professional resume with certifications that will inevitably create a better impression.
1. What are the tips for writing a High School Student Resume?
Are you a high school student looking for tips to write your simple resume? Well, it's important to note that if you hold some important achievements and certifications, especially that of technical skills, you must not forget to include them in your high school student resume.
Also, if you have ever worked as a volunteer, you should list down that on your resume. It will help to create a better impression as a generous human being. Other important sections of the resume are an educational qualification, work experience, if any, as well as your interests and hobbies, especially if they pertain to the job you are applying for. You may also see Work Resume Templates.
Printable High School Resume Template
This template will serve as both high school and college student resume template when the student is looking for a job. It would be more appropriate for students with a little bit of work experience.
High School Resume with Work Experience
Sample No Work Experience High School Resume
High School Student Resume Worksheet
Functional High School Student Resume
Sample Academic Resume for High School Student
High School Diploma Resume Template
Sample Student Resume Template
Sample Simple High School Resume Template
2. What are the mistakes to avoid in the High School Student Resumes?
One of the primary mistakes in high school student resumes is missing out on your objective statement. If you do not mention it, you are not making it clear about the position you intend to apply for; it can be confusing for the hiring manager of the company. You may also see Resume Objectives.
Then many resume samples focus so much on the qualification and skills that they forget about the importance of the personal details of the applicant. The personal details serve as your basic identity data and must be included in any resume, regardless of the job you are applying for. Besides, don't make the mistake of not mentioning the relevant coursework and honors received. Finally, no spelling and grammar mistake.
The templates mentioned above show you what exactly you should mention and how to frame your high school student resume. Whether you are preparing your creative resume for the first time or need some expert guidance to boost up your current resume, the templates would be handy for all. They can be edited easily with your data.