A photography resume helps you collect and showcase your projects in the most practical and aesthetically appealing way. A portfolio and a photographer resume template can get you noticed among your peers and get more clients as well. Here's everything you need to know about creating one.
5 Steps to Write a Photography Resume
Step 1: Follow a Standard Format
There are numerous templates available online that you can download and utilize for your resume. These templates all have some common elements and content sections on your personal information, education, professional experience, etc.
Step 2: Don't Miss Out on Anything
Everything from your name to your contact details to the academic performance records must be authentic and accurate. Also, add in anything else that might create a good impression on your client. Professional experience, part-time jobs, amateur projects and collaborations with other artists can also be mentioned.
Step 3: Highlight the Special Skills
The formatting of your resume decides the visibility and chances of you getting noticed by the recruiter. You need to underline, bold or resize the content to your liking. It looks super cool and it's easier and will create the perfect impression on potential clients.
Step 4: Play by Your Strengths
After you have added the preliminary details about your personal life and academic qualifications, you can add any additional projects and presentations you've been a part of. Other extracurricular can also be included to create a good impression. Remember, your resume could be the best business pitch for you.
Step 5: Presentation is Everything
A photography resume must be well-organized, clutter-free and easy to read. Ensure that you include a lot of bullet points, number listings and color codes to highlight specific sections of your resume. Here's a list of some special photography resume templates that can help you promote your service more effectively.
10+ Photography Resume Templates to Download
1. Animal Photography Resume Template
Animal Photography Resume template, as the name suggests is tailor-made for wildlife photographers who want to create a good web presence. This best resume format includes premium quality images, artworks, and fonts. You get 2 pages, optimized for MS Word and customizable on Photoshop. Users can even download and print the page instantly if needed.
2. Free Senior Photographer Resume Template
Senior photographer resume template is a free platform that is compatible with MS Word and Publisher. You can edit the template on Photoshop, download it to your mobile or desktop and print it anytime, anywhere. Plus, you get access to a wide range of fonts, color schemes, and illustrations. The content is well-organized, easy to edit and optimized for smaller screens as well.
3. Freelancer Photographer Resume Template
Download
The classic template is great for freelancers and first-time photographers who are looking for a simple and creative way to showcase their work. The freelance resume sample comes with a pre-written layout, you just have to fill out the empty spaces and add your samples. The theme works well on MS Word and can be printed as well. Other perks include pre-set google fonts, free graphics and social media icons.
4. Printable Photography PSD Resume Template
Download
The Ansel photography resume template caters to photographers who are looking for easy editing options for their CVs and portfolios. The resume template offers a standard layout, a wide range of fonts and colors and bullet listings that look very professional. You can customize the layout to your requirement and download and print it from anywhere as well.
5. Professional Photographer Resume Template
Download
The Professional Photographer Resume template is a good option for experienced photographers. The professional resume template is minimalist, elegant and well worded. It incorporates a lot of bullet points and listings, giving a professional and well-organized look and feel to your CV. Here you can add your accolades, academic achievements and professional success stories as well.
6. Professional Resume Template for Photographers
Download
This template suits freelancers and amateurs. It is a 2-page layout that can be edited in MS Word and Google Pages. The pre-written content can also be customized to your liking. Plus, you can change the font, add new backgrounds, colors and attach sample photographs to your professional resume sample. It even comes with an in-built cover letter that you can tweak if needed.
7. Editable Photographer Resume Sample
Download
This resume template can be edited on MS Word, Adobe Photoshop and Google Docs. The layout offers a selection of professional background images, illustrations, fonts, colors and other graphics. Here, you can customize the content of the template, both online and offline. Using this resume template, one can create a stunning one-page CV and portfolio in minutes.
8. Creative Photography Portfolio Resume Template
Download
The Photography Portfolio Resume Template comes with an attractive and stunning interface. This multipurpose template can be used as your portfolio, your CV and a cover letter. You can customize the layout on Photoshop, Illustrator, MS Word, and even InDesign. Plus, there is a demo version of the sample photographer resume, available at a very nominal price.
9. Simple Photographer Resume PSD Template
Download
This resume template can be customized in multiple platforms like Photoshop, Illustrator, and InDesign. The layout is chic, modern and minimalist. You can add your qualifications, work experiences, external projects and academic performance in one place. The resume template also allows users to attach their sample work and recommendation letters from previous employers.
10. Modern Photography Resume CV Template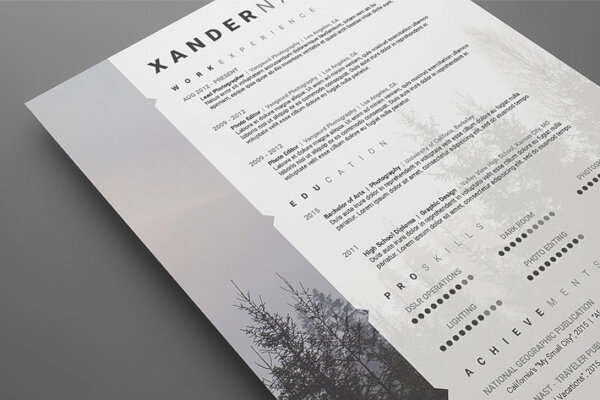 Download
The photography resume CV template works well in Photoshop or CS3 platform. There are numerous font types, color options, images, graphics, and layouts to browse through. These elements can be adapted on any screen, irrespective of its size or resolution. Plus, you can edit the content of the CV as you want.
11. Creative Photography Resume Template
Download
Here you get readymade graphics, color schemes, background designs, beautiful fonts and layouts to choose from. Also, the resume template is customizable on Photoshop and can be accessed from any platform or device. Layered, flexible design, attractive graphics and versatile interface make this template a keeper.