Resume
15+ Simple Business Resume Templates
Throughout your career and business endeavors, you must be able to summarize your work timeline and organize your skills and relevant credentials. Your work history, professional skills, and educational achievements are some of the important pillars of your resume format. In line with this, we can help you organize and present them in a logical and systematic manner.
On this page are 20+ Simple Business Resume templates that are of great quality and format. You can use them as your inspiration and reference. Always keep in mind that an effective and well-written business resume and cover letter can open an array of business and professional opportunities for you.
Free Business Resume Template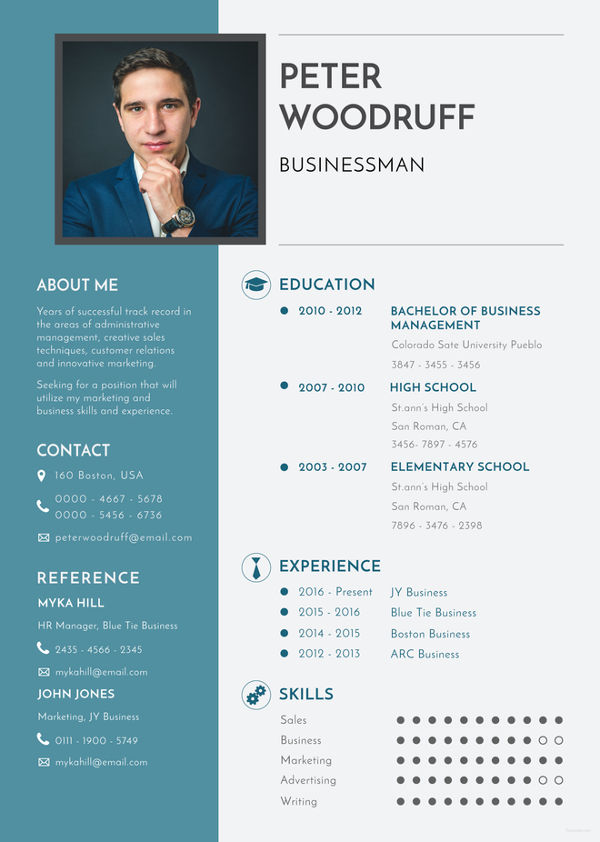 Professional Business Resume Templates
Professional Business Analyst Resume
ejobsville.com
International Business Resume Templates
MBA Business Resume
sites.laverne.edu
International Business Management Resume
business.slu.edu
International Business Management Executive Resume
wp.quintcareers.com
International Business Management Resume Sample
centennialcollege.ca
Business Analyst Resume Templates
Sample Business Analyst Resume
exforsys.com
1. Why Is a Business Resume and a Cover Letter Important in the Hiring Process?
For some job applicants, the resume and cover letter are only submitted for compliance purposes. That is a common misconception. Your resume and cover letter are critical documents that can help direct the flow of your career path. They can open opportunities and help you get a job interview. Here are some of their pertinent roles:
Makes you stand out from the rest. As you know, finding a stable job is not that easy. The number of applicants is increasing every day. Each applicant offers various skills and qualifications. In light of all this, your business resume and cover letter can, if written effectively, help you stand out from the bunch. It helps you pass the initial screening process.
Allows you to build professional references and networks. For most job seekers, resumes are distributed to various employers. The submitted ones, regardless of the outcome of the application, already creates a link between you and the employers. For future job opportunities, the employers can easily contact you especially when they consider your credentials suitable for a vacant position.
Hence, your business resume and cover letter help you make an enter the business world with confidence. Keep in mind that your resume and cover letter give your potential employers an impression of what you can offer.
2. What Are included in a Business Resume?
There are no hard and fast rules as to the components of a perfect business resume. It can truly vary depending on the nature of the business. However, there are common and recommended components that your business resume must contain. Here are some of them:
Professional title. According to one career advice expert, adding a professional title at the top of your resume can help you come up with a clear and smart goal. Aside from this, you can help hiring managers make the right decision because you have provided them with a glimpse of the level of expertise you can provide.
Keywords from job advertisements. Adding keywords from job postings is also important as a way of showing your prospective employer that you've made your research. In the initial job screening process, keywords can truly help you surpass it.
Professional history. For most business resumes, a review of one's professional history can help elevate the appeal of your resume. What is material is that you make your career story relevant, concise, and targeted to the advertised job position.
Contact details. As a basic requirement, don't ever miss this part. Without this section, your simple resume would be useless. Always include your full name, address, phone number, email address, and other relevant contact details.
Certifications and achievements. If you have acquired specific certifications and licenses, always indicate in your resume because they can make your credentials credible and reliable. Some certifications also make you stand out from the rest.
Educational background. Never forget to emphasize your educational attainments, including the universities and academic institutions you've been connected with.
These are some basic and essential components of a business resume. You can still add more depending on your credentials and strategy. Just remember to keep them formal and professional.
Business Development Resumes
Business Development Manager
workbloom.com
Business Representative Resume
Sales & Business Development Representative
distinctiveweb.distinctivecaree.netdna-cdn.com
Business Manager Resume
School Business Manager
resumesamples.info
3. Business Positions and Resumes
In planning ones resume format, one of the critical points that you should consider is the type of business position you are applying for. The business position enables to create a skeletal structure of your resume for you to include those parts that are suitable for the applied position. This is one way of customizing ones resume for a specified job posting. Here are some business-related positions and their corresponding sample resume formats:
International business resume templates. In a globalized and increasingly technological world, international business transactions flourish. This is because more business employees are hired by multinational companies and other businesses that operate in the international market. In line with this, an international business resume must showcase your high-level skills and credentials. You must prove to the employers that you have the capacity to deal with various cultures.
Business development resume templates. The post of a manager or business developer requires a certain level of expertise. Business development, as a field, deals with business strategies such as forging partnerships and other engagements to increase the liquidity and flow of profit in a certain business endeavor. By using our templates, you can showcase a strategic and logical business resume.
Business representative resume templates. In any business endeavor, a business representative helps in assisting and supporting sales and marketing efforts. As a representative, you must showcase your professional skills in dealing with clients and successfully generating leads. By using our template, you can emphasize your professional highlights and how you've contributed to the business growth, sales increase, and sales and marketing presentations of your previous employers.
Business administration resume templates A business administrator oversees the conduct and performance of a specified line of business. As what you can see from our sample templates, you can provide your areas of expertise in a specific manner such as in terms of decision making, financial administration, and many more.
These are just some of our featured templates and samples that matched a specified business position. If you're looking for marketing resume examples, we also have templates for you. Check out our templates to clearly observe how business resumes are formatted.
Business Consultant Resume
Senior Business Consultant
devbistro.com
Technical Business Analyst Consultant
hireitpeople.com
Business Analyst Consultant
hireitpeople.com
Business School Resume
Sample Business School Resume
gsb.columbia.edu
Business Student Resume
Business Student Resume Sample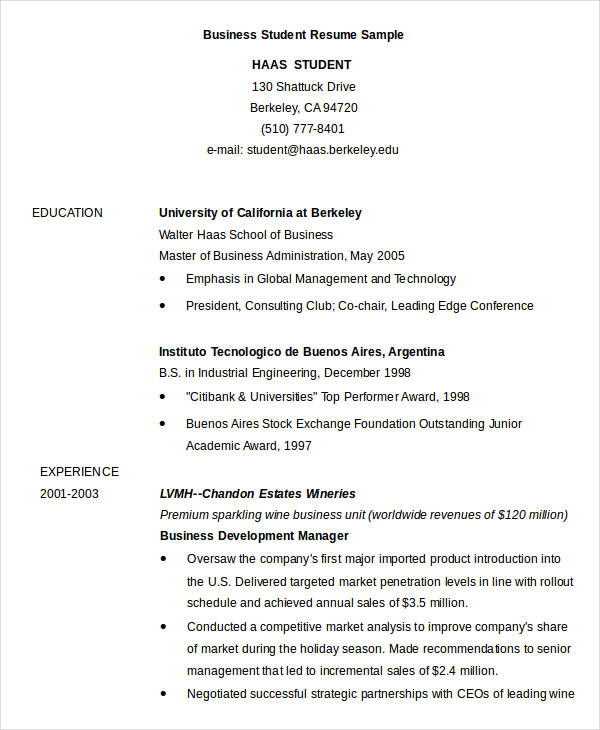 haas.berkeley.edu
4. Dos and Don'ts
As you have observed, the increasing developments in the field of science and technology also affects the how businesses are conducted. Amid these changes, resumes are still considered as primary means of conveying your credentials in a professional manner. Here are some tips and points for you to avoid in dealing with business resumes:
Don't submit a generalized resume. Templates and samples are there to support you. However, at the end of the day, you need to customize your resume with respect to the applied company's standards. Customize and prioritize certain sections such as the type of industry and your personal skills and credentials.
Do use a clear, readable, and formal format. A resume is a professional and formal document. Always use a readable font size and style. To add, use high-quality and clean paper.
Do not use jargon and acronyms. Always remember that your resume is not just for your own reading. It is for your employers. Making use of technical terminologies and jargon can create confusion on the hiring managers' end.
Do make use of bullets. If you're enumerating specified skills and credentials, bullets are your best friend. You can use them in emphasizing points.
Here are some points that you can use to maintain and enhance the businesslike structure of your resume. You can also learn more along the way. Feel free to check out our business resume templates for other options.
5. How about a Business Resume Cover Letter?
From the previous discussions, we always emphasized that a resume and cover letter always go hand in hand. Here are some basic steps you can consider in writing your business cover letter:
Conduct research. A substantial and good cover letter is mostly well-researched. You have to research and discover more about the company you are applying for. In this way, you can naturally convey to them your interest and intention to join their company.
Adopt an engaging introduction. Rather than following the common way of starting one's sentence, you can start your letter with a statement that shows your enthusiasm and excitement to be part of the company and how your skills can help in its endeavors.
Introduce and describe your skills and qualifications in a concise manner. Promote yourself. Create an excitement on the part of the hiring manager to catch his or her attention. By sparking his or her attention, you can direct him or her to your business resume.
Avoid providing too much information. Remember that a cover letter makes an introduction of your resume. Don't write all your skills and information that can render your resume useless.
These are some points to help you create a formal and professional business cover letter. Your resume and cover letter, if written effectively, can help you get a job interview. Speaking of letters, we also have business appointment letters that you can check out if you're interested.
More in Resume
| | |
| --- | --- |
| Business Analyst Resume Template – 11+ Free Word, Excel, PDF ... | 10+ High School Resume Templates – Free Samples, Examples ... |
| 8+ Business Analyst Resumes - Free Sample, Example, Format ... | Basic Resume Template – 51+ Free Samples, Examples, Format ... |
| Simple Business Resume Templates - 20+ Free Word, PDF ... | 40+ Free Business Resume |
| Business Resume Templates in Word - 14+ Free Word, Documents ... | Resume Template for Fresher – 10+ Free Word, Excel, PDF Format ... |