For those organizations who focus heavily on sales, it's important that they are able to properly compensate those who have generated the most revenue for the small business. However, it's important that one knows how to properly compensate these employees to ensure that they continue to do a good job. You may also see plan samples.
318+ Sales Templates in PDF, Word, Excel, PSD, Google Docs, PowerPoint, InDesign, Apple Pages, Google Sheets, Publisher, Apple Numbers, Illustrator, Apple Keynote, Google Slides, HTML5 - START DOWNLOADING
Sales Compensation Plan Template
Sample Sales Compensation Plan Template
Simple Compensation Plan Template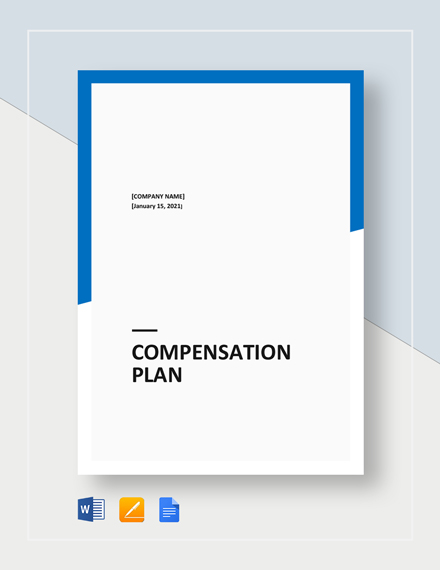 Sales Compensation Plan Design
This means that you will need to come up with a sample plan wherein you are able to compensate these people in a way where your business is still able to profit. And that's why this article is going to teach you how to come up with a sales compensation plan.
Sales Compensation Policies and Guidelines
Sample Sales Compensation Plan
How to Make a Sales Compensation Plan
Remember that the entire purpose of having this type of compensation plan is so that the exceptional talent in your organization receives fair amounts of commission for the sales services that they have provided. You have to make sure that these people receive a fair amount for what they've done. Give them too little and most likely you'll lost them to competing companies. Pay too much and your salespeople will get complacent and stop growing revenue for your organization. You can also read sales business plans.
You need to come up with a way wherein these people are able to get what they deserve for the work they provided, while at the same time ensuring that they remain satisfied with the business as it continues to generate more profit. You may also see marketing business plan templates.
With that in mind, here are the steps that will allow you to come up with a sales compensation plan:
1. Don't Assign a Full Commission
As you're coming up with your plan, you need to take note that the people you hire must have a base salary. If you pay commission only, you'll attract someone who either can't get another type of sales job or someone who isn't specifically looking for regular and stable income. These are people that you don't want as you want those with a drive to increase sales.
So you want to give these people a base salary that's enough for them to live out their day-to-day lives and cover their basic expenses, but also not to the point where they no longer have the need to earn the commission. So you have to be very careful when considering just how much you need to set their base salary at. Remember that having it too low or too high will definitely be a problem. If you want, you can do your research and check on the basic salary of salespeople within your area. You should be able to come up with a good compensation plan with that information. You may also see sales & marketing plan templates.
2. Offer Rewards for Sales Behavior You Like Seeing
There are times wherein you have the sales talent that shows the right kind of behavior when it comes to their job. You want to promote this kind of behavior to increase the potential of your workforce. And one of the best ways in which you can do that is by offering rewards to the people that have shown what it is that you want to see in terms of good sales habit. You may also see IT sales plan templates.
For example, let's say that your salespeople are able to meet their quota, but that you know that they can go beyond what they are able to achieve. You can state that those who go a certain percentage above their quota will be rewarded. What kind of reward will depend entirely on you, but just ensure that it's one that employees will want to work hard towards. You may also see startup marketing plans.
A commission structure here works in your company's favor because you don't pay people unless you make money. By showing these people that they can earn rewards for doing a good job, then you're giving them good incentives to keep sales up and constant. You may also see strategic marketing plans.
Sales Compensation Plan Guideline
3. Choose the Right Commission Rate
This is the part of the plan that can get a bit tricky. You need to take note that commissions are a percentage of net profit or a percentage of total revenue. They vary greatly by industry and company and can range anywhere from 1% to 10% of revenue or 20% to 40% of gross profit. You may also see monthly sales plan templates.
So you need to know exactly how much commission should earn. Take a look at their performance and calculate just how much they should gain. If you don't know what's the best percentage to go with, then go online and do your research to give you an idea on just how much you should be paying these people. You may also see strategic sales plans.
A good rule of thumb that every organization should follow is that their best salespeople's commission should be equivalent to that of their base salary. So let's say that someone earns around $50,000 per month. That person's commission rate should also be the exact same figure. Think of it as a way to get all of the other salespeople in your organization to get motivated enough to want to aim for the top. You may also see marketing & sales business plans.
Tips for Making Sure Your Sales Compensation Plan Is a Success
Although you already know how to go about in creating the sales compensation plan, there are still a couple of things that you can do to ensure that your employees will be happy with it. Also, you have to make sure that the plan is fair to the point where not only your employees are able to gain something from it, but your business as well. You may also see hotel sales plans.
So here are a few tips that you can follow to ensure that you're able to come up with a successful sales compensation plan:
Make sure to pay your commission as soon as possible – A reward delivered quickly and consistently increases the likelihood rewarded behaviors will be repeated. So if you want your salespeople to keep up the good work, then you have to deliver on your end by giving them the rewards for a job well done. If you take too long, then it will lose the impact for when they acquire what they deserve. Drive instant gratification by reducing the turnaround time on commission checks and see an increase in sales motivation. It's best if you can give them their rewards at an earlier time, but don't force it if it isn't possible. You may also see strategic sales plans.
Get creative with the shared commission and bonuses – Shared commission and bonuses can work well in team selling environments, and when salespeople might not have total control over the outcome of a deal. Bonuses are also great for inside salespeople, customer service representatives, and recurring revenue producers. For these teams, you should definitely consider lump-sum bonuses based on a percentage of revenue generated or bonuses for when there is a huge spike in productions. You may also see personal sales plan templates.
Be flexible with the compensation plan – There will be times wherein certain products may be more difficult to sell due to circumstances such as the changing of seasons. In the event that something like that happens, you want your salespeople to know that there's still an incentive for them to try their best even when sales might be difficult. A new territory or product, for instance, might need higher commissions during the first few months. Makes sure that you provide a fair number as to how much sales they should generate and how much they will be compensated. You may also see marketing plans in a word.
Be clear about the plan – If you want your salespeople to take advantage of the commissions they can earn, and if you want them to do their best to increase sales, then you're going to have to make sure that they're aware of the plan. Discuss all of this with your sales team. Make sure they know compensation packages are a work in progress, and tell them you want to come up with a plan that everyone will be satisfied with. Point out the goal of the compensation plan is to make sure that everyone is able to work hard and that they will be rewarded handsomely for doing so. If you discuss the pros and cons of each plan and listen to what your salespeople have to say, you'll be able to easily come up with a plan as well as make any changes to the one that you already have. You may also see retail marketing plans.
Although coming up with a compensation plan may not be easy, you're going to have to do it if you want your business's salespeople to feel justified for putting effort into their work. So make sure that you are able to follow all of the steps and tips above so that you can make a plan that everyone can be happy with. You can also read territory sales plans.
If you would like to learn about the other types of plans that you can come up with for business-related purposes, then all you have to do is to go through our site. It has many different articles that should be able to provide you with the help that you need. Just be sure that you are able to read them thoroughly so that you can make the most out of what they have to offer. You may also see marketing and sales plans.