In order to make your life more orderly, you might want to make use of different schedule examples that could make your daily routine more orderly. One example is a chore schedule, so that you can systematize your daily chores for maintaining the house.
You do have the option of using different daily schedule templates so that you can make all kinds of schedules for any purpose you may have. In this case, you can make different kinds of chore schedules, particularly if you have quite a number of housemates and need to find an equitable way of distributing the work.
Sample Chore Schedule Template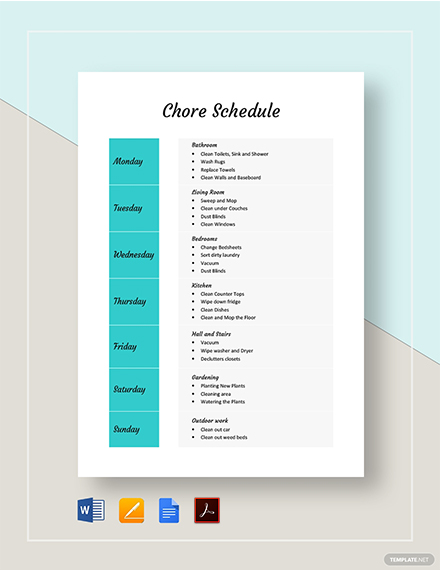 Printable Weekly Chore Schedule Template
Creative Kids Chore Schedule Template
Weekly Chore Schedule
Household Chore Schedule
Lodge Chore
Free Chore
How to Effectively Schedule a Chore Template
If you want to use tools like blank work schedule templates and monthly work schedule templates best, it would be wise to consider how to coordinate different schedules together to maximize effectiveness.
Make sure to find out everyone's free times.
Be sure to find a fair distribution of work.
Tailor the schedule to the availability and skills of individual housemates.
Develop a larger system which can contain the chore schedule as an element of itself.
Allocate certain times for particular chores so as to free up more time in the day.
What Chore Schedule Templates Can Do for You
Schedule templates like project schedule templates and chore schedule templates can generally provide you with a number of conveniences such that you have multiple incentives to rely on them.
Provides a basic system for breaking work into more manageable pieces.
Flexibility so as to take into account varied schedules among housemates.
Ease of use as it is fairly simple to figure out how to use these basic templates.
Provides a sense of order by organizing the daily work into a generally consistent routine.
Allows each member of the household to contribute to all the chores that need to be done.
Example of Chore Schedule
Daily Chore
Printable Chore
Chore Schedule Sample
Tips for Writing an Effective Schedule
When using different schedule templates such as personal schedule templates and family schedule templates, you should be aware of certain tips that can affect how you use them. These tips can go some way to helping you use templates like blank schedule templates and volunteer schedule templates more effectively, which can only help you.
Keep your schedule simple so as to leave it easy to understand, and more convenient to use
Have an adjustable system so that you can adjust in case of unforeseen changes in people's schedules. This leaves the schedule less susceptible to sudden shocks.
Be consistent, this can make it much easier for everyone in the house to internalize the schedule, and make it easier to follow.
Have a coordinator who can oversee the others so as to ensure that the schedule is followed.
Look for ways to segregate the work, such as arranging chores to be done at specific times, or dividing chores according to room of the house.
If you should find them necessary, there are other templates readily available elsewhere on the site. So, if you find yourself in need of other kinds of templates, you should still be able to find them here.