Looking for chores schedules templates? You're on the right page. Chores are always associate with burdensome work, but this should not be the case. A chore, no matter how simple or complex it may be, needs to be accomplished in the best way possible. To help you get inspired doing chores, you can choose from our list of templates. We have an array of chore schedules designed for you. They are easy to download and use.
Chore Schedule Template Sample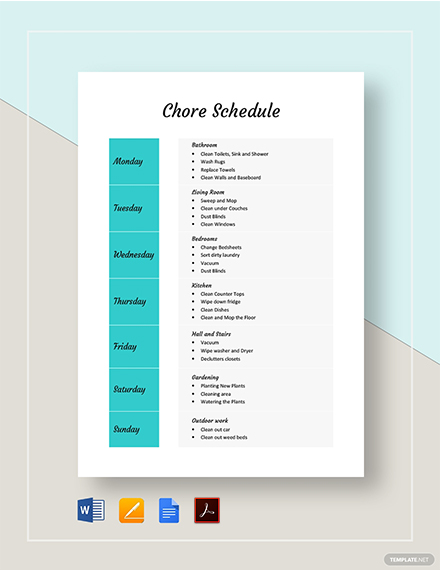 Simple Weekly Chore Schedule Template
Editable Kids Chore Schedule Template
Our chore schedule templates are available for all ages. They will help you monitor the accomplishment of your tasks so chores don't feel like your enemies. You can use our templates in order to manage them properly. Feel free to scroll down and download our chore schedule templates.
Weekly Chore Schedule Template
Household Chore Schedule Template
Daily Chore Schedule Template
Zone Cleaning Chore Schedule Template
Kids Chore Schedule Template
Chore Schedule Task Template
Ticket Booth and Chore Schedule Template
Diversified Chore Schedule Templates
Chore schedule templates are used in order to track and monitor your chores. It is up to you what frequency will you choose. You can choose a daily, weekly, or a monthly chore chart. As you know, a chore schedule may be diverse in terms of formatting. They have varying advantages such as the following:
On the part of the kids, you need to adopt a colorful and fun-filled design in order to spark more interests. Chores can be a boring concept that is why it is important that you put a sprinkle of inspiration and motivation.
For the adults, our templates will serve as a reminder for them every day. It will enable them track what are duties and chores they have to prioritize and complete within the day.
By using our easy-to-download chore schedule templates, your children will learn to accept, love, and embrace the beauty and relevance of chores. Hence, there's no reason why chore schedules are not important. They make your day worth it and productive. They will teach you the wonders and advantages of taking ownership of ones responsibilities. You can also check out our Family Schedule  and Cleaning Schedule templates.
Tips in the Selection of Chore Schedules
It is a proven fact that chore schedules can contribute in organizing ones day. As we all know there are various factors to consider in terms of organizing ones day. But, how you draft, format, and design your schedule template also matters. Here are two points to remember in crafting or selecting a design for your chore chart:
Color schemes matter. Putting and mixing the right amount of color schemes matter a lot. It will make your chore schedule standout. And color coding your chores according to the person responsible for them will make it easier for your family members who does what.
Add more sections to our templates. No one is stopping you from adding more sections as long as it suits your needs. For example, you can add a note section or comments section in order to list relevant stuff and important reminders.
Indeed, chore schedules help us surpass and complete our daily chores. They help us keep track of our progress and at the same time the things which requires more attention. So, there's no reason not to download and use our beautiful chore schedules. You can also check out our Weekly Schedule templates.