Nowadays, you are likely to find employers who use flexible work schedules for their employees. These kind of work schedule templates generally provide a number of advantages, such as a more motivated and productive workforce. That in itself should be plenty of incentive for more employers to consider using flexible schedules sample.
Employee Work Schedule Template Sample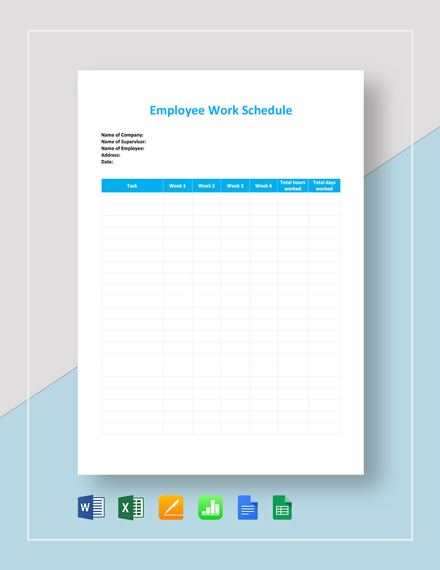 Restaurant Employee Work Schedule Template
After all, providing a flexible daily schedule provides any number of conveniences for employees. In an increasingly on-the-go world, a flexible schedule makes it much easier for employees to report for work, as opposed to having a set time. After all, such a schedule can more easily fit itself to an employee's own particular routine.
How to Implement a Flexible Work Schedule
Actually implementing a flexible work schedule can be a difficult prospect, such that you may have to find other tools than printable schedule templates. Some things you can do to make the arrangement work include:
Be clear on how the schedule works. Make sure that your entire workforce understands how the schedule is meant to work so that there is a clear idea.
Use workforce tracking. Have a means of monitoring your employees, particularly if you have them working at home so as to be sure no one takes advantage of the system.
Keep your workforce coordinated. Making sure different employees and teams can communicate can help to ensure that everyone does their jobs.
Benefits of a Flexible Work Schedule
There are a number of specific reasons why you might want to use flexible work schedules templates such as schedule templates in Excel, some of which might include:
Increased productivity for workers, as flexible schedules can allow them to work at more convenient hours.
Fosters trust among employees and management, as this kind of schedule tends to demand that employers trust their employees to work at agreed times.
Reduces employee burnout, since employees can come at times more convenient for commuting and personal affairs.
Tips for Making a Flexible Work Schedule
There are some tips you can use to help yourself when making flexible work schedules out of templates like free schedule templates and schedule templates. After all, if making such a schedule is a difficult prospect, you would welcome any tips that can help you make the job easier. Some of these tips include:
Study commuting routes in the vicinity. This can help you determine how travel times for your employees so as to let you plan a workable flexible schedule.
Impose some limits on your employees. This can include core hours when your entire workforce is required to be present.
Keep employee preferences in mind. You can aim at making flexible schedules that can suit more employees' personal preferences, such as having a wide window to accommodate employees arriving at different times.
Plan your schedules in advance. This allows you to come up with schedules well before they need to be implemented, giving you time to adjust if necessary.
If you wanted to make your own employee work schedule, then these guidelines may just make the job easier. There are a number of other factors, but these should at least help you through the basics.