Schedule Templates
8+ Event Schedule Templates
Let's say that there is an event that you are planning to hold and you want to make sure that everything goes according to when they should. To guarantee that they do, you will want to make an event schedule. This article will provide you with all the information you need in order to properly make one. You may also see schedule sample templates.
Table of Content
8+ Event Schedule Templates
1. Event Schedule Template
Should you ever be in need of a schedule that points out everything that happens and when things happen during an event, then this is the template that can help you make one. Be sure to use programs such as Microsoft Word or Apple Pages to edit it until you have the schedule you need.
2. Wedding Event Schedule Template
Lots of things need to happen during the preparation of a wedding that most wedding organizers find it difficult keeping track of it all. That's why they are going to need to make a schedule that will tell them everything that they'll need to know and this template can make one.
3. Event Production Schedule Template
Many event organizers find keeping track of everything that they need to difficult if they do not have a schedule that can remind them. If you are ever given the task of organizing an event, then be sure to download this template to guarantee that you are able to do your job without any problems.
5 Steps for Creating an Event Schedule
Step 1: Know What Event the Schedule Is Going to Cover
Right from the start, you are going to have to figure out exactly what kind of event the entire schedule is going to cover. It doesn't matter whether it's a wedding, birthday, or even a catering event, this is something that you will have to know as it's crucial for the following steps.
Step 2: Know the Scope of What the Schedule Has to Cover
After knowing exactly what type of event the schedule needs to cover, now you are going to have to answer the question of how much it's supposed to cover. Is it only going to be for planning the event? Perhaps it's for what happens after? Maybe it's going to be used to cover the entire event's duration? Make sure to figure this out.
Step 3: Make the List of Tasks or Activities That Must Be Included
By this point, you should have enough information to tell you about what information the schedule is going to provide in terms of what is going to happen. For every item that you include, you will want to make sure that each of them has a description that's not too long but still informative enough for anyone to easily understand.
Step 4: Assign Each Person Their Task
Events will always require a good number of people running it in order for things to go successfully. For the one that you are in charge of, you'll need to point out exactly who is going to have to do what. You can include their complete names into the schedule if you feel that it's necessary.
Step 5: Schedule When Everything Is Going to Take Place
When you have all the information on what has to happen and who has to do what, now comes the part where you'll need to point out when things are supposed to take place. Know when each task and/or activity should take place and the put them into the schedule. Be sure that the schedule shows the exact time of the day, and possibly even the day itself, in when they're supposed to happen.
4. Event Program Schedule Template
When the time comes that you have to hold an event and you need something that points out when things have to be done, then download this template. With it, you are guaranteed to be able to make a schedule which contains whatever information you want it to have regarding what will take place during the event and when.
5. Printable Event Program Schedule Template
Let's say that your event has multiple programs and that you want to make sure attendees know when they're going to start and end. You'll want to download this printable program schedule template to provide these people with physical copies of the schedule which can provide them with the much-needed information.
6. Sample Event Schedule Template
siop.org
If you are ever planning on making an event schedule, then you will want to download this template. Make sure that you are able to use the appropriate program that allows you to edit it so that you can put whatever information your schedule should have.
7. School Event Schedule Template
web.mit.edu
Schools usually hold events that benefit its students, its staff, and even outsiders. Now, those who will be attending these events will want to know what activities are going to take place and when. Download this template to provide these people with a schedule that should be able to point everything out.
8. Bowling Event Schedule Template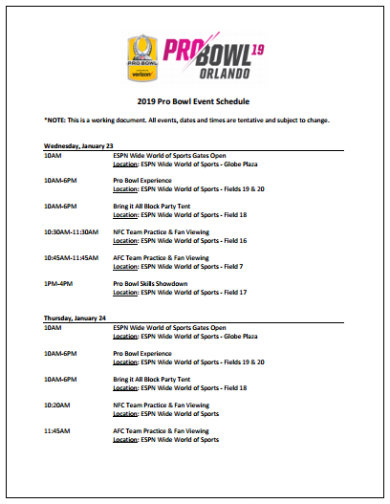 static.nfl.com
Let's say that you either have to take part in various bowling tournaments or you have to watch ones that you can't afford to miss. To make sure that you know when they are going to happen, you'll want to download this template to come up with a proper schedule.
9. Simple Wedding Event Schedule Template
stylemepretty.com
Those who are in part of organizing the wedding will want to know exactly what it is that needs to be done and when things are supposed to happen to ensure that everything goes right. What they'll need is a wedding schedule that will provide all that information and this template can help you create one.
More in Schedule Templates
| | |
| --- | --- |
| FREE Event Production Schedule Template: Download 363+ ... | 37+ Sample Event Program Templates |
| 14+ Event Schedule Templates & Samples | 14+ Event Schedule Templates |
| Volunteer Schedule Templates – 11+ Free Word, Excel, PDF Format ... | 17+ Wedding Schedule Templates - PSD, PDF, DOC, XLS Free ... |
| Event Production Schedule Template | Party Schedule Template - 12+ Free Word, PDF Documents ... |
| Event Agenda Template – 8+ Free Word, Excel, PDF Format ... | 11+ Event Itinerary Template - DOC, PDF, PSD Free & Premium ... |