In order for one to successfully finish a project that has been started, that person will need to be prepared when it comes to knowing what has to be done and when. That is the reason as to why schedules sample are made and this article can provide you with the information to make one in the event that you need to do so.
7+ Project Schedule Templates
1. Simple Project Schedule Template
In the event that you are ever in need of a schedule for any project or projects you need to do, then know that this template is always available for download. Be sure to use programs such as Microsoft Excel or Microsoft Word so that you can open and edit the template until it becomes the schedule you need.
2. Construction Project Schedule Template
A construction project can only end in success if everyone involved has a good understanding of what they have to do and when they need to do it. That is why it is important that they all have schedules which provide them with all that information and this template is just what is needed to make one.
3. Interior Design Project Schedule Template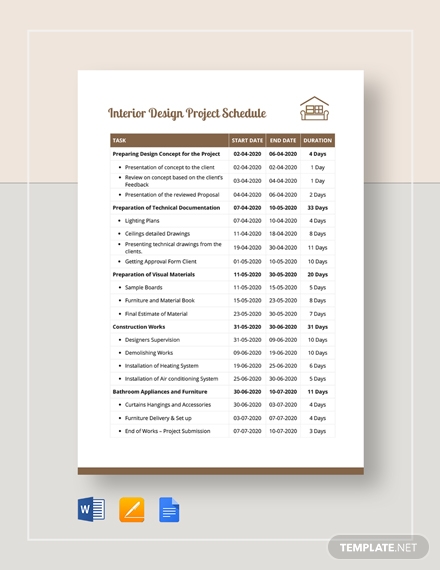 Interior design projects will require one to manage time properly as well as know the tasks that need to be done ahead for better preparation. For those of you who are interior designers, know that this template will allow you to create a schedule that can help out with all of your projects.
4 Steps for Creating a Project Schedule
Projects usually consist of a lot of things that need to be done. There are some people who find making a project schedule difficult as they usually have no idea on how they should go about in doing so. The following steps are ones that you can follow in the event that you ever want to make a project schedule of your own:
Step 1: Understand the Purpose of the Project Schedule
This is very important as knowing the reason for the schedule can tell you exactly what information it needs to be able to convey. Are you making one specifically for payments? Or perhaps you're making one that involves all of the physical tasks that need to be done. In any case, just make sure that you know exactly what the schedule is for.
Step 2: Make a List of What Has to Happen
After understanding the project schedule's purpose, the next thing that you will need to do is to point out what it is supposed to cover. For example, a construction project schedule would point out things like when certain materials need to be bought or who is required to work on what construction-related task.
Step 3: Know When Things Are Supposed to Happen
This is the part where all the items listed down in the schedule must be organized in a way that shows the sequence of when each of them is going to start and finish. Make sure to assign each of them the exact day and time that they have to be done. Also, check to see that you did not forget to include to assign anything important.
Step 4: Make Changes Whenever Necessary
There might come a time where issues or other events transpire which forces the project schedule to change. You have to make sure that you make these changes immediately. Also, be sure that you are able to have established a proper communication line with those involved with the project as you will want to notify them about the changes as well.
4. Project Management Schedule Template
Managing projects can get very difficult if one does not know what it is that they have to manage and the time that certain tasks have to be started and completed. That is why it is important to have a management schedule which can help point out all of that information.
5. Printable Project Payment Schedule Template
Projects usually involve a number of things that need to be paid for in order for it to be completed. If you are looking to print out a physical document that shows exactly how much it is that you have to pay, what you have to pay for and when, then this is the template that you will want to download.
6. Project Payment Schedule Template
If you have ever hired someone to complete a project for you, then you should know that there are a series of payments that need to be made if you want the other party to start on anything. To know when these payments should be made, you will need to make a schedule and this template will allow you to make the right one.
7. Free Project Payment Schedule Template
If you're looking to make a document that can point when exactly payments for a project need to be made and the amount that has to be paid, then you will want to download this schedule template. Know that this template is free and that you can download it whenever you feel like you need it.
8. Project Scheduling Template
There are people who find the planning of a project difficult as some of them may not necessarily know how to manage time in the most optimal manner. If you are one of these people, then know that downloading this template can help guarantee that you are able to create the project schedule you need.