Business
4+ Security Consulting Business Plan Templates – PDF
Running your own business is never going to be easy, especially if it's one wherein you provide consulting services to your clients. If you want to make sure that it becomes successful, then you'll need to think about everything from what you have to do to where you want your business to go.
This means that you will need to come up with a plan that outlines everything regarding your consulting business. Which is why this article is going to teach you all that you need to know in order to come up with a proper consulting business plan.
Sample Security Consulting Business Plan
self-counsel.com
Security Consulting Business Plan Guide
squarespace.com
Startup Security Consulting Business Plan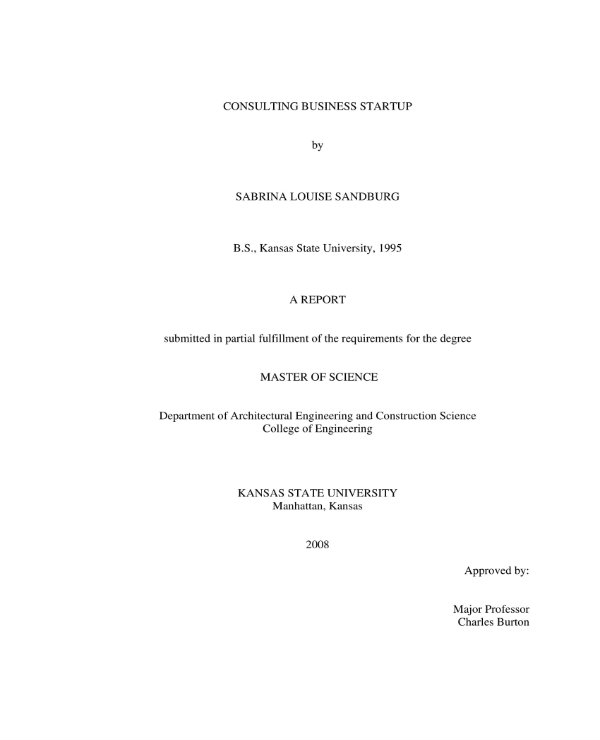 krex.k-state.edu
How to Create Your Security Consulting Business Plan
Every business will always need some form of security that will ensure their safety from anyone or anything that might do harm to it. So most business owners would require the help of a consultant to figure out what changes or improvements they can make in their security. So if you're running a consulting business, then you should know that a business plan is exactly what you're going to need if you want to have clients.
Remember that the point of the document is to outline everything from what it is that you have to achieve, what you have to do, how much it will take to start everything up and more. You can also like freelance photography business plans.
So with that in mind, here are the steps that will help you come up with a security consulting business plan:
1. Understand What Your Business's Goals and Purpose Is
The first step when coming up with your sample business plan is to understand what it is that your business should be doing, as well as what it should be aim for. Knowing both is essential if you want to figure out what it is that has to be done in order for your business to reach the success that it deserves.
So first, what is it that you want your business to be able to accomplish? There has to be a main goal that you want to achieve as that will help you set up the expectations that you want to meet for yourself, your clients, and your investors. Since we're talking about a business plan for a service consulting business, then your main objective should be to provide clients with the most effective and trustworthy aid when it comes to helping them with their security. You may also see bar business plan templates.
You don't necessarily have to phrase it that way and that doesn't have to be your main goal as the decision is ultimately up to you. When you've figured out what your main objective is, then you might consider other goals that you want to accomplish. Bear in mind that these other goals need to be tied in with your main objective. You may also see successful business plans.
Also, think about what kind of image you want for your business in the future. Think about how you see your business in a couple of years from now. This will give you something to work towards as you're progressing in your daily duties and responsibilities. You may also see coffee shop business plans.
The reason as to why you would want all of these pieces of information in the first section of your plan is because it helps both you and your potential investors. For one, you stand to benefit from this as you can use the information to remind you about the importance of your duties. As for your potential investors, they're going to want to see what your goal is as that alone can help them decide as to whether or not they should put money in your business venture. You may also see free business plan templates.
2. See What Makes Your Consulting Business Stand Out
This is what you would call your "unique selling point" and you want to be able to figure that out as soon as possible. The reason? Well, knowing what your unique selling point is can help you get ahead of your competition. It's basically something that makes you stand out from the rest to the point where clients will be flocking over to your business to avail your services. You want to be able to take advantage of it if you want to see your business become successful. You may also see restaurant business plans.
So how are you going to figure out what your unique selling point is? Take a good look at your business in its entirety. What you're looking for are its strengths and this can come from just about anywhere. So long as your business has it, your competitors don't, and that it's one that you think that your clients are going to want, then you can definitely consider that as your selling point. To help you, make a list of all the strengths that you find and make a list of strengths that your competition has. Compare what you have to what they have and see whether there's something about one of your business's strengths that you think can gain you that competitive edge. You may also see cafe business plan templates.
Simple Security Consulting Business Plan Template
caprese.org
3. Explain How Much It Will Take to Start Your Business
This is the point of the sample plan where you will need to explain what kind of expenses are going to have to be made in order for you to start your consultation business. This is the section that a lot of potential investors are going to want to go through as this will help them see whether they should invest into your business venture. If they can see that the value of return is higher than whatever is going to be spent, then there's a very high chance that they'll put money into your consultation business.
So what you want to do is to figure out how much capital you're going to need. To know that, you'll have to take a look at all of the different things that you're going to need that will allow you to open and run your consultation business. Once you've figured that out, then come up with the estimates and place the figures into the basic business plan.
A good tip that can help you reduce your amount of expenses is by taking a look at what you already have. Check all of your assets and see if there are things that you already have that you no longer have to purchase or rent. Anything that can help reduce your expenses are ones that you should always look out for. You can also read manufacturing business plans.
4. Provide the Details of Your Consultation Services
This section of the simple business plan is where you will need to go into detail as to what kind of services you're going to offer your clients. It's pretty obvious that your would-be clients are the ones who stand to benefit the most out of this information as this will tell them how much they're going to spend if they decide to hire you for your services.
So the first thing that you will need to do is to point out your area of expertise. What kind of security consultation service are you going to provide? Do you plan to help clients with how they're going to manage they're security? Or maybe you plan on helping them in other ways? You need to figure this out so that you can place it in the plan. You may also see travel business plan templates.
Once that's done, provide details regarding payment. This will be everything from the number of hours that you're going to provide work to the actual price of your service. Make sure that you give your clients a fair price or at least one that' equivalent to the quality of service you're going to provide. If you want to have an idea as to how much you should be charging, then consider taking a look at the prices of the competitors who offer the exact same things as you. Check how much they charge for their services so that you can figure out that standard. The final decision is ultimately up to you but it's always best to play it safe to ensure that you have clients. You can also see nutrition consulting business plans.
5. Provide Your Marketing Plan
You're going to want to show how you plan on marketing your business to your clients. This can be very useful for you as it will help remind you as to what needs to be done in order to attract clients. Also, your potential investors will want to take a look at your marketing plan as it will tell them whether you know how to get people to do business with you or not.
So your marketing plan is going to have to share information regarding who your target audience is going to be, what marketing strategies you're going to use to attract them, and what kind of marketing content you should come up with that will gather their interest.
In the even that you would like to learn about the other types of business plan samples that you can possibly make, then all you have to do is go through our site. It contains many different articles that should be able to provide you with the help you need. Just make sure that you read them thoroughly so that you can make effective use out of whatever information they have to offer.
More in Business