A daily timesheet is a tool used by businesses to assure that the attendance of the workforce needed for the operations of the establishment is properly and accurately recorded. As a default sheet used for employee logs, a daily timesheet can also be the reference of the human resource department in curating the payroll of the employees. You may also see sheet templates.
Just like a fact sheet, daily timesheets also contain details that are based on actual items and processes. We have put together different kinds of daily timesheet templates in Word and PDF so you can be guided in making your company's own daily timesheet document.
Daily Timesheet Template
Employee Daily Timesheet Template
Daily Payroll Timesheet Template
Editable Daily Timesheet Template
Editable Contractor Timesheet Template
Project Timesheet Template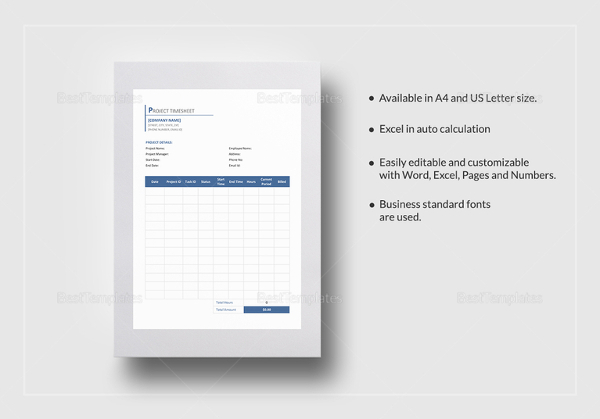 Professional Timesheet Template in MS Excel
Simple Timesheet Template
Daily Timesheet Template
Free Daily Overtime Sheet Template
Daily Project Timesheet
Daily Task
How to Create a Daily Timesheet Template in PDF, Word, and Excel Format
Creating sheet examples in PDF, Word, and Excel used in tracking the daily logs of employees is actually pretty simple. The steps that you may follow in formatting a daily timesheet include the following:
Open the software where you will format the daily timesheet that you want to have.
Create a template through the combination of rows and columns that can specify the number of operational days where employees are expected to be present in the workplace.
List down the name of the employees and create aligned spaces where they can place their time-in and time-out. Some daily timesheet templates also include break schedules.
If there are specific functions that are needed to be done by employees on an hourly basis, you may also track the development of their functions by using hourly timesheet templates.
How to Track Employee's Time with Free Timesheet Templates
Timesheet templates can be used to track the employee's time usage within the workplace through these processes:
Sheet examples in Word or in any other software can detail the specific hour that an employee went to work and the time that he/she left the workplace.
Simple timesheet templates can identify whether an employee rendered his/her services within the minimum number of hours that is required of him/her to be at the business location.
Timesheet templates can also record over-breaks, absences, leaves, and other special cases that can affect the attendance performance of employees.
Daily Timesheet in PDF
Daily Timesheet for Contractor
Detailed Daily Timesheet
Daily Work Timesheet
How Timesheet Is Useful for Small Business
A timesheet can provide a lot of benefits to small businesses and their operations. Some of the reasons why timesheets are useful for small businesses include the following:
Sample sheet in Excel, PDF, or Word used to record the attendance of employees provide the establishment an idea on how their workforce value their working hours. It can also showcase how these people perform in terms of following their schedules.
Knowing that there is a timesheet can improve the productivity of employees. Attendance can affect the payroll. Hence, employees will try to not be late or absent so that they can get the full payment in exchange for their services.
The usage of blank timesheet templates by small businesses can properly arrange the schedule of the employees, which can then be subjected to a review of whether the initial scheduling method is effective and efficient.
Small businesses who use timesheets can create a record that they can show to employees should there be questions with the amount that the employees have received or should any inquiries arise with regards to the evaluation of the employee's performance.
These advantages can help a business a lot in utilizing their workforce and resources.