Agreements
9+ Small Business Service Agreement Templates in Google Docs | Word | Pages | PDF
Creating a professional service agreement is essential if you want to be involved in business transactions where services are provided in exchange of a specific amount agreed upon by your company and another entity. Refer to a small business service agreement template when developing the specified document so you can ensure the quality of the common agreement material that you will utilize. You can also see more on Small Business Agreements in Pdf.
Table of Content
6 Steps for Making the Best Small Business Service Agreement
Are you planning to begin the creation of a small business service sample agreement document? Here are the easy steps that you can follow whenever you want to make a small business service agreement that can work for the protection of your rights and the specification of your minimum responsibilities:
Step 1: Use a Downloadable Small Business Service Agreement Template
Is it your initial practice in terms of developing a small business service agreement? If you have limited to zero experience when it comes to agreement creation, you can download a small business service agreement template so that you can have a faster time in making your desired agreement document without overseeing quality and efficiency. Look into a business agreement template that is aligned with the type of agreement that you expect to have at the end of the development procedure.
Step 2: Modify the Structure and Layout Features of Chosen Template
Most, if not all, templates are editable. This means that you can modify the content and format of the document depending on how you would like your final document to turn out. Edit the pre-formatted template by incorporating your business details and all the other elements of your own small business service basic agreement specification.
Step 3: Provide Standard Agreement Details
The introduction part of your small business service agreement is of utmost importance. You need to provide the exact and accurate names of all entities within the transaction or at least any representative of each party. It is also imperative for you to provide the role of these entities within the agreement layout or the responsibilities that they need to deliver as long as the agreement is deemed effective. Have a concrete specification of the type of agreement that occurred as well as the date/s when the agreement format has been made; approved; and/or signed.
Step 4: Present Your Desired Small Business Service Agreement Content
All the specifications of the agreement must be listed in the service of small business agreement document body. You need to present what has been agreed upon and the extent of the entire agreement. More so, the terms; scope; and limitations of the agreement must be clarified for transparency purposes.
Step 5: List All Agreement Clauses
There are design agreement clauses that must govern the full implementation of the small business service agreement. You have to be particular with the agreement clauses that you will incorporate in the given agreement as these can set the direction when it comes to dealing with a variety of agreement undertakings including dispute resolution, agreement content privacy and confidentiality, and other important ordeals that must be settled by both parties.
Step 6: Have Signature Blocks to Be Signed by All Involved Parties
To provide a visual representation of the approval of both parties with what is specified in the agreement word document, the small business service agreement must be signed. Allocate a signature block at the end of the service agreement where each party representative where each party representative can affix their signatures as a sign of final agreement approval.
9+ Small Business Service Agreement Templates
1. Restaurant Delivery Service Agreement Template
The content of your restaurant delivery service agreement outline template should be beneficial to all parties involved in the transaction. As all professional services agreement are, you have to know how you can balance the advantages that each party can get out of the professional agreement usage.
2. Consulting Services Agreement Sample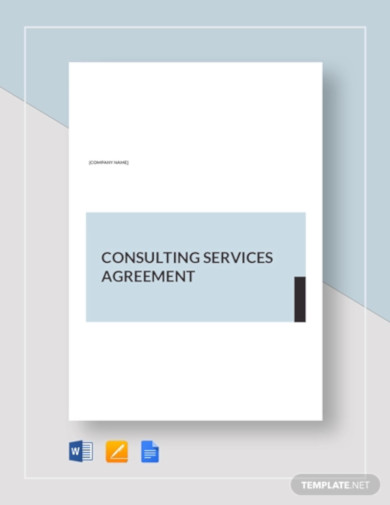 Whether it is a consulting services agreement sample or a services of marketing agreement that you are making, you always have to be concise with your content detailing and presentation. This is so you can create a small business service agreement that is not misleading. However, be reminded that being precise does not mean that you should not focus on the completion of the agreement which is why you have to retain the informative and comprehensive qualities of your agreement document. You can also see more on Outsourcing Services Agreements.
3. Vendor Agreement for Services Template
Make your vendor agreement for services template presentable. The smooth flow of your agreement specifications can help you have an easy time to connect and interact with the other party that you are dealing with for a particular vendor services agreement. You can also see more on Vendor Agreements in Word.
4. Small Business Service Agreement Template
Properly develop your small business service agreement template with the help of an understandable and well-structured format. Your sample master service agreement must be formatted in the best way possible so you can be systematic with your agreement content presentation. You can also see more on Small Business Templates.
5. General Business Service Agreement Example
Always look into the formality of the overall small business service agreement. If you can create a general business service agreement example that is proper to be used for business processes, then you can reflect a business image that is credible; formal; professional; and reliable. You can also see more on Service Agreements in Pdf.
6. Direct Service Agreement Template
Know how to select a outline that can organize your direct service agreement content accordingly. The organization of your agreement templates is very important and must be highly-considered as it can affect the quality of your final agreement output.
7. Photography Service Agreement Example
Use a professional language when drafting your photography service blank agreement example. As a small business focusing on providing photography services, it is essential for you to ensure that the agreement that you will create can be beneficial to the branding of your business. Through this, you can have more chances of being recommended by the entity that you are transacting with to more people who might need your photography service offers. You can also see more on Photography Agreements.
8. Photography Business Service Agreement in PDF
You have to ensure that the photography business service agreement in PDF, Excel, Word, and in any other formats that you will make is comprehensive. Complete all the details that you would like the other party to see in the free agreement templates so you can have a full-understanding of all agreed responsibilities, rights, and obligations. You can also see more on Agreement in Google Docs.
9. Catering Service Agreement Template
All your catering service agreement simple outline template details must be polished. From the specification of your catering services up to the overall visuals of the document, it is essential for you to refine the agreement as much as possible so you can present your professionalism as a catering establishment or company. You can also see more on Service Level Agreements Templates.
10. Basic Catering Service Agreement Format
Create a basic catering service agreement format that can enable you to protect your rights as a catering business entity. You need to make sure that the presentation of your note agreement content is properly relayed so there will be no misleading content that can result to any types of transaction abuse. You can also see more on Exchange Agreements.
It can help you a lot if you will use a small business service agreement template as your layout formatting reference. Make sure to check all the downloadable and editable template samples that we have listed in this post so you can be well-guided during the creation of the small business service agreement that you currently need. You can also see more on Work Agreements.
More in Agreements