In a day, we only have 24 hours. Half the time, we might be sleeping and, sometimes, we hardly get any sleep at all. Why is that? It's because people still want to do so many things within a day. A lot can happen in 24 hours they say because you can choose to do anything you want, achieve anything you want, or go wherever you want. But that is only applicable if you're free for 24 hours. This is not the case for people who are working. You may also see policy template formats.
People with jobs normally work around 8–10 hours straight every day depending on their job. With other factors like traveling home, eating dinner and the like, they hardly get the chance to do what they want or go to other commitments afterward because they might be exhausted already. A demand for service from companies takes out most of their time. Fortunately, some companies make it clear that they do care for the life of their employees outside of the company. One way they show this is through having a flexible workplace policy. I this article, you will be informed of what this policy means. This article also provides some examples or templates of the policy.
Flexible Workplace Policy and Procedure Template
Flexible Working Policy and Procedure Template
Workplace AIDS Policy Template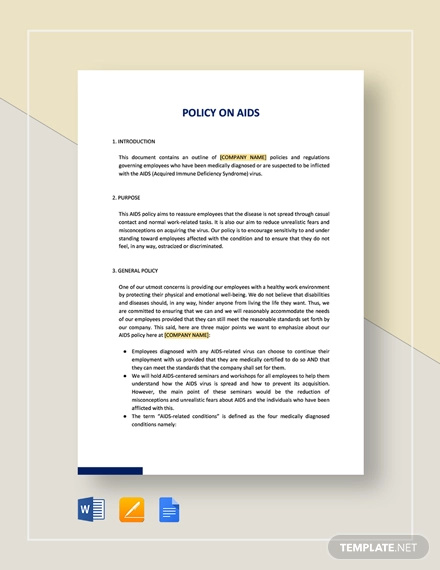 HealthCare Workplace Policy

ilo.org
Workplace Anti-harassment Policy

chrc-ccdp.gc.ca
Employment Workplace Policy

industrialrelations.nsw.gov.au
The "Flex" Meaning
To have a flexible work schedule literally means an employee's work schedule can flex or differ from the regular work schedule of his co-employees especially if the company would approve of it. Some people prefer to have a flexible work schedule because of other priorities. Priorities like taking care of a family member or health-related issues are one of the reasons why policies like these are applied in some companies. Some even leave early because they still have to go to school and study. A flexible working schedule can be based on the number of hours, days, weeks depending on the request of the employee or the rules of the company.
Workplace Alcohol and Drug Policy

worksafe.vic.gov.au
Flexible Work Arrangements
If an employee belongs to a company that adheres to work-life balance, he is one lucky employee. This means it won't be so hard for him to actually request to change his regular schedule into a flex schedule. There different flex arrangements that he can choose depending on the limitations of the companies policy in flex workplace. We will give you some of them with their definitions:
Flex hours – This is when employees are able to choose to work at a specific time of the day. For example, this allows them to come in early in the morning so they can leave the office in the afternoon instead of night. You may also see policy templates in PDF.
Fewer hours – It means that the employee requests for a reduction of his hours per/day. But with this request, salary will also be reduced depending on what the percentage the company will impose. This can be relatable to people who are still studying and are taking up master's degree in their chosen field of expertise. You may also see privacy policy templates.
Compressed week – From the word "compress" itself, it means that an employee works more hours on certain days so that he will have lesser hours on the others. Sometimes, people work longer to have 3 days rest. The total number of regular work hours per week should still be achieved despite the flex schedule. If you're a student, then it might be better to work longer in days when you do not have class.
Flexible year – An employee who requests this or is granted to him, gets the chance to work any time of the day and decides how long as long as he completes the number of hours total being assigned to him for one whole year. The employee might be overwhelmed with the knowledge that he gets to choose when to work or not, but he must not take advantage of this for he might be so relaxed at first but will be having a hard time by the end of the year because he will work longer just to catch up. The best action is to plot your schedule for each week or day and make sure it will reach the quota before or by the end of the year. You may also see workplace policy templates.
Sharing the job – This is like a part-time job but the only difference is someone has to replace you by the end of your shift and render the number of hours you also gave. It has this purpose so that it would look like the service is being done one whole day. You may also see types of policy templates.
Parts of the Policy
Just like any other policies, it has its parts. You don't have to worry about researching because if you're planning to make this policy, it's structure is similar to other policies. In this part of the article, you will learn the general parts of what makes a flex workplace policy. This policy is made up of these parts:
Introduction – The company will state a little introduction of the policy before actually saying its purpose and who does it apply to.
Purpose and scope – This is basically where you write the reason for this specific policy. It will also state why the policy is important not only to the company but also for the employees. Afterward, the company will state which people in the company can use this policy. You may also see loan policy templates.
Eligibility – Companies sometimes give these privileges to their employees who fit their criteria of who is eligible in requesting for a flexible work schedule sample. Students, family responsibilities, old age and the like are some of the factors most companies who have this kind of policy would take into consideration.
Procedure – The company in this portion will dictate the procedures on how an employee can request a flexible work schedule. Generally, it is understood that if you would request something, it needs to be done through a request letter. The letter has to be formal and has to be specific. It will then be checked by HR, management, and so on and so forth. You may also like guidelines fo policy templates.
Use it well
An employee who has the privilege of having a flexible work schedule should not take advantage of it. If his purpose is to go to other responsibilities, then he should not waste his time in doing it. Once he is done, he might still have time for himself and would have a healthy work-life balance To end this article so that you would know the value of time, here is a quote by Charles Darwin: "A man who dares to waste one hour of time has not discovered the value of life."