Nowadays, almost every single person in the world has a job and a social media account. Often, people have both. As we enter new jobs or make an account on any social media platform, we first have to agree with terms and policies. In social media accounts and job offer contracts, it is a common behavior for most people to not even bother to read the policies, terms, and services. One important thing that is also always overlooked is the privacy policy portion.
We submit important information about ourselves like our names, birthdate, contact information, the name of our parents and siblings, where we live, and the like. Sometimes our arrogance gets ahead of us and we fail to realize that anytime, someone might use this information in devious ways. That is why it is important to always read the privacy policy of the company or account what you're about to divulge into. So what is the technical definition of the privacy policy and what are its parts? With the bonus of our templates, you will get an answer to that.
Privacy Policy Template
Privacy in the Workplace Policy Template
Privacy And Employee Monitoring Policy Template
Website Privacy Policy Template
General Privacy Policy Format

media.termsfeed.com
Company Privacy Policy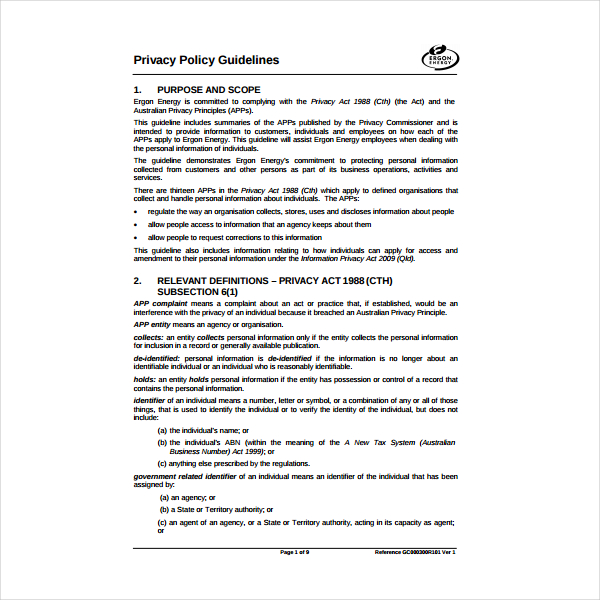 ergon.com.au
Get to Know It Upfront
It would be good if people around the world would practice actually reading and understanding the terms and conditions and privacy policy of a site or in a company. A privacy policy is generally defined as the policy and legal document where the company explains in detail how they collect, handle, know what to disclose and not disclose your information in their operations. It will also state how they protect and secure your information. Credit card numbers and passwords are one of the most important things a site or a business will protect. It will also state when information can be accessed and what are the necessary procedures to be taken to get or disclose those kinds of information.
School Privacy Policy

ucalgary.ca
Parts of the Whole
There is a saying that goes "the whole is greater than the sum of its parts." That is exactly what can make a policy clear and concise if each part of the whole is well defined. In this portion, we will provide you the necessary elements that should be in the privacy policy along with its definition. So here are the following elements below. You may also see company policy templates.
What they are. This is the part where the company would give a brief introduction to who they are and what they do. Typically, what follows next is how they will describe the practice of how they handle their information for their clients/employees. You may also see policy templates. You may also see sample policy.
Make a choice. This is the part when the employee can choose parts of their personal information to be disclosed to third-parties or not within the workplace. You may also see IT policy templates.
Access. Companies should give their employee the right to have access to their personal information in order to correct some things or to change them completely because of some unforeseen circumstances. It is always important to update especially if some personal information has changed with the likes of your address, phone number, cell phone number, the number of children, and marital status.
Guard us. The company will explain here thoroughly how they will protect and secure the personal information they got from you. It is important to note that companies should make their statements clear and concise and as readable as possible to avoid any misunderstandings that could lead to arguments and trust fall. You may also see human resource policies.
Redress. This part of the policy should explain to the customer or the employee what they can do if the privacy policy is not fulfilled. You may also see sample policy templates.
Bank Privacy Policy

ruralbank.com.au
Other things to consider
What we stated above are the general thoughts of what a privacy policy must contain. There are also things you need to pinpoint if you really want your privacy policy to be good and credible. The last thing someone would want to face is when they will find out later that they were scammed. But that's another contradiction, especially if that one person, who is now in a crisis, did not even bother to read the privacy policy and along with it its terms and conditions. Ignorance can be one of life's late slaps in our face when it hits us without expecting it to come at all. So in order to avoid that, take note of the following in the creating or reading a privacy policy. You may also see training policy templates.
The date of the agreement
The process on how to change information as the years go by
What information is being collected
How the company will tell the employees if there will be changes in the near future
How their data will be kept secure
Why they are collecting the data
Why some data are optional to disclose or not
What third parties can or cannot get access to
Where the personal information is stored
The rights of the users or employee
Website Privacy Policy

static.googleusercontent.com
Common Violations
No matter how some things might seem secure, there will always be ways and means someone can access and steal your information. Some of the common violations are described below:
Weak security. This is common among companies or website who don't have a strong foundation of security. With technology advancing and if it syncs with a company that has poor security, it will fumble into a disaster for the users and the company. You may also see guidelines for policy templates.
Within the protectors. Sometimes the policy will be violated if someone from their very own company decides to take advantage of the trust he was given to access some of the others personal information for his own personal gain. You may also see business policy templates.
Illegal collection. This is interconnected to the first violation. People who are adept in information technology and the like are good in collecting these kinds of data discreetly. You may also see policy templates in PDF.
It is both the company and the individual who should be responsible for giving and collecting information. For the companies part, they should develop not only a clear privacy policy but also establish strong security measures. If that can be consistent, more people would rely on them and their trust factor will grow. For the employee, he should be not ignorant and bear in mind what he is going into. He must discipline himself to at least read the policy and understand what is at stake. You may also see leave policy templates.