If you are looking to make an application or solve your existing application problems, this is the right place you have hit. We will tell you 7 websites for Mobile App Development Tools & Resources which will solve all your app issues. In fact, some of them are so good that you do not have to do anything except relying on them. Check out their incredible services listed below and forget the worries regarding apps. See this Mobile App Designs.
Fluid
Fluid is a website which nurtures creativity and is been used by about 190 countries around the world. It is largely used by web developers, designers, inventors, and managers for developing the application and being creative with the business. It has about 3,500 active users across the globe and it is a tiny team of ten members. This website is ideal for Andriod and iPhone mockups.
App Cooker
App Cooker is a website which is exclusive for iPad apps, Apple watches and iPhone. You can build stunning apps through it and they use App cooker to Prototype such apps. It has got mockups along with iOS UI elements. With the help of App taster, you can get the feedback. Download the App taster and cooker for free by clicking the link given below.
Crashlytics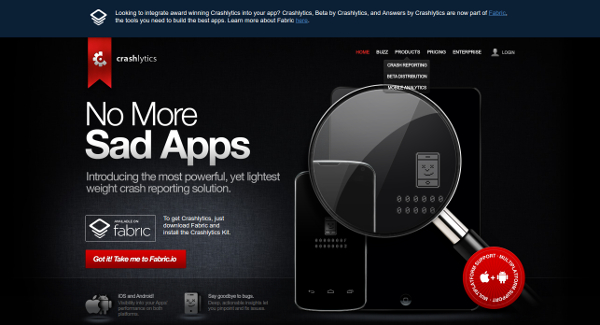 Is your application giving you a hard time? It is the time to say goodbye to those complex apps. Crashlytics is the weight crash reporting solution. All you need to do is download the Fabric and run and install the crashlytics. It has a greater insight into the application and it fixes the problem so that you may not worry about the bugs. Click on the link below for more details. Click here.
App Annie
App Annie is a website which gives deep analysis in the app economy. This application has got good international clients like Linkedin, Google, Samsung, Microsoft etc. You can request for the free demo at the website and it has got more than 80,000 app publishers.
Cloudmine
It provides intelligence to the health care system. It reduces the cost and makes the health care more human. It has got platforms, solutions and resources with them. For more information click on the link below. Click here.
Mobileroadie
Mobileroadie helps you to build apps. Coding is not necessary and it allows you to create the application with an ease. You can customise the look and can apply as per your desire. It has got an easy solution to build all sorts of application.  Visit the website to know more.
AppBoy
AppBoy understands the business needs and considers mobile as a customer. It provides the solution to all the they tend to build a good relationship with customers not just apps. They have worked for top clients in the industry like tinder, opera, SoundCloud, Photobucket etc.
These were the 7 websites for Mobile App Development Tools & Resources. These resources are a solution to your application needs. If you are facing problems with the applications you can find the solution at these website. You can also see Mobile App Testing Tools.