Tools
Top 7 Best Web Designing Tools For June 2016
Designer's career is competitive and tough and we understand your needs. To ease your complex life of web, we bring you the Top 7 best web designing tools for June 2016. These tools will ease your professional job, design and build efficient workflows. Have a look at the tools listed below. See this New Web Design Tools.
Figma
Figma is the collaborative interface design tool where it allows the user to make the changes online. It works on all types of system and it allows the users to work with the others at the same time and design. It is made in such a manner that design get adapted to different sizes of screens and you can witness the live device preview.
EditorConfig
EditorConfig helps in maintaining the coding styles between editors and IDEs. It defines the coding style and consist of a file format. The editor can read the format of the file and work accordingly. You can click on the link to know how it looks, file format details, example file and how it works.
jQuery 3.0.0
jQuery is the reliable JavaScript library. It is fast and does wonderful functions like animation, event handling and it has got Ajax with easy API which works on different browsers. This version is new and it has changed the way that JavaScript has been written. It is supported by the corporate giants which enable it to standardise and work for better.
Small Victories
The small victories is an amazing website which takes the folders from the Dropbox and changes it to a website. It has got exclusive features through which you can customise images, texts or any stuff you want to put on the website and you are done. You can opt the themes of your choice which has got the variety of options. Isn't this beautifully useful?
Accelerated Mobile Pages
Accelerated Mobile Pages is an open source project for the mobiles. It aims to deliver mobile page faster and easily available. It has got good features like enhanced SEO, it shows the top results carousel above all Google results. The AMP pages load faster and all the article appear at the smart devices.
Adobe Experience Design CC (Preview)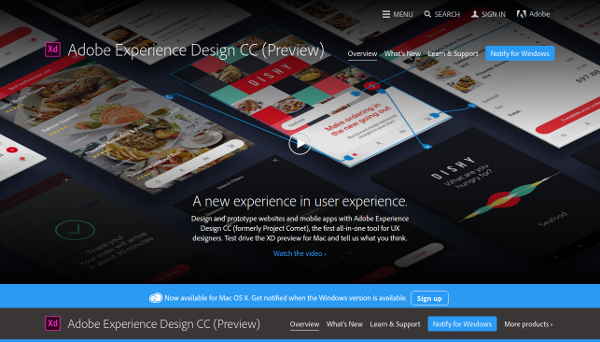 Adobe Experience Design CC is made to increase the speed which is filled with the innovative tools and it makes sure that the users get good performances. All of this is done in a single click with and you can preview changes, share prototype and switch from one prototype to the other. Every month a new feature is being added to the website.
These were the Top 7 best web designing tools for June 2016. Go smooth with your design with the help of these incredible tools. Make good use of them and keep designing for a better tomorrow.