The whole point of working hard is to practice and improve your skills while you move up the ladder of success as you achieve your career goals. To help you figure out what point of your career you are currently at, you can make use of peer improvement forms or employee appraisal forms where other people can give you feedback on your workplace performance.
Check out the samples of peer improvement forms we have collected below and continue reading to learn some great tips on doing peer reviews.
Bates College Department of Biology Peer Review Form
abacus.bates.edu
CTE Microteaching Peer Feedback Form
uwaterloo.ca
Peer Review Form
reading.ac.uk
Higher Education Peer Feedback Form
web.stanford.edu
Graduate Teaching Peer Feedback Form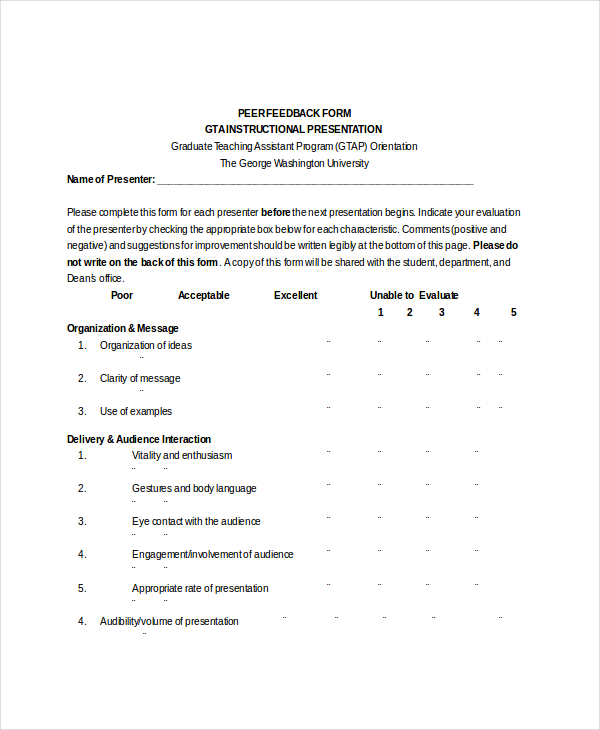 reading.ac.uk
How to write an employee peer review
The employee peer review is an opportunity for members of a workplace team to criticize one another and provide constructive feedback on how each and every one of them can do better and become more productive in their jobs. This will help them know what their coworkers think about how they perform at work and can serve as a wake up call which tells them what their problems may be and how they should learn to overcome them. So if you want to write an employee peer review, here are the steps that will help you do so:
Familiarize yourself with the duties and responsibilities of your peers
You cannot really review your peers' performance if you do not even know what they do, can you? So this should be a combination of three things. The first is that you have to review the assignment documents (i.e. personnel job specs or a list of specific project tasks for which a particular peer is accountable for). Next, ask that particular employee to describe all of his or her duties and responsibilities. And lastly, you have to make your own personal observations on how your peer performs his or her job.
Create a list of both positive and negative character traits that you were able to observe
You want to be able to point out both the good and the bad traits of the people that you work with if you want them to improve, and they will most likely do the same for you. A good example would be one of your coworkers who is always punctual and has never had a single absence since the the start of his or her employment. However, while this person may not have had a single absence, he or she is not exactly one who communicates well with the other members of the team, leading to problems when it comes to conducting group-related work within the workplace. Think about what your coworkers are good at doing and what problems they should fix if you want them and the company to improve.
Discuss what you were able to identify
You want to leave some sort of impact that will ensure this person's growth and development within the company. For example, the employee you are reviewing is one that tends to procrastinate a lot and has missed one too many deadlines. You have to discuss in the review that this procrastination will not only lead to projects left unfinished, but it can also lead to missed opportunities to get ahead of the competition. If you will be praising positive traits, such as one's ability to manage, then be sure to do so in great detail. Point out what the trait can do to improve the business as well as provide an example of when the trait was perfectly utilized in the workplace.
Identify the specific tasks that were performed well and the tasks that did not meet expectations
Provide constructive criticism and suggestions on how certain tasks can be handled in the future. A good example would be that the employee was not able to finish an important project, but only because he or she was given too many other assignments that could not have been handled by one person. Not everything is an employee's fault so it is best to look into the exact circumstances before judging someone's competence. However, should there be anything about the employee that needs to be pointed out, then it is best that you do so by clearly pointing out what it is and either praise or reprimand the employee's actions.
Recommend action steps and timelines to remedy existing problems
Employees are always going to have their fair share of problems that will most likely reduce the quality of their performance. Assess what kind of problems your co-worker is facing and then try to think about the best steps that he or she can do in order to fix these problems. You have to be brief but detailed enough to make your point on what the employee should do.
Conclude the peer evaluation by acknowledging the employee's contributions to the team
In the event that the peer evaluation is going to result in someone's termination, it is very important that you do not diminish your peer's value as a human being by ending things on a negative note. Not every employee is well-suited to the job that he or she took up. So whatever positive traits that you were able to notice about the terminated employee, it is best that you point out that his or her talents may be well-suited to a different job that can make use of them to their full effect. This is a much better way than saying that the employee is not good at doing his or her job.
One thing that you should take note of is that you should refrain from saying the words "always" and "never" during a peer review. Remember that you should never put anything in a peer review that you would not have the courage to say in person.
Ways to make employee peer reviews more effective
A lot of employees and even managers usually feel a lot of fear whenever they learn that their company is implementing a system where their peers are involved in the performance review process. A lot of employees feel like writing reviews is a tedious task as well as a waste of time. This is a mistake that needs to be rectified as gaining insight from your peers will help you gain different perspectives on how you are performing within the workplace. With a well-designed peer review program, one can add value to just about every performance review. So here are a few ways to make sure that these peer reviews are as effective as possible:
Choose the appropriate reviewers for every employee
While some companies allow their employees to choose who they would like to review their performance, there are two ways in which this can go horribly wrong. The first would be if an employee were to review a close friend within the workplace; then all you will get out of the result is endless praise regarding things that employee did without any mention of anything that particular employee may have done wrong. The second would be that co-workers might just become a little too critical in an attempt to try and sound fair. All this will really do is just put a bad taste in everyone's mouths. Either way, you will not be getting feedback that you can trust.
If you are the manager, then you are in the best position to choose the right employees to review the work of their peers. You should select peers who regularly work together or those whose work may be affected by the employee undergoing the review. You also have to think about the relationships they have in the office. While you do not want the reviewer to have too close of a relationship with whoever he or she is reviewing, you also do not want that person to review a clear competitor.
Provide the reviewers with detailed guidelines
You cannot expect your employees to act as managers. They probably have little to no experience and training to accurately review their co-worker's performance. So when you provide them with the guidelines, it is best that you avoid handing out essay questions in favor of a set of multiple-choice questions that you would like them to answer. Their choices can also range from "Exceptional" on the high end and "Needs Improvement" on the lower end of the rating scale. Then while you are making the rating scale, you have to make it clear enough that they understand the precise definition of each choice they make.
You also have to make sure that all of the employees understand the purpose of the peer review. While they can provide managers new insight into how others are performing, they should not mistake this as something that will directly affect an employee's overall performance within the company.
Peer and Self-assessment Form
royalholloway.ac.uk
Peer Assessment Form in PDF
fionasaunders.co.uk
Peer Teaching Assessment Form
cals.ufl.edu
Peer Evaluation Assessment Form
sydney.edu.au
Peer Assessment Form Example
archive.ecml.at
Be sure to ask all of the right questions
Employees are not exactly privy to each other's job expectations or to the expectations that you have set for each of them. As a manager, it is basically your job to review every employee's performance. You are the only person who should look into important things such as accuracy, speed, and errors. With the help of peer reviews, you will be able to focus on the different factors that you normally would not be able to see on a daily basis. With it, you will be able to get this much needed information from the people who do have access to this kind of information.
So in other words, the questions that you ask in the performance review should not overlap with the questions that you include in the peer review forms. Co-workers are the ones who are in the best position to provide meaningful feedback when rating attributes such as the following:
The ability to solve problems the moment that they appear
Their natural ability as leaders
Their willingness to help other employees with their duties or responsibilities
The ability to interact effectively with other employees who are at different levels within the organization
Consistent display or motivation for the job
It pays to have all of those as it can only lead to a very positive result on one's peer review form. However, you just have to remember that the point of a peer review is to give you more information regarding an employee's ability to perform in the workplace and whether or not that performance is one that the company needs.
Keep peer reviews in perspective
There is no manager alive who can constantly check on all of the different activities of every employee, so having peer reviews is a great way for these managers to gain insight into what is happening within the workplace when they are not around. But they should not receive too much weight in the formal process of the performance review. Whether it is positive or negative, this information might just say more about a manager's success and failures as well as the performance of the employee.
You have to remember that while peer reviews may be able to enlighten your insights about your employees, they will not or should not carry as much weight as your own assessment. The information that you get out of the peer reviews is what will help you address the direction that your employees are heading toward in your company. For instance, negative reviews that are related to an employee's skills and abilities will allow you to figure out the best course of action that will help the employee improve in the areas that need to be worked on. Meanwhile, positive reviews will help you tell the employee what they can do to keep moving forward in their career.
Whatever the case may be, knowing these pieces of information is definitely the best way to lead your company to success.
If you would like to know more about peer reviews or anything related to this topic (such as how to conduct employee performance appraisals), then all you have to do is go through our other available articles to give you what you need.