A business card displays the contact information of an individual employed by a company. Business cards usually include a person's name, e-mail address, phone number, website, and the company he/she works for. They are shared during formal introductions as a comfort and a memory aid.
Create a Unique Business Card in 5 Steps
Step 1: Choose your Parameters
Once you decide on a plan for your business card, choose the shape and size of the card. Choose your paper finish (whether matte or glossy finish), your stock number, etc. It is an important factor that the people you give your card to, should be able to write on it, otherwise, there are rare chances that they might even remember you. So, choose the type of card you want carefully.
Step 2: Add Graphics
Plot the visual elements of your business card design, firstly the logo. Your logo should take the centre stage on your business information card although secondary graphics can sometimes be useful as well. Dedicate one side of the business card exclusively to the logo, while the other side can show your contact information. You can communicate your service's personality through visuals, including a wide range of choice of colours.
Step 3: Add Text
What your business card actually says depends on you. An address is very important for professionals working from a different location than home. The point is, different people, benefit from different text on their business cards. Decide what you want to put on your card. Some details that you can add on your card are- name, company name, job title, website, email address, phone number, etc.
Step 4: Pick a Design
Decide the size, font and colour of your card. Pick a unique design you would want on your card that represents your company or you. If you want your card to stand-out than the ones available in the market, the best way would be to pick a professional designer. Consider special finishes like stamping, glossing, etc. that might give your card an even better look.
Step 5: Finalize your Card
To be unique, try transparent cards, folded cards, cards with materials like rubber, metal, etc. so that they look very attractive. Use basic colours so you can save money on colours and use them on the type of card you take. A business is a card is more than something that provides information- it is a representation of you and your brand. Make sure you choose the best one.
9+ Catering Business Card Templates
1. Catering Business Card Template
This catering business card has all the right features and colours. It is professional and suitable for food businesses and catering service companies. Its colours and texts are easily customizable. The template can be used for other business purposes as well.
2. Catering Service Business Card Template
In a business card, it is mandatory to add your details and your company's details like name, address etc. This catering service business card template is handy and simple. It comes in various vibrant colours and can be altered when needed. Your company's logo is additional information that should be provided in your business card as that is what makes your card unique from others.
3. Catering Business Postcard
Download
A postcard is a card that is used for sending a message by post without an envelope, typically having a photograph or other sketch on one side. A postcard can either be a family/holiday postcard or the one where companies give out information about them and what services they provide.
4. Chef's Catering Business Card Templates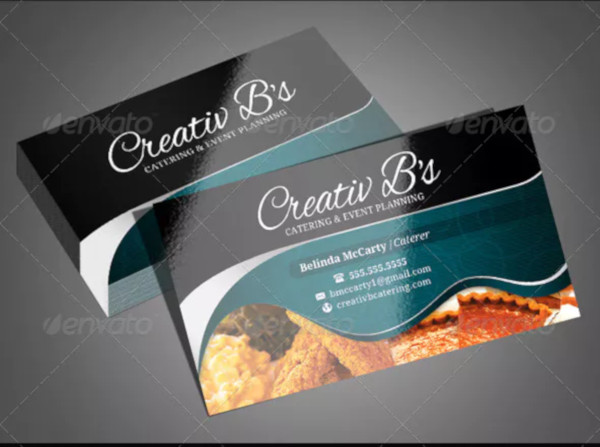 Download
A chef's catering business card is a great way to display your professional abilities to potential customers and employers. Use this multi-purpose business card template for a chef, caterer, catering, grilling, cooking, for a restaurant, a diner services or for any multi-purpose business. Easily changeable texts, photos and colours give you a variety of beautiful results.
5. Restaurant Business Catering Card
Download
A restaurant business card's main objective is promoting a new cafe or restaurant for budding and seasoned entrepreneurs. A beautiful card not only makes you and your catering service look elegant but also it brings in a lot of customers because of the way you present the card to them. Details like your catering service's website, phone number, name and email address should be mentioned.
6. Catering Services Business Card Template
Download
Business cards are mostly used in professional meetings and corporate events. The above template is totally editable. Use vibrant and pleasing colours in your card to make it look decent and professional. In the business card, you need to enter details like the city you cater in, street number, phone number, the type of events you cater to(weddings, parties, etc), company website, etc.
7. Printable Business Catering Card
Download
Printables can be defined as pieces of artwork, drawings, graphic designs or pictures that one can download, edit and print on their own. A printable business card is cheaper and it can be easily edited and printed in the comfort of their home itself. These business cards should contain details of the owner, name of the company, what is his/her designation, phone number, website and social media usernames if any, so that people can see your work.
8. Chef / Restaurant / Catering Business Card
Download
Transparent business cards are multi-purpose business cards that work for anything related to the food-service industry like chefs, restaurants, catering, etc. They come in two designs- one for personal use and one for corporate use. These transparent cards give a beautiful and fun look. It is definitely liked by customers and clients because it is one of a kind.
9. Chef Business Card Template
Download
The above business card is a card for a BBQ grill catering service. You do have to mention which events you can cater for the BBQ grill. Give your company's website, email address and phone number, so that interested customers can reach you. Make the card attractive by adding mouth-watering pictures from one of your grills. Since its a grill, it could be an outdoor event.
10. Personal Chef Catering Business Card
Download
A graphical chef's knife can contain your name or your business name for an eye-catching logo on this modern business card design. This kind of business card is perfect for personal chefs, restaurants, etc. When it comes to your business, don't wait for an opportunity, create it! Make a lasting impression with quality cards that'll make your clients go WOW!