Church Templates
13+ Best Church Banner Templates in PSD
A church banner can add impact to the implementation of church activity or event. It can also help the location of the church gathering to become more pleasant and appropriate for the particular church program that will be held. Use banner templates to help you create the best church banner that your church members can surely appreciate.
Table of Content
5 Steps for Drafting the Best Church Banner
If you want to be aware of the best possible process that can be followed so you can draft your desired church banner, it is not enough for you to gather templates and other references alone. To guide you, listed below is an effective step-by-step church banner development procedure.
Step 1: Identify Where the Church Will Use the Banner Tool
The reason why the church banner needs to be created is something that you should know. It is imperative for you to find a connection between the banner usage and the design that you will develop for the banner material.
Step 2: List the Sizing and Layout Features of the Desired Church Banner
For you to efficiently use your time and effort when making the church banner design, be particular with the technical aspect of banner development. Specify the size of the needed church banner as well as the format of the banner content necessary to be presented.
Step 3: Download a Layout Guide Suitable for Banner Format Requirements
For you to easily create the layout of the church banner, download a church banner template. Ensure that the template that you will select and use is closely similar to the church banner layout that you have thought of. If you want to have more freedom in formatting the church banner and allocating banner areas for its content, you can use blank banners as your references.
Step 4: Develop a Design That Can Make the Church Banner Look Well-Put Together
A simple church banner also needs to be designed appropriately. From the banner color selection to the few banner design items, make sure that you will be hands-on in terms of putting the overall look of the church banner together.
Step 5: Write the Necessary Content in the Church Banner Body
Once you have already settled with a church banner format and design, begin to write all the details of your envisioned church banner. The content of the banner will depend on the type of event where the banner will be used and the purpose of the church banner usage. Finalize the church banner and use your output accordingly.
13+ Best Church Banner Templates in PSD
1. Church Reddit Banner Template
Download
2. Church Soundcloud Banner Template
Download
3. Church Roll Up Banner Template
4. Free Church Banner Template
Sample banners can be easily made with the help of references and document guides. Select a church banner design that is suitable for the event where the banner will be used. You can rely on the usage of a template so you can materialize all the specifications of the banner design that you have thought of.
5. Sample Church Banner Example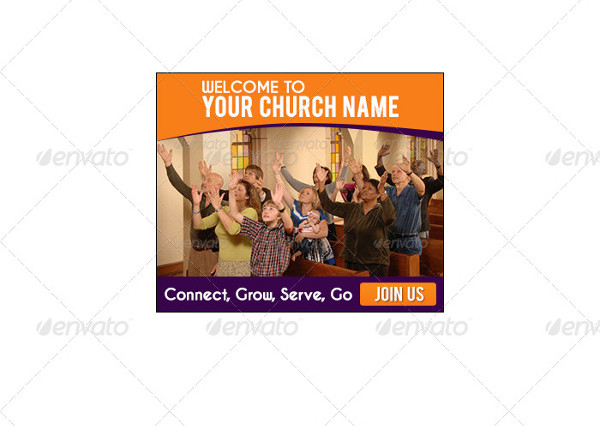 Ensure that the church banner will not look overly crowded. Only include relevant information and necessary design items in the layout of your welcome banners which will be used for church events and other related gatherings.
6. Church Anniversary Banner Template
?
Know how to stay in the theme when making a church banner especially for special church events like church anniversary celebration. If you are tasked to make a church anniversary banner, it will be best if you will first wait with the finalization of the anniversary venue; theme; and program so you can come up with an aligned banner design theme.
7. Church Banner Example
Download
Your church banner example should be made appropriately. Know the purpose of the church banner so you can think of appropriate banner design materials to use. As an example, printable banners used for kids church must have a child-friendly design aesthetic.
8. Church Anniversary Banner Template
Church anniversary banner templates are special banners. You have to prepare the banner content and design so the final church anniversary banner can be informative and identifiable. Through this, church anniversary attendees can easily spot the banner from afar. They can also give more attention to the specification of banner information as these are presented in an appealing and understandable manner.
9. Creative Church Banner Example
Download
Whether you will use indoor or outdoor advertising banner for your church events, ensure that you will have a cohesive presentation of all church banner details. If you plan to create a banner example for a church event, select design items that can get along with your content in terms of visuals and theme alignment.
10. Simple Church Banner Template
?
Adding related information aside from the basic church banner content can help you have a unique banner output. Provide the slogan or tagline of your church in the church banner. Other than that, you can also specify short quotations that can enable the church invitation banner to look more interesting.
11. Modern Church Banner Template
?Download
For important church events, use special church banners. This is done due to the fact that the quality of your church banners can give an impression about the quality of your church event. Nowadays, modern church event banners are used if you want to achieve a sleek and formal banner design suitable for grand church events and gatherings.
12. Church Banner Template in PSD
If you have a simple church banner design, you can use different colors of the same design to promote variety. This can save your time and energy as you already have various versions of a church banner rather than trying to make more design themes for free banners that will serve the same purpose of usage.
13. Kids Church Banner Template
One of the main things that you have to be aware or knowledgeable of is the reason why it is needed for you to make a particular church banner. A kid-friendly church banner can be achieved by selecting vector and cartoon design features which will surely be appreciated by the children members of your church.
14. Minimal Church Banner Design
Download
A minimal church banner design is highly-recommended to be used. You do not need to put a lot of design materials in the document as church banners are known to be simple. To make the banner look like it is themed, you can include bible verses and quotations in the church banner designs as well as simple visual design items like a cross or other church-related symbolism.
Are you ready to have the best church banner for your church event? Download our church banner templates and see how these tools can enable you to create a highly-usable and well-developed church banner.
More in Church Templates