Church Templates
14+ Best Church Postcard Templates in AI | Word | Pages | PSD | Publisher
A postcard is a device that is used to send a message without an envelope. It is designed in such a way that it generally has a photograph or an illustration on one side and a textual message on the other. Postcards can be made the person sending them, or they can store-bought. In most cases though, people prefer to make the postcards by hand. Church Postcard Templates are used to make postcards for church use.
Table of Content
5 Ways to Market Church Postcards
Step 1: Create a Marketing Plan
To market a product or a service properly, you need a marketing plan. Accordingly, to market church postcards, you need a plan that will show you the path and the steps to follow for it. Since making such a plan involves a lot of work, people tend to skip it. However, doing this is only the recipe for failure.
Step 2: Invite the Right People
Sending out invitations to people who would not be interested is just a waste of time, money and resources. Hence, you need to figure out who you should invite to your church service. You would also need to consider the making of the invitations. They need to be such that people would want to respond positively to the invitation.
Step 3: Make a Budget
No marketing plan is complete without a budget. When you plan to mail postcards, you would need resources for it including financial and others. And the budget would help you to determine when and how to use the resources to achieve the maximum results. The budget is especially needed because churches generally need to do multiple mailings.
Step 4: Use a Catchy Headline
When you start to make the postcards for your church, you need to keep in mind that the headline is the first thing that the receiver will read. So one of the best ways to ensure that your postcards are marketed well is to use a catchy headline. Try to be creative with it. Come up with something that can grab the attention of the reader at one glance.
Step 5: Keep the Content Brief
The content that you plan to include in the postcard must be as brief as possible. In other words, the textual message that you will write in the postcard must be able to provide the entire required info to the receiver in short. You need to be concise and precise with the message. Keep in mind that the space for the message in a postcard is very limited.
Step 6: Proofread the Final Draft
Once you have completed making the postcard, your final task should be to proofread it before you sent it out. Check the sample for any sort of grammatical or spelling errors. Also, make sure that there is no missing or wrong information provided.
17+ Best Church Postcard Templates in AI | Word | Pages | PSD | Publisher
1. Church Marketing Postcard Template
A church postcard is a device that is used to send out messages from the church to the required people without an envelope. If you want to make such a postcard for your church too then you need to download this professional postcard template. This template is available to be downloaded in a range of file formats including AI, Word, Pages, PSD, and Publisher.
2. Church Invitation Postcard Template
Say the church that you work for is going to hold a special service or event. So how do you let the people know about this? The answer is simple: you need to make an invitation postcard. You can make such a postcard quite easily if you just make use of this church postcard template. You can download this template for use in Word, Pages, Publisher, etc.
3. Church Invitation Postcard Design
Postcards are useful tools for sending messages without envelopes. Such postcards can either be handmade or store-bought. However, there is an easier way and that involves using a template. Our postcard design template is here to provide you with a ready-made design that you can use for your postcard. The template is available in 5X7 inches size.
4. Creative Church Postcard Template
The best way to ensure that your postcard gets accepted and has a positive response from the receiver is to make it from scratch. In other words, you need to be creative with it. And that is exactly why we are providing our creative postcard template. This template will help you make the perfect such postcards for your needs.
5. Church Postcard Template in PSD
There are several software applications out there that you can use to make your postcards. However, among them, the best option is Adobe Photoshop. You can make use of our sample church postcard template to help you with this task. This template already comes in PSD format. You just have to download it and then open it in Photoshop to edit it.
6. Gospel Church Postcard Template
Churches can be of different kinds such as gospel, catholic, etc. Accordingly, the postcards for each of the churches will be different from one another. If you are working in a gospel church and want to make the postcards for the same, then you need to download our Gospel Church Postcard Template. The template has been built just for gospel church use.
7. Modern Church Postcard Template
The main thing that you need to remember about making a postcard is that it has to be simple but elegant. It has to be made in such a way that it can grab the attention of the receiver. And to help you with this exact task we are giving you access to our modern church postcard template. The template is fully editable and printable.
9. Church Postcard Bundle
Generally, when a church makes a plan to make postcards, they plan for multiple mailings. In other words, the church would need a bundle of postcards. And if you need it too, then you are in the right place. We are offering you our sample postcard bundle template. With this template, you will be able to create multiple postcards at one go.
11. Church Easter Postcard
Easter is an auspicious occasion, especially for Christians. Accordingly, churches hold special services and events on this day. If your church is doing something like that, then you need to let the people know about it. And we have just the thing for it: our Easter postcard template. This template has been created specifically to help make postcards for easter.
12. Church Invite Postcard Example
Knowing how to make postcards is very essential when you are working for a church. Such postcards are needed for several purposes such as invitations. However, we realize that everyone is not adept at this task. This is why we are offering you our Church Invite Postcard Example template with which you can make such postcards like a pro.
14. Church Event Postcard Template
Postcards for a church can be made for several purposes. This includes invitations, events, services, etc. If you want to make postcards for your church event, then this event postcard template is the best thing for you. This template offers a sample postcard that you can use as a reference guide to making yours.
15. Church Informational Postcard
Download
With this Church Informational Printable Postcard template, you can get your hands on a file containing a model postcard that can be used as a guide. The template comes with original and suggestive headings and content that have been written by professional writers. To use this template, just download it in on any digital platform and you are good to go.
16. Holiday Church Postcard Bundle
17. Sunday Church Postcard Template
Download
18. Baptism Church Postcard Template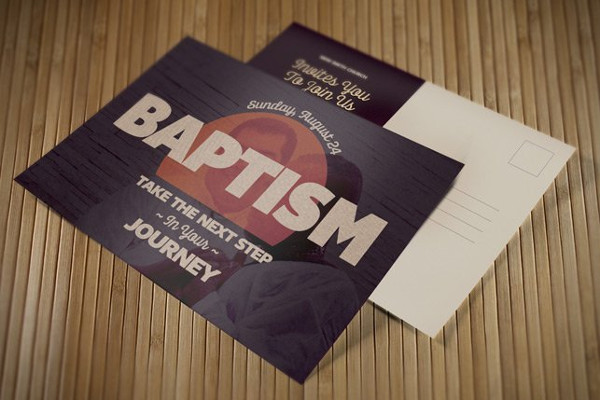 More in Church Templates