Check out this range of brand new, free and customizable blog themes and templates which have been released during 2015. Not only are they visually stunning, but are as functional as any premium blog templates before them, with multiple template varieties and experience enhancing plugins such as sidebars, calendars, social media widgets, etc. Built on the rock-solid foundation of Html5 & CSS3 source codes, these themes and templates are tailored for today's fast-paced web development needs.
Packed with the latest features and attributes that make blogging fun and easy, these new blog templates for December are supremely useful. With clean and modern content-centric design, users can create unique design themes that add value to their content. Their fully responsive design is perfect for blog readers that are at home, work, or on the go.
New Blog themes and templates come with updated premium features. The designs are unique and intuitive which help customers focus on the content. The fluid responsive layouts give viewers an engaging experience. Retina ready graphics, neat designs, social media integration and various shortcodes make your blog websites attractive. These themes and templates are the perfect choice for any Blog websites.
Why let your blog remain old and dreary when you can simply use the latest blog themes and templates released in October 2015 to impress your audiences all over again? With multiple home page options, content styling editors, sidebars, galleries, and menu bar customizations, you can easily redesign your blog. Switching over to this one click installation themes is a breezy affair. Leverage the best of HTL5, CSS3, and Bootstrap with these all new and latest blog themes and templates spread over dozens of categories.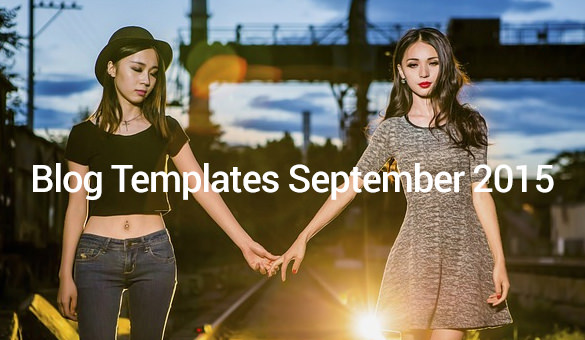 Designed specifically for the fast-paced world of web development, these latest blog templates for September are made to keep up with today's trending technologies. Apart from the standard functions, these templates also feature additional functions such as live feeds, multiple-header carousels and social media widgets, options that are normally available only with premium templates.
Get these fantastic new blog templates and use them to create theme specific blogs. Offering preset layouts and the option of your own preference of template variants and operational functionalities like RSS feeds, video, social media and so on. Released in August, These plugins and a host of other offerings that will instantly increase the appeal of your blog.
Download and utilize these awesome blog templates for July, with numerous functional options and additional plugin downloads that come free with the templates. These include social networking plugins, RSS feeds, favorites and many other options that will make your blog look like a professionally designed website.
The month of June comes in with some fantastic blog templates, with built-in features to that match those of any premium blog templates. Experience web-building made easy with templates that feature plugins for RSS feed sidebars, header/footer carousels and many other features that allow you to make great blogs, including a multiple home page layout option.