Templates make for exotic page views coupled with ably generated HTML codes for the browsers. In here we look at the topmost Responsive Drupal WordPress Templates which would add a certain degree of panache to the websites, thereby scaling up the profits and page views. Users can choose the best option based on the budget and outlook preferences from an extended list of 100+ templates.
Porto – Responsive Drupal Template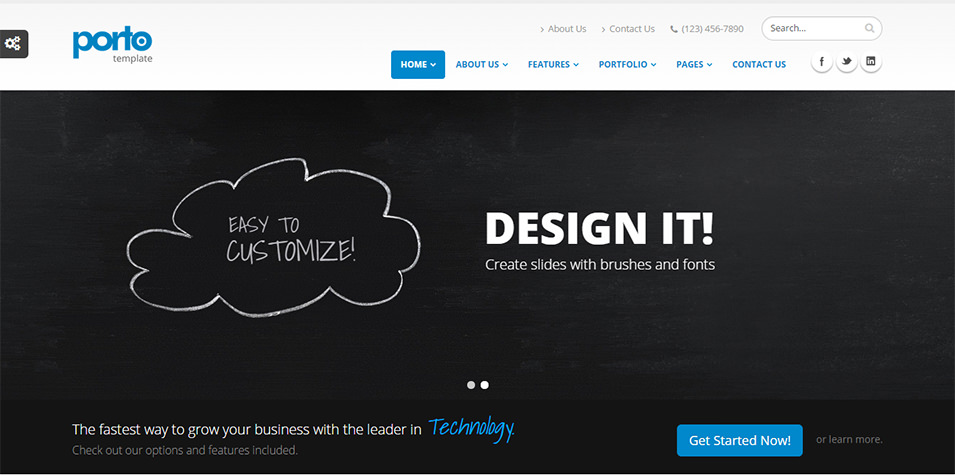 High end compatibility followed by a corporate outlook makes this a worthy inclusion. Other features include unlimited color options alongside the Touch and Swipe support.
Construction
Architecture & Interior Drupal Theme
Â>
Excellent documentation followed by unlimited colors adds to the utility of this theme while the retina ready design makes for the fully responsive layout.
Advanced Premium Drupal Theme
This theme comes along with twitter bootstrap followed by the inclusion of 4 sliders. Multiple fonts and a responsive design add to the overall reputation.
Black Responsive Multi-Purpose Drupal Theme
Company – Drupal Blog Business Theme
Company is great choice for startup, small or medium sized company. It runs perfectly on different mobile devices and has functional admin area with many useful features and powerful modules.
Ultimate Travel Theme for Drupal
This theme comes with a Style Switcher which is an entrepreneurial must have. Drupal compatibility and the progress bars make website viewing an absolute charm.
Highly Flexible Component Based Drupal Theme
Custom Shortcodes and a wide layout are the better features involved. With the pricing tables installed, this theme adds to the extensive SEO approach.
Best Responsive Drupal Template
Unlimited colors coupled with Touchscreen ready interface make this theme a handy option for the users. AJAX contact form and the multilingual support further add to the credibility.
Multipurpose Responsive Drupal Theme
This theme enables HTML5 and CSS3 support with seamless ease. Cleaner coding and cross browser compatibility are some of the added features.
Restaurant, Cafe & Food Drupal Theme
Extremely suitable for the professionals with a taste for responsive designs and predefined skins! Megaslider and Google fonts come as high end inclusions.
Clean & Elegant Corporate Drupal Theme
This includes the retina display support alongside the Drupal 7++ responsive design. Boxed width and the Touch Swipe support make navigation seamlessly easy.
FlatMetro Responsive Template Drupal
This theme allows multiple color selection while providing options for a fully responsive interface followed by a cleaner coding and design approach.
Responsive Drupal Slideshow Theme
Fitness Club is vibrant sport Drupal theme with cool jQuery effects, responsive layout, Quickstart package and lot of features. Using Quickstart package your site will be ready in just a few minutes, as it is contains all necessary data and can be installed easily.
Magazine News Drupal Theme
Boom – Responsive Onepage Drupal Theme
This theme includes a premium Fullscreen slider and a multiple color scheme. Complete documentation is an added plus flowed by the cross browser support.
Eduworld– Responsive Drupal Theme
Twitter bootstrap is included alongside the custom carousel plugin. This theme provides complete SEO optimization and multiple skins to choose from.
Industrial & Factory Business Drupal Theme
Incredible Best Responsive Drupal Template
This theme includes custom shortcodes followed by the pricing tables and layered PSD files thereby providing a complete SEO approach.
Responsive Business Multipages Drupal Theme
Full Demo installation along with a touch ready slider makes this theme highly popular. Multiple pattern selections and a responsive design accentuate the usability.
Directory Listing Drupal Theme
An extended range of icons makes this theme highly proficient. Twitter and Flickr widgets are included alongside the highly responsive sliders.
Metrics Business
This theme supports dropdown menus followed by an SEO ready approach. Tabs and associated widgets are included alongside excellent documentation.
Responsive Magazine News Drupal Theme
With an extensive selection of 20+ predefined hues and a touch enabled support, this theme comes as a fully responsive option for professionals.
Aveta Fully Responsive Drupal Theme
Flickr and twitter widgets are supported followed by bootstrap support for varied networking options. Nivo slider and a fully responsive approach are provided.
Galeria Top Responsive Drupal Theme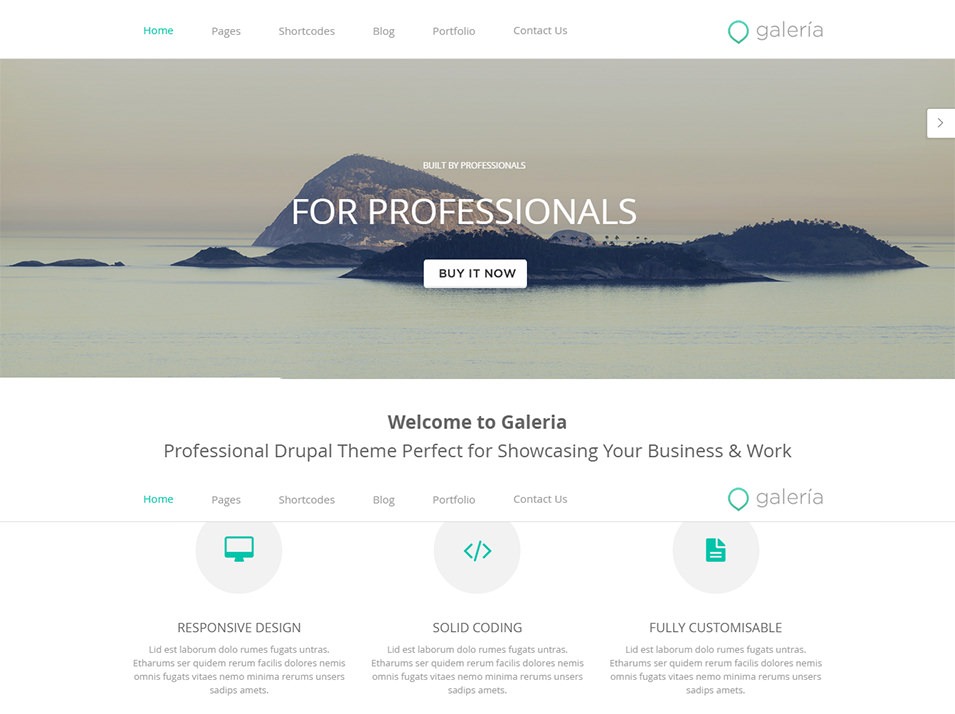 Amalgamate creativity with detailing while including boxed layouts and mega slider options alongside multiple preset styles and the parallax section.
ECommerce Responsive Drupal Theme
Photographers One Page Drupal Theme
BizOne is an awesome one page Drupal theme for all creatives, photographers, artists or just for personal site. Responsive design of your website will look great on any modern devices. Create stunning portfolio or personal website with BizOne Drupal theme.
Consultant
Premium Portfolio Theme
Global News Portal Premium Responsive Drupal Theme
Enjoy the highly responsive layout supported by this theme alongside multiple color schemes, cross browser compatibility and the Flexslider v2.
Responsive OnePage Wedding Drupal Theme
Creative Multipurpose Parallax Theme
Custom color pickers are included with bootstrap and multiple font selections. Responsive design is included alongside powerful theme settings.
An SEO optimized theme which is compatible with the iOS and android platforms. Bootstrap compatibility and valid HTML coding add to the credibility.
Software & WebApp Drupal Themes
In comes a highly responsive theme with an added FFMPEG support alongside a built-in bootstrap framework and customized Google fonts.
Sencillo 3 in 1
SEO optimized theme followed by efficient coding schemes and 5 clicks installation. Multiple slider variants with enhanced effects are also included.
Slash Top Responsive Drupal Theme
A multipurpose theme which supports retina responsive layout and premium slider options! 4 portfolio layouts are supported with text editing perks.
Ultim8 Magazine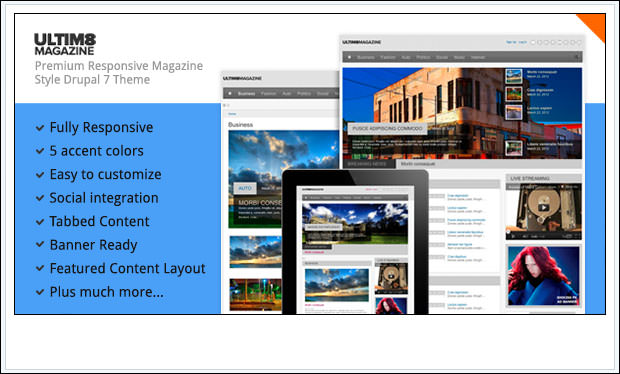 Standardized theme with high end responsiveness and tabbed content. Other features include banner ready interface, seamless customization and multiple colors.
Best Mobile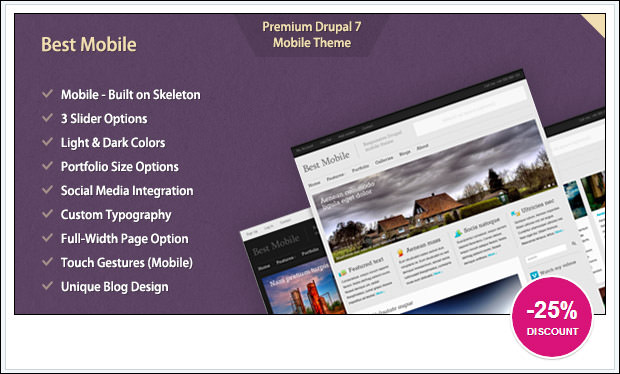 Multiple sliders are included with gestural options to choose from. Social media integration is supported with layered PSDs and an SEO friendly approach.
WoowShop
This theme includes a fully responsive interface with a specified Drupal commerce module alongside theme variations and multiple theme backgrounds.
Bowtie
This theme provides Content slider and Nivo slider options alongside featured blogs and testimonials with the specialized Tooltip hover effect.
Repro
A theme meant for the magazines including the jQuery coda slider and SEO friendly markup scheme. High end responsiveness and newer semantics are included.
Work and Play
Highly responsive theme which includes pre-styled twitter feed and an SEO friendly source code! Cleaner layout and Drupal 6.x compatibility are some other features.
Kontroller
This theme involves Drupal 6.x compatibility with additional CSS3 effects enabling better detailing and easier setups. SEO friendly approach is also guaranteed.
Clean Portfolio
Better content management followed by high end responsiveness is guaranteed with the 23 background options and multiple theme fonts to choose from.
Retail Shop
Dual slider option alongside an SEO friendly approach makes this theme an instant hit. Social media links are supported with layered PSDs for a seamless approach.
inStock
HTML5 bootstrap alongside CSS enriched interface makes this theme an instant hit. Other features include retina responsive layout and multiple category filters.
DrupAds
Backed up by a responsive design this theme includes additional filters and social media ready content along with the options of faceted search and FrontPage previewing.
CarDealer
Added with an advanced car browser, this theme includes 5 clicks installation alongside a retina ready interface. Search engine optimized content and MD slider add to the credibility.
Square Metro
This theme includes varied pattern backgrounds followed by custom icons and footer blocks to choose from. An adjustable front page slider makes for an exciting page view.
Drupit
This theme comes ahead as a complete social media aggregator followed by custom searching options and 45 theme backgrounds to choose from.
Shoppica
Drupal 7 commerce is ably supported with infinite color schemes to choose from. FrontPage and category sliders are include with the jQuery powered interface.
Best Shopping
Coupled with web designs and graphics, this Drupal supported theme includes dropdown menus and product reviewing options for an enhanced user experience.
Corporate Vision
3 homepage styling options followed by 6 color schemes make this theme extremely efficient. Custom portfolio section and PSD files can also be included.
FILIA
This theme is fully responsive and has unlimited colors and icons included into the scheme of things. Retina ready interface followed by twitter bootstrap also come in handy.
ProClassifieds
Extended mobile support and the Drupal classified Ads module make this theme a utilitarian one. Other features include the custom blog layout and multi-dropdown navigation bars.
MyShop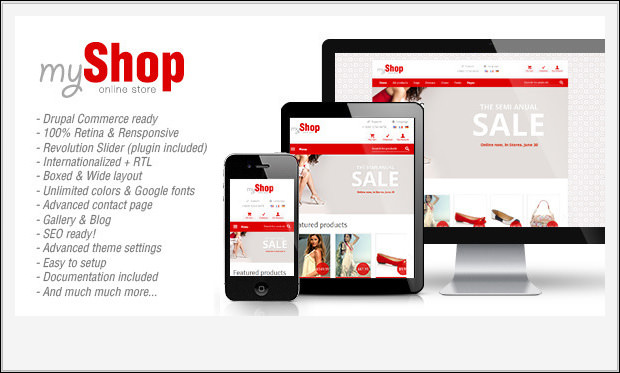 Advanced theme settings are available with an SEO ready interface and a well optimized contact page. Revolution slider further adds to the utility.
Cano
This theme includes a dual slider option and 27 block regions with a highly responsive design. Integrated editor and the required modules are also present.
Velocity
Perfect Minimalist Portfolio Template
One can look at the advanced theme settings with parallax background and an extended delta support providing a strengthened interface.
RedDesign
An innovative theme which provides HTML5 and CSS3 compatibility alongside a responsive template and the all inclusive twitter bootstrap!
Bootstrap Drupal theme
Designmd 01
Versions can be selected based on the transparency while the highly responsive design comes with a filterable portfolio and a Quickstart package.
TheMAG
This theme is characterized by the iconic font selection and the 15 layered PSD files making the entire design highly efficient and responsive.
Gofunded
Make way for the Twitter and Flickr widgets with an all inclusive touch enabled interface for the professionals. 8 predefined colors add to the viewing experience.
Business Consulting and Investments Theme
This theme uses the smart fluid grid followed by a mobile ready interface. Featured slider and the Prettyphoto inclusion add to the credibility.
NewsCenter
This comes as a completely responsive theme with 4 level layout and jQuery home slider added with 27 effects and multiple animations.
RealEstate Drupal Premium Theme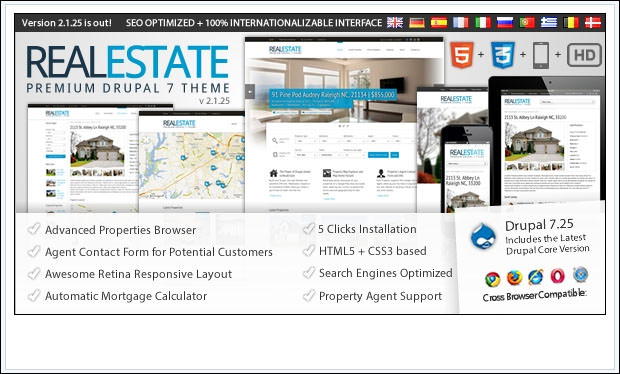 A prominent browser support with an awesome retina responsive layout allows better viewing while the SEO ready approach provides the needed impetus.
Q&A 2
This theme provides a full responsive approach alongside social media integration, a fully translated blog enabled design and custom badges.
Biz Communication
This comes around as corporate theme which has a modern Drupal customized front page and SEO friendly markup. Cross browser compatibility provides additional support.
GoVideo
JW player is supported with video imports are allowed for quicker uploading. This theme involves multiple background options as well.
WebSource
A theme which sports a front page slider followed by 4 custom footer regions for added elegance! Fully responsive layout adds to the overall magnificence.
Modern Business
Best suited for the online business, this theme features 5 predefined skin colors followed by custom layout options and dropdown navigation levels.
News Pro Theme
This comes as a professional news theme with 7 homepage featured regions. Categorization is guaranteed with 2 dropdown navigation levels.
Job Now
This theme provides an extended color selection with the custom sponsored banner rotators and Twitter integration for an enhanced user experience.