The demand for Drupal websites for many businesses is growing rapidly, especially in the publishing and media industry. As the major source of information for most individuals, news and other media should be at the forefront of technological advancement and transcend the traditional ways of disseminating such important information to the people.
And as time goes by and the living standards of human beings soared to greater heights, these establishments and institutions have increased their requirements as well. In order to keep up with competitors and stand out from the crowd of many media outlets around the world, you have to make sure that your news and press websites are up to par and contain the essential and latest web design technologies. With this reason, we present to you this collection of the best Drupal website themes and templates for your news, magazine, press, blog, and other content-publishing websites.
Global News Portal Theme
To jump start this list, here is Global News. A responsive Drupal theme that comes with seven color schemes to choose from, so it fits your preferred look. It also comes with a bunch of trendy and powerful features such as the choice between a boxed or wide layout and nine available content types to build your web pages with. The 23 fully-layered and well-organized PSD files included in the package lets you customize the template easily and quickly.
News and Magazine Template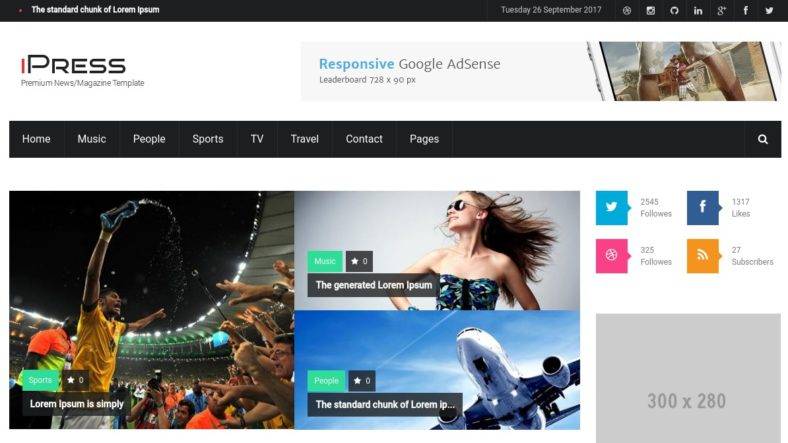 Next is iPress, a news, magazine, and blog template from Drupal that is fully responsive, and designed and developed in a grid system. It has a clean and unique design that is characterized by a three-column home page, boxed or full-width layout, sticky navigation, Google web fonts, retina-ready Font Awesome icons, touchable slider and carousel, right or left sidebar, and so much more. It has advanced admin options for ease in use and customizability, too.
News and Editorial Magazine Theme
MagBlog, on the other hand, is an elegant and professional news and editorial magazine Drupal theme that you can use to share news and stories about sports, fashion, or popular lifestyle trends, among others. It comes with over 20 HTML files with clean code quality and comments, so you can modify colors, backgrounds, and fonts effortlessly. It also includes three demos, four home page variations for each demo, 10+ different block content layouts, three header variants, and more.
Flat News, Magazine, and Blog Theme
Then, we have MaxBlog, another news, magazine, and blog Drupal template that offers a premium flat and clean design which is ideal for content-based websites. It also boasts of a super-flexible and fully responsive layout as it allows you to build your page content through a drag-and-drop block and section builder, as well as six completely unique home page demos, unlimited layouts and over a hundred styles to choose from .
Multipurpose Magazine-Style Theme
Portal News is a multipurpose Drupal theme with a magazine style and is packed with many features that will help you create an efficient and functional news, magazine, or blog website. The theme features over 20 built-in and ready-to-use blocks with custom block functions to easily and quickly build your pages, along with multiple page layouts, a number of menu options, and unlimited color schemes. It is designed with a streamlined process in mind.
Drupal News Template
A modern but classically functional theme, Nex is a news Drupal template that offers a dynamic and neat layout perfect for presenting various types of news and articles. It supports different kinds of content types such as text, images, audios, and even videos, and comes with six color schemes for you to choose. Other features are the jCarousel accordion slider, Superfish menu, Quicktabs, Webforms, Easy Social, jQuery plugins, a fully responsive design, and so much more.
News Drupal Template
Another news Drupal template is 365 News. This boldly-styled and highly responsive website template is a great solution for online magazines and content publishing websites, thanks to its solid and sufficient information capability which is provided by a variety of configurable blocks and regions, as well as the five color variations included in the package. With high usability and perfect browser compatibility, this theme will save you a lot of time and cost.
Drupal News Theme
This dark website template is a Drupal news theme that is especially designed with  a sleek and modern look perfect for any contemporary news or blog content. Mitius is integrated with Drupal's high flexibility and abundance of features, so it's easy to customize the theme according to your business needs. Among its features are two categorized item layouts, a slideshow, a carousel and Quicktabs display, category listed pages, and others.
Sports Magazine Template
Here is a stunning sport magazine Drupal template that is particularly designed for a sports news page or any information channel for many different purposes. Sports has an elegant and bold design with all the features you need to run an online sport portal. Such features include a live score, bets and odds, as well as news and blog pages, among others. This website template also comes with five skin color variations, so it can suit any taste and preference.
Magazine Drupal Theme
The fresh HTML5  Drupal theme you see above will help boost your web presence in the Internet with an appealing design that is clean and simple. Magz is a minimal magazine theme that offers various content types, six different color versions, and two special menus with a classic navigation bar and left menu navigation which provides category shortcuts for a fast and convenient navigation between pages. It is fully responsive, so it adjusts well to all devices.
News and Press Template
Zetraz is a beautiful website template for news and press. This theme makes use of the latest Drupal 8 platform and a bunch of current web technologies such as HTML5, CSS3, SASS, and Twitter Boostrap. It is built with a state-of-the-art design and fully responsive layout which can cater to all content-rich web projects, making sure it gives you extreme usability through its plentiful amount of available features and organized block layout in three columns.
Responsive Magazine Theme
A responsive website theme for online news, magazines, and editorial sites, TheNews is a Drupal template that is jam packed with tons of unique and standard theme features. For easy customization, it includes advanced features such as five available color schemes, typography manager, layout controls, custom home page, background, Google or typekit fonts, and other custom theme settings. It is search engine optimized and cross-browser compatible.
News and Magazine Template
For a new and modern news and magazine website template for Drupal 8 and Drupal 7, News Plus is the perfect choice for you as it comes with a mobile-first design with a number of special features for a great news and article web portal. The theme highlights its slideshow video and video galleries to provide your site with diverse content types which are not just limited to text and images. It also boast of a single-click navigation, Drupal Commerce integration, and more.
Online Magazine Template
The stylish online magazine template above is built specifically for news and magazine websites that run on the Drupal 8 platform. Magazine Plus is a state-of-the-art and modern website theme that focuses on accessibility and social sharing, as most people nowadays rely so much on social media for information. Furthermore, it features built-in Content-Types, responsive typography, video and video slideshow support, reusable custom block types, and much more.
Creative News and Magazine Theme
If you are in for a more unique and eye-catching design for your news and magazine content, then try Pinteros. It is a multipurpose website theme for Drupal that can cater to a wide range of styles and interests, and allows you to display your written works in a Pinterest-style layout. Aside from being able to accommodate text-based content, you can also showcase your stunning photos and beautiful videos with this creative website template.
Fashion News and Blog Theme
Then, we have Waylard. A clean and modern fashion Drupal template that you can use for many blogs, news, articles, press releases, and other text-based content related to fashion. Built with Bootstrap, it is packed with premium widgets and other features which enable you to customize your page layouts easily. The theme also boast of a fully responsive and SEO-friendly design, so it works well on all devices and ranks high on search engines respectively.
Car and Bike Magazine Theme
Next is a car and bike magazine Drupal website theme which allows car manufacturers as well as sellers showcase their products in the World Wide Web. Motoring is a great marketing tool for the automotive industry as they can announce new items and discuss their features with a vast audience. Packed with awesome features that conform to the latest web design trends, this visually appealing website template will definitely do a great job.
Game Portal Template
We also have Games, a game portal Drupal template that you can use to announce new game or game version releases, write game reviews, discuss game features, and other game-related content. It features a full-width image header with a slider and text box which is an effective tool to draw the eyes and interest of  your target market. Additionally, the theme has a powerful admin panel, so you can manage and customize your website effortlessly.
Music Portal Template
Any music lover who wants to share their love for music can surely make use of this sleek and elegant Drupal theme for music portals. Musicon comes with a dark-themed web design that is a perfect representation of the music scene. Built with the finest and popular Drupal modules, it is guaranteed to be high in functionality as well as in customizability, thanks to its well-documented code. It is also fully responsive, so it displays well on any device.
Online Movie Database Theme
The movie industry will never allow itself to get left behind, so we also present this amazing video Drupal theme that you can use as an online movie database and video portal. Think Netflix. Movies is characterized by a grungy and somber mood, laden with many movie posters that will surely drive movie lovers to your website. Built with Drupal, this theme does not fall short on useful features and modules to run this kind of website efficiently and effectively.
News Portal Template
Probably one of the best Drupal news portal template that you can find in the Internet today, Pressblog is a stylish and flexible website theme that offers a clean and modern design with high functionality and extreme customizability at the same time. It has a responsive layout with multiple color schemes, multiple fonts with Font Awesome support, Quicktabs and Google maps integration, Superfish menus, Webform support,responsive column layouts, and more.
Magazine Drupal Theme
Another clean and modern magazine Drupal template is Quietly. Just like its given moniker, this template has a quiet and peaceful mood that is ideal for a relaxing long read. It is easy to use with its compact theme options and four custom blocks, so it does not overwhelm you with tons of unessential features, along with extensive documentation and full support from its developers. Its responsive and adaptive layout makes certain that it fits to any screen size.
News and Magazine Theme
DTZ Mag is a neat and well-polished Drupal template for news, magazine, and even personal blog websites. A responsive website theme built using Drupal 7 and Bootstrap 3, this item provides you an easy setup and customization options. It works with the Display Suite module to customize your post layouts, as well as options to change the home page loader, apply a red label, or tag your posts to custom fields through the theme settings.
Blog and Magazine Theme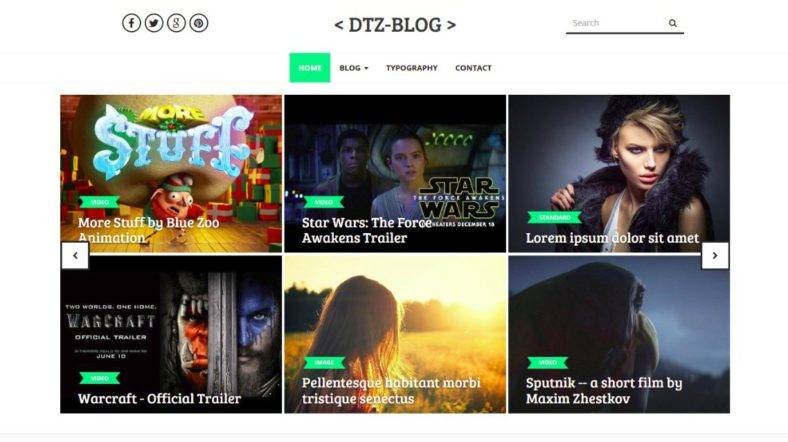 Just like the previous item, DTZ Blog is a premium Drupal theme for news, magazine, and blog websites. What is great and different about this website template is that it supports multimedia blog posts and allows you to add YouTube or Vimeo videos and Soundcloud audios, aside from images, to your posts. It is fully responsive and cross-browser compatible, with an easy customization process through CMS and the admin panel.
Responsive Blog Template
Another responsive blog template for Drupal websites is Magify. Built with the latest web design technologies such as the Bootstrap 3 framework, HTML5 and CSS3 codes, latest Font Awesome version, and more, this website theme boasts of a highly responsive, all-browser compatible, modern, and clean design. It is also easy to customize with a number of home page loader options, various Display suits layouts, slider and sidebar options, and so much more.
News Center Template
A fully responsive Drupal 7 theme, NewsCenter is created with blogs, online magazines, forums, communities, editorials, newspaper websites, and more in mind. This website theme provides a fully responsive layout that is adaptable to any device, 27 jQuery effects on the home page slider, three-level navigation steps, ads-ready content type, social media integration, internationalized user interface, easy installation, detailed documentation, etc.
Premium Drupal News Theme
This grid-based news and magazine-style theme is a premium Drupal template with a stylish news display that you and your readers will absolutely love. One of the most prominent features of ThemeNews is the sidebar that allows you to display 125×125 ads if you want to monetize your site more. With a clean and easy-to-read layout, the theme has a great user interface which will certainly give your readers an equally great experience.
Premium Magazine and Blog Theme
Postwall is another premium Drupal website theme for blogs and magazines. It is retina-ready and mobile-responsive as it is HTML5/CSS3 and Bootstrap-based, and includes a bunch of features that will let you set up and run your website in a few minutes. This theme is also built with several SEO best practices and comes with infinite scroll article explorer, taxonomy-based navigation, advertisement features, a wide array of social media integration, and many more
News and Magazine Theme
Here is a minimalist Drupal theme which is an excellent choice for publishing websites such as blogs, news and magazine web portals. News Pro comes with a neat and clean design with lots of white space to enhance readability and navigation. It also features six ad banner positions, a front page slider, seven front page news content regions, and picture posts to draw more attention to your content. It has three pre-made theme skin colors with custom graphics and icons to choose.
Drupal Magazine Template
The Drupal magazine theme you see above is WebSource, a perfect web design tool to give your readers a great source of information online. It has a clean, well-organized, and SEO-friendly design; so bloggers, news publishers, and other content providers enjoy its simplicity and speed. Among this theme's features are a front page slider, featured front page content, tabbed right column block for comments, custom page styles, social networking icons, etc.
Responsive Blog and Magazine Theme
Next is another responsive Drupal template for news, blog, and magazine websites. MagXpress is a robust website theme which includes lots of awesome features such as three home page layout variations, multiple color options, video post support, breaking news block, grid and list content views, two slider variations, and the next and previous links among others. It also features a Mega Menu, Drupal Smartcard module, social media integration, and so much more.
Responsive Magazine and News Theme
A modern magazine and news theme, Vecas is a responsive Drupal website template with a clean and elegant design that suits both the traditional multi-category magazine or the modern thematic news portal. It features 4 home page demos to choose from with three header and two footer skins, a Mega Menu and menu magazine, video and gallery custom content types, various post formats, forum and poll support, and multiple profiles for customization.
Modern News and Magazine Theme
Vinor is an elegant and modern Drupal template for news and magazine websites. Based on Bootstrap and Drupal 8 compatible, it is built on a powerful Grid system and comes with five home page demos, 15 color schemes, various custom types and post formats, all of which help you customize your site according to your preferences and needs through a drag-and-drop Block Builder and powerful admin panel. The theme is also fully responsive and SEO-friendly.
Responsive News and Magazine Theme
Another responsive news and magazine theme is Sparkle, a Bootstrap-based Drupal website theme with an outstanding design comprised of a fully responsive layout and tons of built-in versatility and flexibility. Its features include 22 color variations, different Hero Banner styles, right and left sidebars, a Twitter feed and advanced admin options among others. It also includes a Demo Install, Support module views, SEO features, and Google Analytics.
Magazine and News Drupal Theme
To end this list, here is Great Magazine. As its name implies, it is a great and must-see Drupal template for magazine, news, and other online publishing websites. It is an extremely modern website theme with a clean and elegant design thanks to its well-structured and organized layout. The theme features three home page demos, three header skins, different custom types and post formats, a fully responsive design, and powerful admin panel, among many others.
This article is a showcase of the best and most popular Drupal themes and templates that guarantee state-of-the-art functionalities as well as maximum versatility and flexibility through the many awesome features and lots of options included in each of the website themes and templates selected for this list. You will be able to share your content of various topics from the recent news, lifestyle trends, the latest in technology, current events, and so much more with these dynamic and robust web design tools.
So, if you wish to build an online information portal for your chosen topic and interests, or whether you are looking for a way to upgrade your existing news and press website, then look no further for the right template that suits your style and taste while it caters to all of your business needs. Make sure to grab one or more of these website themes before you regret not doing so. For more sources of ideas and inspiration, you can also check out our list of new Drupal themes for business websites.