Integrating shopping carts with Joomla websites has never been this easy with Joomla ecommerce extensions added into the mix. These are the most potent plugins which make selling and shopping fun besides including multiple payment clients into the scheme of things with considerable ease. PDF encryption and Video Zip archives are supported by the premium extensions which can be a bit pricey at times. Some free options are also available for downloads which allow us to sell products, files and subscription plans. Most sites with varied packages for the customers work with these extensions and on subscribing for an offer, the key and password are provided for an easy access. With certain top features like better payment support, money back guarantee and the RAD Framework, most of these extensions come in handy for enhancing the entire professional setup. Multilingual support is rendered in addition to the complete access which determines the usability of these plugins. Best in business security measures are embedded within whereas the user friendly payment gateways are charming to work with. Statistics are also available besides certain customizable specs which provide the needed boost to the professionals in addition to the demo installations which make selecting the most suitable plugin extremely easy.
JoomShopping
This Joom shopping e commerce extension is one of most easy to download and responsive. You can even add audio or video files to the extension. It has opportunity to upload pictures of your products and also upload bills in PDF format.
Hika Shop
This extension is in demand just because of its simple and subtle designing with professional colour mixings. This extension helps you administer your store by its wide range of marketing tools and powerful displayable statistics on the dashboard itself.
MijoShop
The Mijo Shop is well known for being the leading e commerce application. One powerful shopping cart constituent that is rich in feature and user friendly. One most important aspect is that it gives you total control over your store and sales reports with an intuitive admin interface.
Citruscart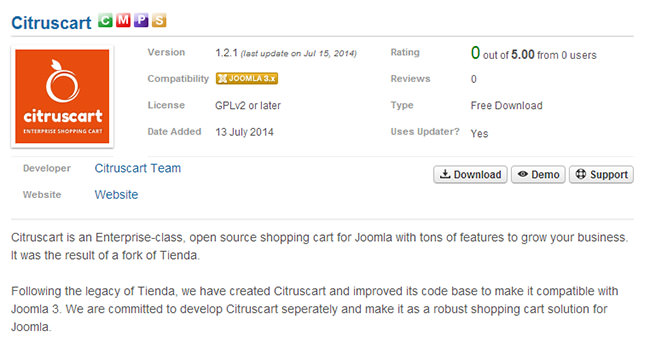 As a result of a fork of Tienda this Citrus Cart e commerce extension came into being. This is and Enterprise-class and an open source shopping cart exclusively for Joomla. It consists of endless features to grow and enhance your business prospects.
OSE Membership
The OSE Membership extension comes with a GPL V2 license which gives the user the opportunity to freely use it and install it into unlimited websites and forever use. It has several useful features like Family /group membership, Group Management functions, friendly payment options etc.
JoomOCShop
This Joom OC Shop is an easy e-commerce component with a number of open cart features making it more acceptable. It is the integration of two very popular open sources namely Joomla and Opencart. With a single log in you can easily synchronise between Joomla and Open cart.
Ecommerce WD
Wish to develop an online store for your business? Here is an answer to your requirement. The E commerce WD is a fully responsive extension. It is user friendly for both the admin and the user. It can ideally display products singly or in multiple pages.
Sales Pro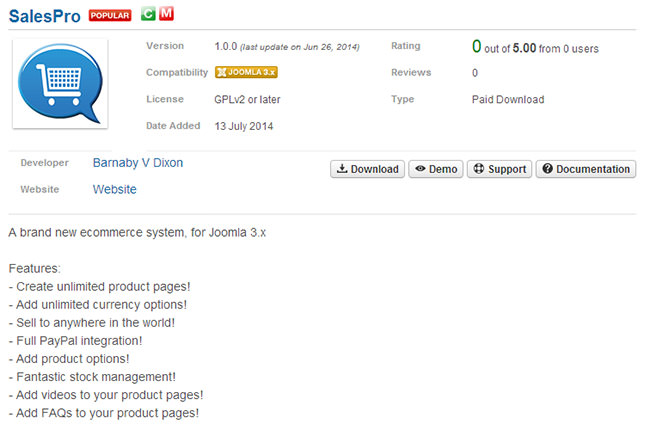 You can create unlimited product pages with this sales pro extension. This extension is a brand new extension which has several positive features for it being in demand. You can even add unlimited currency options; sell products in any part of the world and many more.
My Auctions Allegro PL
This My Auctions Allegro PL extension is a very useful one which can display user auctions from allegro. It also has several effective features like show/hide thumbnails for auctions, costs for each auction, end time for each auction etc.
With the advancement in technology and internet nowadays a store without an online presence is unable to succeed much. To have a user friendly interface and a remarkable presence in the e-commerce era is a big star to your business.